Here's the ugly truth. Fifty-five percent of trade promotion spending fails to develop brand awareness by any tangible metric. Despite this, retailers and merchandisers alike understand successful trade promotions offer unparalleled reward. Brands simply are not executing these campaigns in a meaningful way.
Let's breakdown the many approaches to trade promotion and how to successfully take these campaigns to the next level.
Table of Contents:
The Four Types of Trade Promotion
How to Solve These Four Common Trade Promotion Problems
Defining Trade Promotion
Trade promotions are the many ways merchandisers directly influence product performance at retail. These marketing campaigns occur in-store to target direct shoppers actively making purchases. They can help boost specific sales in underperforming locations, enter a new product into the market, shift established products into new markets, or raise general brand awareness. The following four approaches are the generally accepted types of trade promotion:
What is Trade Promotion: The Four Main Types
Trade promotion takes many forms. We've simplified them to the four ways customers engage with the product.
1. Strategic Price Discounts
Don't just lower price, tell the customers exactly how the price changed and they will listen.
Temporary Price Reductions
There's little more a shopper loves than seeing old prices slashed through with a 20% Off tag.
Make customers stand still and really observe what you're offering. Getting this full level of attention is the hardest part of product marketing, but the best way to maximize purchase probability. Use exciting colors for sales tags; red works especially well to catch the eye.
Explicitly show the before and after pricing. By putting the idea of savings in their heads, you are indirectly imprinting the concept of a completed sale. At the very least, mental math requires a literal slow down in movement--an important key point in selling.
Coupons
Insert yourself in the customer's attention with coupons. Coupons are handed out anywhere and everywhere. While they can be on the actual product, they can be at the registers or even floor displays (more on that later).
Create a sense of urgency with deadlines. Coupons expire. People fear missed opportunities, jump on this as the deciding push to turn potential customers into realized sales.
Buy One Get One Free
Also referred to as "the bonus pack," Buy One Get One promotions can be as literal as an extra tube of toothpaste per unit or as conceptual as 20% more laundry detergent per bottle.
FREE lowers the barrier of entry. Untapped customers see this as a trial for your product, gaining brands entry into a new market. The increased quantity of product encourages repeat customers to purchase in larger quantities to prepare for future need. (This is an excellent way to manage excess stock!)
Crest opts for "value pack" branding to accomplish the same goal.
Fall is a great time to renew your focus on your healthy lifestyle. Keep your smile in tip top shape with Crest from Sam's Club. #CRESTxSamsClub #ad

Learn how to save $2 on Crest toothpaste at Sam's Club: https://t.co/EkxiIlweyd pic.twitter.com/hhowex7CCO

— About a Mom | Angela (@aboutamom) September 13, 2018
2. Off-Shelf Product Branding
Expand your product presence beyond standard shelving. Customers ignore up to half of all shelved goods. It's your job to spread product visibility as much as possible.
Smart Floor/Wall Displays
Interrupt customer's shopping experience with a dedicated product presentation. Smart displays create a narrative around their product. Nike arranges their sneakers in a runner's stance, capturing a sense of action and motion. The physical structure of displays--especially how customers move around them--establishes a passive engagement with your product.
Coupon Integration
Displays are hard to miss. Once you win the customer's focus, capitalize on this through the techniques previously discussed. Use coupons or effective markdowns to further entices buyers to purchase.
Banners, Signs, and Floor Stickers
Raise brand awareness and distinguish your product from the monotony of standard packaging. Good posters are fun and feature recognizable figures--athletes and celebrities--participating in the product. Unlike displays, maintenance is minimal.
Understand the product narrative, then standardize. L.L. Bean uses their promotional space marketing to an outdoorsy crowd. A good story shows the "how" of your product, creating a need while never explicitly stating one.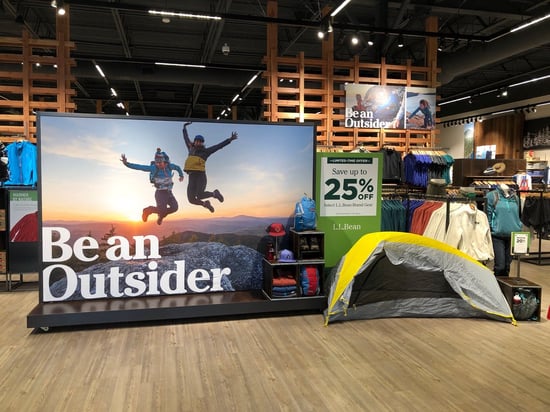 Added Premiums
Add bonus incentives with purchase. Premiums are fun, supplementary perks that come with purchase. Coors is currently running a campaign that includes portable beer coolers with each 36 pack purchase.
Coors Light 36pk Cooler Bags out now, lookin fresh 4 Memorial Day #coorslight #pittsburgh @coorspgh @beercentralpgh pic.twitter.com/z4SVEDt5sC

— John (@pgh_beer_rep) May 18, 2015
The extra incentive stapled with your product turns otherwise hesitant buyers to sale.
3. Retailer Sales Contests
Push sellers to push you. Most trade promotions focus on influencing the customer either directly (displays) or indirectly (price-cutting). Offering prizes for high sales numbers adds another directionality to your campaigns. This happens on two different scales:
Internal Competitions
Simple prizes delivered on an individual basis. Offer incentives like a free laptop for whichever salesmen is credited with moving the most of your product. While this only spans as far as the specifically targeted retailers, it reinvigorates sales in otherwise struggling locations.
Branch-Wide Competitions
Ignite entire retailer chains with large-scale prizes awarded on a per-team basis. Some companies in the alcohol industry offer a free booze cruise to whichever branch sells the most of their product. Personal touches give the prizes weight and establish a warm relationship with individual sellers; relationships that carry well past the targeted campaign.
4. On-Site Events
Not all trade promotions are "set it and forget it." Many effective campaigns involve direct participation from the merchandisers! Company reps or brand ambassadors should run on-site events to boost product visibility.
Demonstrations
Command the conversation. There simply is no better way to control the narrative than to present the product on a set script. Demonstrations ensure two things: a captive audience and the ability to stress key product selling points, two elements essential to closing sales.
Samples
Free samples are nearly impossible to resist. The immediate indulgence paired with keeping stock within arms reach is a quick and easy way to convert shoppers who otherwise would not be looking for your product.
Combine several of these trade promotion techniques and create a powerful formula to boost sales. Have reps hand out coupons for their product alongside demonstrations. Have unorthodox premiums at the forefront of floor displays to create a hard-to-miss enticement.


San Pellegrino created a smart endcap display--a display found on the end of an aisle--paired with visible sales indicators to attract the eye. The messaging is clear. San Pellegrino demonstrates their diverse product line without overbearing gimmicks detracting from their messaging.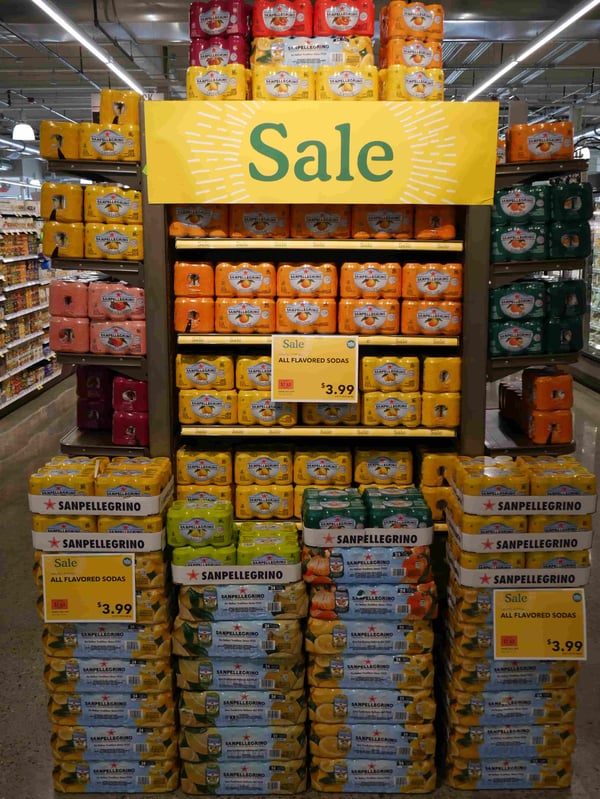 We've compiled a further list of excellent trade promotion examples if you'd like practical images to pair with these definitions.
How To Solve These 4 Common Trade Promotion Problems
What gets in the way of successful trade promotion campaigns? These are the four biggest problems and the solutions to overcome them.
1. Lack of Measurable KPIs
Enter every trade promotion with several key metrics in mind. Not every trade promotion will be a fiscal success, but in measuring and understanding a few simple data points, you always leave these campaigns armed with intelligent information. Intelligent KPI metrics define campaign success.
Here are a few common trade promotion KPIs to get you started:
Sales Generated
The most obvious point on this list. Understanding--in units moved and in earned revenue--the results of each promotional campaign is critical. Just like any other product strategy.
Trade Spend
How did campaign spending correlate to desired results? This can absolutely be as simple as a standard ROI calculation, money out to money in. Less tangible results are no less important, however. We'll chat more about conceptual auditing later, but companies should still numerically quantify customer engagement.
Check out our further deep dive in good trade spend management tips for more details.
Incremental Revenue
This calculates the change in revenue associated with the promotion. Your return during the campaign may be positive, but did it perform better than usual? Incremental revenue can be calculated by subtracting the earned revenue during a campaign with some base revenue determined by historic sales data for the area. Basically, was what you earned more or less than what you usually would have? By how much?
2. Lack of Timely, Accurate Information

Evaluating trade promotions with targeted key performance indicators depends on your ability to get measurable data on each of your campaigns -- and not months after the fact. Getting data about your promotions within days, rather than months, makes analysis and improvement possible over a much quicker timeline.
Mobilize your field team with explicit audit sheets to record campaign-specific details during their store visits. This promotional reporting helps adapt future marketing strategy and helps convey past success when negotiating future promotions. Field teams should record the same information in the same format, with accountable headquarter reporting. Make them determine things like the types of promotions, duration, featured products, in-store position, sales results, and general customer engagement.
3. Poor Planning/Execution
Trade promotions don't start and end with the tangible event. Truly optimized trade promotions rely on a interpreting data collection. Once you measure the KPIs, establish correlations across several trade promotional campaigns. Were coupons more effective when attached to complementary products (Shampoo advertising conditioner)? Or did you find incremental revenue success advertising rebates on the floor displays?
When these trends arise, interpret and adapt. Your next trade promotion should learn from the successes and failures of past attempts. Did that work? Yes: then push the established plan further. No: back to the drawing board. There is no magic bullet, but there is adaptation over time.
4. Unreliable Partner Integration
Even when you do everything right, your retailer can do it all wrong. Half of all product displays fail to meet negotiated standards. There is little incentive for retailers to meticulously check shelving standards, and even less accountability. This is where in-progress, field team audits thrive. With all you've spent on the campaigns, why sit around with blind faith? Get more out of field rep reporting through extensive reporting. Find out if your floor sticker is placed in the desired location
Fix these problems and you'll see immediate success running one of marketing's trickiest, most lucrative fields.
Peter Manning
Peter Manning is a Content Market Journalist for Repsly. He's a recent graduate from Boston College with a degree in English. When he's not writing for the site, he's almost certainly playing bass, getting second place in trivia, or watching the Patriots like a good New England native.