Product merchandising needs more than a low price tag. But how can your campaigns distinguish themselves from the monotony of paper towel pyramids? We broke down 19 of the best trade promotions to inject life into your marketing strategy.
What Is Trade Promotion?
Trade promotions are no more complex than the initiatives merchandisers take to influence shoppers at retail. They commonly take these four forms:
Visible price markdowns: Sales, coupons, rebates, by-one-get-one deals
Off-shelf branding: Displays (including endcap and cold box), posters, floor stickers, premiums
Seller contests: Prize incentives for sales on an individual or branch level
On-site events: demonstrations and samples
While creative ideas are everywhere, execution can be a challenge. We compiled a list of 19 exemplary trade promotion examples to inspire your next campaign.
Product Displays
Whether they be positioned at the ends of aisles, stationed at entrances, or anything in between, strong displays do more than exhibit product. The best displays sell an idea.
1. L.L. Bean's Dueling Mooses
L.L. Bean partnered with the Maine Department of Inland Fisheries and Wildlife, creating a display unlike any other. L.L. Bean commissioned a taxidermy model of two mooses locked in battle. It doesn't sell a product, rather an idea. The brand positions themselves as the frontrunners in nature and wilderness apparel. This one of a kind display brings this nature into the forefront, stressing the exact atmosphere they brand.
2.
Old Spice's Evocative Cabinet
Old Spice brings its commercials to life using the same cosmetic patterns printed on a cardboard display. It evokes the brand recognition instilled from their viral commercials to shout "Old Spice" from across the store. This red curtain aesthetic is paired successfully with an out-of-place bear, once more leaning into their uniquely comedic, satirically masculine marketing direction. All in all, this display is tight, well contained, and visually attractive.
3.
Super Coffee Makes the Most Out of Packaging
A coffee, protein powder hybrid -- Super Coffee's brilliant display fully capitalizes on the natural flow of its packaging. It creates an installment far bigger than the individual boxes that compose it. The uniformity is appealing. It effectively distinguishes between Super Coffee's two products as well. Simple isn't bad. Super Coffee demonstrates this well.
4. The S'mores Stack: Vertical Merchandising
S'mores making, as a self-assembled activity, benefits from the ingredients sold in multiple-component purchases. To ensure customers commit to buy each piece, this retailer placed the required item in a single, vertical sight-line -- a practice known as vertical merchandising. This entire spread can be viewed from a stationary position, establishing a symbiotic relationship between otherwise independent brands.
#Smores ..you have to love a store that has this display just inside the door !! pic.twitter.com/k8Sy0gdmZi

— Nicole Halladay (@nicole_halladay) June 6, 2016
5. Johnnie Walker's White Walker
Johnnie Walker teamed with Game of Thrones to brand a pseudo-novelty whiskey based on the series' iconic villains. Johnnie Walker already markets their product under the "color + Walker" formula; this inclusion fits in seamlessly. It's a one-two punch. The Game of Thrones imagery grabs the eye while the recognizable, Walker formula stresses brand-recognition -- an assurance of quality. Similar to the s'mores example, two otherwise distinct brands can collaborate and produce something far more than the sum of their parts.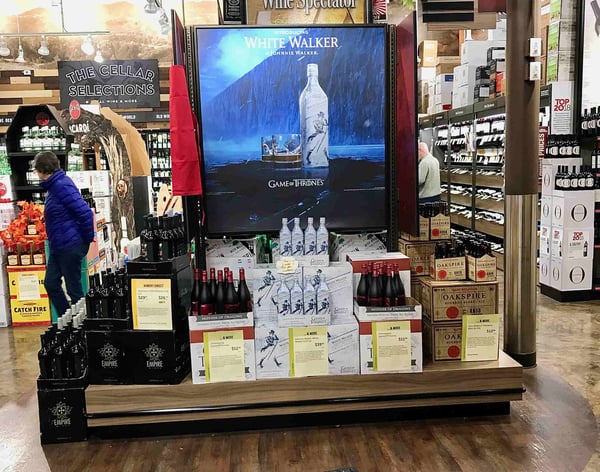 6. Red Bull's Minimalist Endcap
A product with striking, recognizable packaging works better than any sign, as demonstrated by both Old Spice and Super Coffee. The slender, blue and white checkered boxes blend seamlessly into a uniformed theme. Frequent flyers of the product will immediately be drawn in by this familiar sight. Pairing this with an accessible cold box position, Red Bull is nearly impossible to pass on.
#BOGFO2015, WWW2.0. Can't beat the end cap display !!! Florida style pic.twitter.com/rqYsxDTyKT

— David Fishlock (@KeysLife1) March 4, 2015
7. LG's OLED Canyon
While this next example is in no way feasible for store displays, it offers plenty to learn on selling your product through interactive experiences. As a physical medium, displays rely on some level of customer engagement, walking through and scrutinizing from multiple angles. At 2018's CES, LG created a virtual walking trail of several natural backgrounds. In this, they stressed the picture quality of their screens through a creative engagement point. This display starts a two-way conversation between merchandiser and customer.
8.
Cleveland's Bud Light Beer Fridges
Budweiser teased Cleveland's historically awful 2017 football season with the promise of free Bud Light should they ever win a regular season game (they since have). This cold box display, while not for wholesale distribution, succeeds in several key areas. Viral marketing spread this "joke" well beyond the bounds of Cleveland. Budweiser's stunt received nationwide recognition despite its region-locked campaign.
This close association between Bud Light and football established an intrinsic connection. Now, Bud Light is the definitive football beer. Regardless of personal preference, the two ideas became synonymous. Truly excellent displays change the customer's perspective of the product to fit messaging. Display campaigns end but concepts last for far longer.
JUST IN: Starting today, @budlight is installing "Victory Fridges" that will be full of beer in 10 Cleveland bars. When the Browns win first regular season game, fridges unlock and beer inside is free to fans. pic.twitter.com/DkRWkVkLkx

— Darren Rovell (@darrenrovell) August 14, 2018
Merchandising Coupons
Coupons require customer participation. Through some call-to-act, customers shoulder the responsibility to participate. Merchandisers should still play an active role to maximize the probability of purchase.
9. Whole Food's Amazon Prime Integration
Companies with innovative couponing are few and far between. That said, Whole Foods' Amazon Prime functionality deserves recognition. Amazon Prime members get 10% off market products (covering a high percentage of all stocked goods) when scanning an in-app retail coupon at registers. This asks for direct customer engagement while rewarding those who support Amazon at a high level. One part interactive savings, one part loyalty program.
Whole Foods is offering savings to Amazon Prime members through in-app coupons, a huge step in virtualizing the retail shopper experience #amazonprime #savings https://t.co/7WYMQiwHr4 pic.twitter.com/3R4H9HWxsz

— Frank Brogie (@FrankAtRepsly) November 6, 2018
10. CVS's Coupon Kiosk
Despite earning a reputation for massively long receipt-coupon hybrids, CVS employs a paperless coupon "dispenser" to find and utilize coupons on the buyer's behalf. Similar to a standard endcap display, this machine is hard to miss. The act of voluntary scanning demands full customer attention. Further, the savings are clearly displayed, distinguishing between the standard price and markdown price. Making customers do mental math is another way to hold complete attention. "Just how much would I be saving?" Thinking about this plants the thought of purchase, a hugely beneficial system for CVS.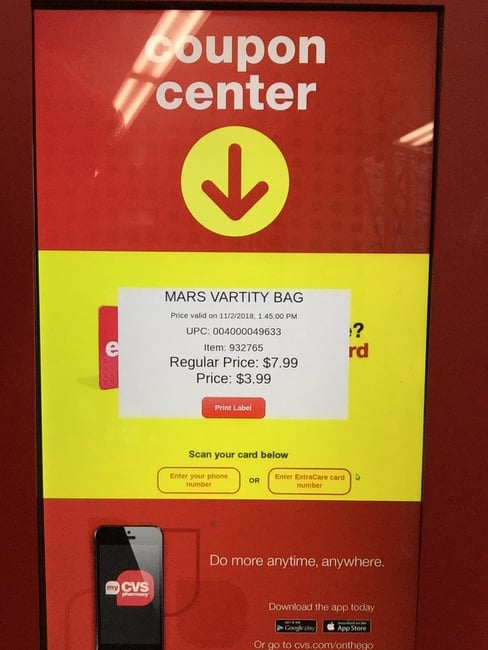 Product Posters
With low burden of maintenance, posters are easy ways to change product narrative in stores. Capture an image of your product in action as a guaranteed quality to buyers.
11.
Fender's Signature Flea Bass
Fender promotes a new signature guitar modeled around Flea, the Red Hot Chili Peppers' bassist. By depicting this recognisable figure in the act of playing, an otherwise static image captures the movement and experience a bassist could expect with this product. Lastly, that exact model is on display to demo an arm's reach away from the poster. This picture turns Flea into an idea composed of his music and talent. Everyone wants to be him, play like him With his bass located two feet away, they can.
New Signature Jazz Bass by FLEA!! Be one of the first to play this "red hot" piece. @Fender @flea333 @ChiliPeppers pic.twitter.com/wLuPuBZHQB

— Music Land (@musiclandstore) July 11, 2016
12. Macy's Fit Guide
Macy's distinguishes this poster from the waves of monotonous models by presenting an infographic -- a distinguished chart covering fits, styles, and all the basic information one must know to purchase a suit. Pairing this information with otherwise standard model shots delivers the same effect as any traditional poster, but to an already attentive customer. You have the space to get creative with these installments. Distinguish yourself as more than just another glamor shot.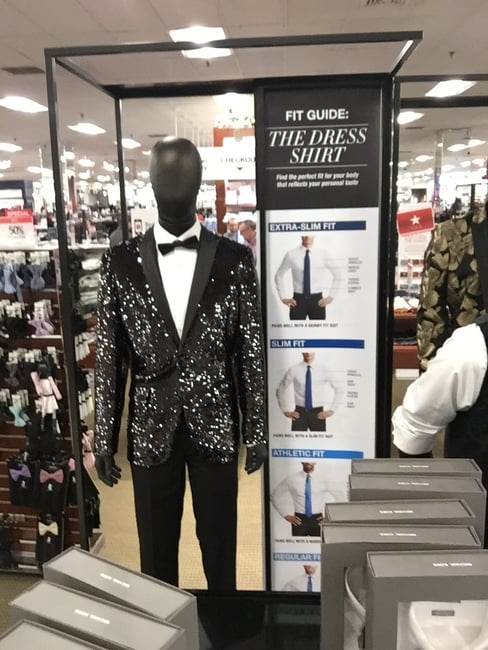 Gifted Premiums
Premiums are supplementary gifts with purchase. Many liquor promotions bundle cheap-to-produce shot glasses with their product. Some clothing outlets gift complimentary tote bags with purchase. Here are some premiums that take "free gift" in a creative direction.
13. Fireball's Party Bucket
Fireball Whiskey capitalized on the growing "miniatures" (nips) market by advertising the 50 ml bottles in bulk. The Party Bucket houses 20 portable servings for $20, otherwise valued at two dollars a bottle when purchased individually. As the packaging suggests, this bucket as a premium encourages the shots to be served in an ice bath. In practice, the premium masks a larger Buy One Get One campaign to push nip consumers from making smaller, incremental purchases to buying in bulk.
Fireball party bucket is here! @fireballwhisky #fireball #fireballbucket #new #castleliquors #mtairymd #mtairy #maryland pic.twitter.com/Fs6SWHphzF

— Castle Liquors (@Castleliquors1) April 12, 2018
14. Coors's 36 Pack Cooler
Coors uses a relatively cheap premium to change product narrative. By packing their beers in a reusable travel cooler, the brand adopts a symbolic "take this on the road" approach to community drinking. Portability implies tailgates, cookouts, the beach, any outdoor event. This premium is as practical as effective at shifting the conversation around its product.
Further, it encourages the upsell. A buyer looking for a 24-pack will likely find himself walking out with twelve more beers. Lastly, Coors now has a walking billboard at those aforementioned social gatherings, breaking into the home in a way few brands manage.
Coors Light 36pk Cooler Bags out now, lookin fresh 4 Memorial Day #coorslight #pittsburgh @coorspgh @beercentralpgh pic.twitter.com/z4SVEDt5sC

— John (@pgh_beer_rep) May 18, 2015
Demonstrations and Samples
Strong displays put representatives on the frontlines to reshape product narrative. Even the best salesman benefits from a little help. Here are some demonstrations and samples that leverage every possible asset to create a well-rounded shopping experience.
15. Sephora's ModiFace
Sephora integrates seemingly-futuristic augmented reality technology in a new brand of virtual product demonstrations. By using either your phone camera or an in-store station, customers scan their faces with intelligent 3D mapping software. The ModiFace program then adds Sephora's product line digitally. What lipstick is right for you? "Sample" hundreds of colors in an instant, all with zero product expense on Sephora's end.
Many demonstrations struggle getting customers to visualize life with their product. With ModiFace, Sephora takes the imagination out of this process.
TechCrunch:"Sephora and MAC are examples of more complex AR interplay within the worlds of beauty and fashion thanks to ModiFace" @techcrunchhttps://t.co/RzvFosaL99 pic.twitter.com/Wiy1VPiJo0

— ModiFace (@ModiFace) December 20, 2017
16. Skout's Triple Threat
Skout supplements their sampling event with coupons and further markdowns to entice buyers. Through a unified color scheme, this display table matches product branding well. The product line is cleanly displayed. The presence of mixing bowls creates a "homegrown" atmosphere, emphasizing the all-naturalness of their product opposed to seemingly industrialized alternatives that already riddle the market. Where this promotion excels, though, is in its layering of promotions.
Brand Ambassadors have an easier time making sales when they leverage as much pricing incentive as possible. Skout did exactly that, with visible coupons and verbal promises of further markdowns -- winning sales and pushing for upsell.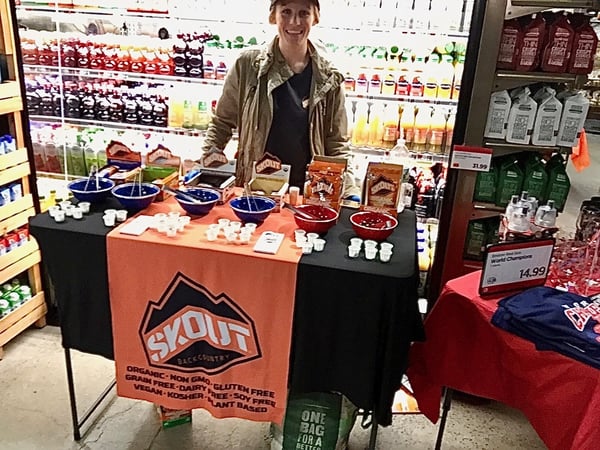 17.
Anything and Everything in Costco
Costco has built a reputation as the spot for free samples. Similar to product demonstrations, free samples deliver a statement of promise. Buy this cheese/juice/dip and expect this great flavor. Samples distinguish themselves by hacking into shoppers brains in two major ways.
The "gift" of a free sample burdens shoppers with a sense of obligation. "Since I took this, I owe them a purchase." It's a subliminal social pressure that brands capitalize on, especially with brand ambassadors present. Second, people are usually hungry but rarely realize it. Even a small taste of food puts that hunger at the forefront of shoppers minds. Hungry shoppers have been proven to buy far more food than they need, boosting the likelihood of a "spur of the moment" purchase.
Costco & Shipt testing home delivery of Costco items. [The whole POINT of shopping at Costco is the meatball samples & sweaty cheese cubes!] pic.twitter.com/Ah1lljraVJ

— Need 2 Know (@Need2Know) March 22, 2017
18. Hobbycraft's Build-a-Slime
Hobbycraft ran these demonstrations on behalf of their brands. While this is the retailer, not the merchandiser, heading this demonstration, Hobbycraft proved demonstrations can look different than the standard "individual speaks to a crowd." By gamifying the demonstration process, they nailed several keys to good demonstrations. This rebrand marketed glue as a fun, safe activity both inspired need in their audience and created a unique engagement point not soon forgotten.
Slime Demo in store today! Lots of fun here at #hobbycraft #merryhill pic.twitter.com/Hq8ysbyf7Y

— Hobbycraft MerryHill (@Hobbycraft_MHL) June 3, 2018
19. Total Wine's Sampling Class
Under the guise of a weekly wine tasting class, retailer Total Wine engages shoppers' brains in the same way as Costco's samples. Everything from the general atmosphere, pre-booked seating, and implementation of authoritative wine-experts distract shoppers from the larger sales pitch.
Total Wine places these rooms in the rear of the store, begging customers to explore their newfound skills as the walk past the store's entire product line. This is another example of retailers heading the promotional campaign, but it is no less a relevant example to several demonstration best practices.
Wine tasting with the Wagner Family of @caymuscab (via live stream). I have at least found two new wines that I will hopefully add to the collection. 🍷 #TWMLive #Caymus pic.twitter.com/pCdqLApdPl

— Chev Lovett (@chevl21) September 15, 2018
All these promotions had a few common themes. They all won for customer attention. They controlled product branding by clearly explaining how their product ought to be used. They used unique engagement points to demand more from the customer than momentary focus. Keep these tips in mind as you construct your next trade promotion and watch your product fly off shelves.
Peter Manning
Peter Manning is a Content Market Journalist for Repsly. He's a recent graduate from Boston College with a degree in English. When he's not writing for the site, he's almost certainly playing bass, getting second place in trivia, or watching the Patriots like a good New England native.