You know how it goes. You spend hours each week trekking through email threads and one-off spreadsheets trying to make sense of what's going on in your accounts. Sometimes that data is missing key information or is wrongly attributed. Even with all this information at your disposal, it's not easy to get answers to your most pressing questions.
Enter agile reporting - the system disruptive brands are using to gather insights about their team's work in the field. This method is comprised of a few fundamental elements:
Consolidation of field data into a central location

Standardization of the data being collected

Instant accessibility of data to an entire team
These concepts translate into immense added value for your day-to-day managing a dispersed team:
Higher quality data from the field is both more accurate and more digestible.

Instantly transferring data from the field to the office allows managers to make adjustments quicker than ever before.

New insights can be derived more easily as a result of speed and quality
In this post, I'll walk you through exactly how to build an agile reporting system for your team and make data a fundamental (and easy!) part of your decision-making process.
Use Standardized Forms to Keep Data Consistent
Agile reporting depends on having data that's all formatted consistently so reports can be generated with minimal manual effort. For example, teams that report sales numbers or shelf placement inconsistently ($120.87, 150, 100 $ -- or top, 3rd from bottom, 6, no) have to spend time manually reconciling the data before it's useful for reporting.
Efficiency in reporting can be achieved using custom forms - standardized digital documents managers create for their team to track what's happening across accounts. You can design forms to specify any data type you'd like to collect, from yes/no questions, text, and numeric answers, to multiple choice questions, photos, and product IDs.
Forms also encourage consistency because they can be tailored to specific accounts or employees, helping to keep data better organized.
Milk Makeup, for example, built a custom form for their merchandising team to flag out-of-stocks and ensure retailer compliance with in-store displays. You could set up something similar that looks something like this: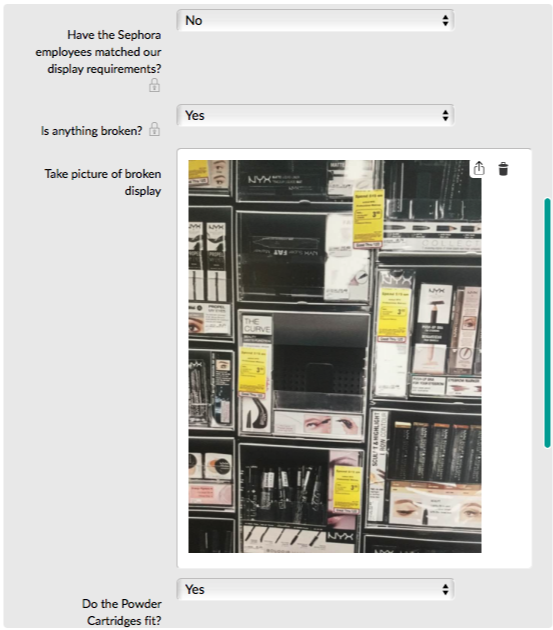 By replacing anecdotal email reports with a form that kept their field data consistent, the brand cut reporting time by 88%. "I'm finally getting feedback from my field team in a format that's easy to use and respond to," the team's Field Sales Director said.
Sync in Real-Time for Instant Reports and Up-To-The-Minute Accuracy
When you think agile, what else comes to mind? For me, it's speed. Agile reporting is like adding a second hand to your watch. It gives you access to data that's always accurate -- no more guessing today's numbers based on last month's trends.
UNREAL Candy, for example, grew its unit sales by as much as 25% in just six months by unlocking rapid iteration with real-time feedback.
@getunreal's Billy Allen on the power of agile data and reporting for his team in the field -- a tactic that has helped the team boost sales in New England by 22% in just six months! pic.twitter.com/xEZ8DIVUsM

— Frank Brogie (@FrankAtRepsly) March 9, 2018
"When we have an idea, we try it out," explained the company's Marketing Director, Billy Allen. "The very next day, if it worked we double down. And if it didn't, we do something else."
Here's how you can get real-time reporting at your fingertips:
Automate Alerts on Key Performance Indicators
Agility means being able to pull reports immediately with always-up-to-date information. But what if you could go a step further, getting the insight you need before even pulling the report? That's where alerts come into play.
Having an alert system that notifies you when key metrics fall below a certain threshold gives you the opportunity to react right away, resolving issues in the field well before your scheduled reporting period.

(Alerts like this help you respond to issues in the field before you even get to your weekly report.)
Connect Data Capture to Submission
The number one way to make sure your field data is accurate down to the minute is to make collecting and submitting information one simple step for your team. Let me explain:
When your team collects and submits data in two separate steps - like snapping a picture and then sending it in an email - it puts an administrative burden on your reps. Either they spend some time after every visit compiling their notes and putting together the email, or they're forced to spend time in the store thinking about getting you data. In either case, your team is not only less efficient, but there's a real chance they forget to send certain details.
But if every photo, form or note is submitted automatically without any extra work, you're guaranteed to always be reporting on an up-to-date, accurate data set.
Give Everyone Visibility With Transparency & Portability
Real-time reports become even more powerful when they're easy to share across your team -- that's how you empower a data-centric culture.
Snack brand Barnana, for example, gets real-time data from their sampling and events team. While simplifying the reporting process saved their Field Marketing Manager alone hours on reporting every week, even more value came from sharing insights about which flavors were most popular in their different stores and territories with the sales team.
That's not all they did with the data. With real-time updates from the team at her fingertips, Barnana's Field Marketing Director also created a leaderboard so the team could compete on metrics like events scheduled, samples given away, and feedback collected. In their old way of reporting (which took a full work day every week), that never would have been possible, but agile reporting makes sharing insights easy.
Data in the hands of one is helpful, but in the hands of entire team is when it becomes powerful.
Next Steps
Disruptive brands know the value of clean, actionable data. They also recognize that time and transparency are priceless resources. Agile reporting helps managers make sense of the numerous factors that affect the health of their brand and allows brands to scale faster than they normally would.
Ready to make agile reporting part of your team? Chat with one of our Repsly specialists to learn about our best-in-class forms, team scheduling, alert automation, third-party access, and more.
Frank Brogie
Frank Brogie is the Product Marketing Manager at Repsly. When he's not thinking about how to position and sell Repsly's products, Frank loves to explore Boston by bike and hunt for vintage cars through a camera lens. On weekends you can count on Frank to organize a pickup basketball game or play disc golf. An avid podcast listener, Frank recommends Philosophize This, 99% Invisible, and Radiolab.