Billboards and commercials are excellent at building awareness within the general public. Nothing, however, comes close to the effectiveness and influence in-store promotions have on active buyers. As merchandisers, brands have several tools at their disposal to influence shoppers, win sales and fight for upsells. Still, with CPG manufacturers allocating 20% of total revenue on in-store promotions, why do half of these events fail to break even?
We will answer the following. As a merchandiser, what can I do at retail and how can I do it well? How can I ensure I break even? How should I run my promotions? How do I get retailers on my side?
But first, let's start with the basics.
What Are In-Store Promotions?
Cut prices. Build fixtures out of toilet paper rolls. Allocate an entire shelf to a lone candy bar. Whatever this looks like, if you take charge over your product's merchandising at retail, it's an in-store promotion. This practice is also commonly referred to as trade promotion, as it outlines the promotional strategies developed in tangent between retailers and merchandisers.
Certain approaches work better than others. It takes trial, error, and common sense to develop an effective promotional strategy for your specific brand. We're here to guide you along this journey.
Common Marketing Techniques
Here are the three main groups of in-store promotions:
1. Adjust product pricing to win hesitant customers
2. Explicitly shift product branding with displays and premium gifts
3. Run in-store events: free samples and product demonstrations
We recently compiled a list of some excellent trade promotion examples. While each are unique, they all implemented several key features.
4 Action Steps to Elevate Your In-Store Promotions
Now that we've examined what tools are at merchandisers disposal in retail, let's look at how to best implement them. A good promotion requires support from both customer-facing and internal directions. It's a balance of good fiscal approach while saying the correct things. Attack promotions with both directions in mind. These four steps will do just that.
1. Change Product Narrative:
Many buyers know your product, but not in the way you'd like. In-store promotions are great at rebranding, making your product more attractive to unsuspecting shoppers. Use posters that capture your product in a new light. Once more, premiums can shape product narrative to fit a certain mold.
By packing their beers in a reusable travel cooler, Coors adopts a symbolic "take this on the road" approach to community drinking. Portability implies tailgates, cookouts, the beach, any outdoor event.
Coors Light 36pk Cooler Bags out now, lookin fresh 4 Memorial Day #coorslight #pittsburgh @coorspgh @beercentralpgh pic.twitter.com/z4SVEDt5sC

— John (@pgh_beer_rep) May 18, 2015
So long as your promotion captures these two essential points, it is bound to succeed.
2. Ask the Right Questions in Retail
The distinction between optimal and suboptimal shelving can sway sales by 10%. It's clear not all shelves are created equal, with a massive discrepancy between strong and weak strategy. Products must be seen to be sold. Products must also be seen in the proper light to experience meaningful sales. To maximize sales, every field agent must determine the following:
1. Is our product properly stocked?
2. Is the product kept in good condition?
3. Do we have available space to capitalize on?
4. How many facings do we have?
5. How much space does our competition occupy?
If sales numbers don't quite add up to projections, double back with tight audits to accurately diagnose what problems your branding is facing. These questions are only the start of a longer retail audit process all merchandisers must employ to see tangible growth.
Unfortunately, retailers are hesitant to give brands free reign over their marketing. However, with a sound business strategy supported by historical data, anyone can take that top spot.
3. Get a Strong In-Store Promotion ROI
Numbers speak. Tasty data points and positive trends put brands (or hold brands) in good faith with retailers. Some metrics are better at building a complete narrative than others.
We mentioned above that most in-store promotions fail in some form or the other. It's up to you to determine whether "failing" is purely fiscal or a disappointing narrative shift. Regardless, it is critical to minimize the expenses associated with these promotions. Failing to do this leads to misguided future proposals and a fundamentally flawed understanding of the tangible promotions. These expenses are categorized under trade spend. While trade spend takes several forms, two critical metrics can be extended onto every family of promotion.
Incremental Revenue
This calculation measures the change in sales from promotions. By using historical sales data as a baseline, find the difference between sales under a promotion and what would be expected under the same timeframe.

Positive incremental revenue shows your promotion raised sales above your baseline. Negative incremental revenue shows the opposite. As an important note, this only examines customer engagement with your product, not overall fiscal success of the promotion. The greater the incremental revenue, the stronger customers responded to this approach. Factor in trade spend expenses for a clearer picture of fiscal strategy.
Marginal Return on Investment
Return on investment calculations are critical to understand any business strategy. Marginal return on investment takes this a step further by highlighting the room for growth running a particular strategy in a particular market.

The higher the mROI, the faster your standard return grows with each further invested dollar. When mROI hits "1," dollars become inefficient, with each extra dollar added failing to boost ROI in a meaningful way. We break down this process further in our guide to proper trade spend practices.
By blending these two calculations together, you learn what in-store promotions resonate with customers while maximizing your invested capital.
4. Interrupt the Customer's Shopping Experience:
All in-store promotions are designed to win new sales, customers who otherwise had no prior intent to buy. This requires engaging with customers in surprising ways, invoking some emotional call to act. Distributing coupons with expirations causes fear of missed sales. Additional premiums -- supplementary gifts with purchase -- generates excitement, a great incentive to distinguish your brand over tight competition.
Stella Artois hits every above point well with this massive, seasonal floor display. Unlike other brands who churn out seasonal beers, Stella reimagines their standard offering as the definitive Winter drink through packaging alone. Placed at the front of this liquor store, no customer can avoid seeing this masterpiece. Through location and size, this interrupts the buyer's journey and forces Stella into ever decision-making process. The display itself is near-perfectly maintained, with only a slightly crooked sign detracting from it's effectiveness.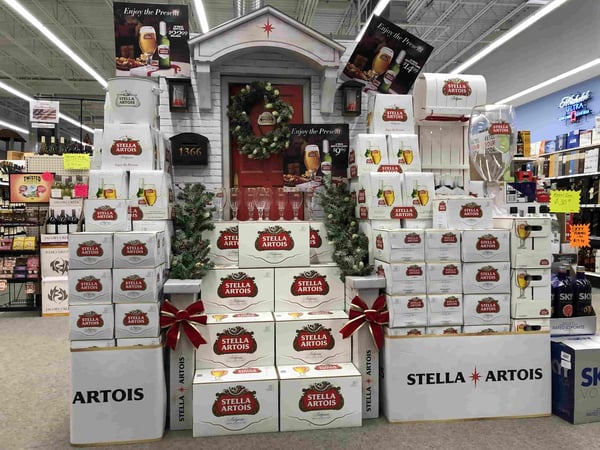 In-Store Demos: Driving Shoppers to the Shelf
No other in-store promotion explicitly shapes product narrative half as well as the demo. They ensure the right people know about the right features, creating ideal conditions for sale. Unlike sales and other temporary price reductions, customers won from demos are far more likely to convert into habitual buyers, expanding your market in a truly meaningful way. While these promotions require extra manpower, the rewards are unparalleled.
Running these promotions well takes more than hiring good speakers with strong product knowledge. Unlike a traditional sales team, demonstrators enter environments with no prior dossiers or support on buyers before making the pitch. In order for a demonstrator to succeed, merchandisers must leverage the following techniques to position their field team in the best possible position to close.
The Ultimate 10-Part Guide to In-Store Demonstrations
A simple audit can make-or-break your promotions. We compiled a step-by-step guide to the ultimate in-store demonstration. It doesn't need to be big; it doesn't need to be flashy. It needs to be effective. Here's how:
1. Simple In-Store Demonstrations Are Effective Demonstrations
Keep demonstration spiels focused on product strengths. No buyer wants a lecture on the four hundred different ways your product is used. Demonstrators only hold customer's attention for short periods of time. If demonstrators overwhelm shoppers with seemingly endless lists of features, shopper interest leaves as quickly as they do. Focus on the benefits, not the capabilities.
2. Throw Away Your Script
Train demonstrators to identify and adapt to customer personas. Not every shopper has the same needs. By asking targeted questions, a good demonstrator create targeted pitches that both make the sale and drive home an upsell. Adapting to buyer personas creates an organic relationship. Listen to them and they will listen to you.
3. Customer-Personnel Engagement is Everything
Have representatives build a relationship with customers. That temporary bond makes it difficult for buyers to walk away empty-handed. Whether it be the social pressure exerted by the representative's presence or the guilt of rejecting a newfound friend (hint: it's both), buyers are far more likely to purchase when hooked by a charismatic demonstrator.
4. Customer-Product Engagement is Everything (Part 2)
Give customer's opportunities to interact with the product beyond simple visuals. We just established why the demonstrators engagement with the customer is important; the customer engaging directly with the product is equally so. Granted, no one wants buyers to work your pudding samples between their fingers; but extra-sensory interaction establishes "future-thought" within the customer's head.
By pressing buttons on your blender, feeling the comfort of your headphones, understanding the physical weight of your camera, customers better understand what their life will feel like with your product. In other words, make customers sell to themselves.
5. Build Positive Relationships with Store Employees
Store employees who like your representatives will like your product. Boost in-store presence after demonstration periods by converting employees into secondary, unofficial brand ambassadors. These relationships push your product when you can't. Offer free samples and demos to the retail employees.
6. Build Positive Relationships with Retailers
Extend retailer-merchandiser communication beyond price negotiations. Strong, personal relationships often lead to demonstration allowances. Maybe your demonstration gets a shout-out in an email blast. Maybe retailers let you integrate other products into your presentation. Yes, you are selling single serve coffee machines. But if your retailer lets you implement extra LG TVs to loop commercials, your demonstration increases in show value.
7. Implement Multimedia
Stop buyer movement. Demonstrators can only talk to a few people at once. Let screens, commercials, slideshows, anything help take the burden of sales off the demonstrators shoulders. This allows your floorspace to always be selling, even if your demonstrator is caught in an upsell.
8. Provide Further Incentives to Buy
Raise customer excitement even further with price-based incentives. Hand out coupons. They require customer response and put the burden of opting-out squarely on their shoulders. Between testing samples and engaging with demonstrators, buyers are faced with implicit pressure on all fronts to return some kindness or engagement in the form of purchase. The shame of rejecting this relationship closes as well as the most veteran seller.
9. Extend the Conversation Farther Than the Booth
Customer relationships don't end with the presentation. Leave souvenirs and connect virtually. Stick with the customer after the conversation ends. Whether that be a phone PopSocket featuring your company logo (an increasingly popular handout) or branded drink koozies, find a way for customers to go home with a portable experience or memento from the conversation.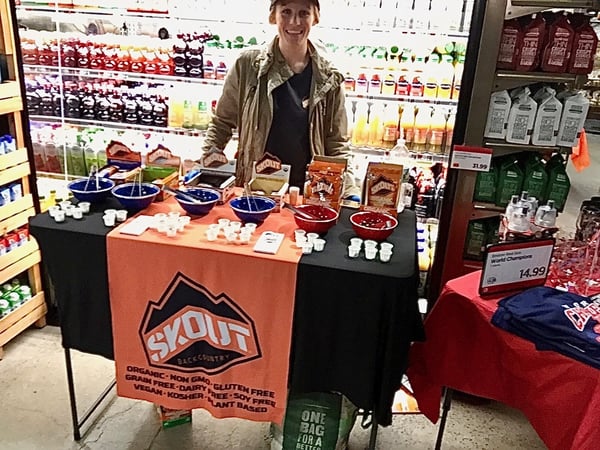 Get customers on email lists, offer entry in sweepstakes or virtual coupons. Get Facebooks; get Linkedins. Offer discounts, announcements, and rewards to shoppers who engage online. Demonstrations have a high rate of customer retention for the relationships they build. Buyers want to engage further; grant them the opportunity.
10. Win Demo Floorspace in Retail
Merchandisers need strong relationships with retailers to ensure their promotional strategies are being met. After all, even the biggest brands can't have representatives constantly man every floor sticker. With strong trade relationships, retailers are more likely to help maintain displays and general product merchandising strategies in your absence.
We mentioned some of the demonstration-specific perks retailers may offer in the previous section, but here's how some tips to leave a lasting impressions.
Strong interpersonal relationships start at the introduction. A good handshake goes far. Have representatives go the extra mile during introductions; by being personable, you are memorable.
Build relationships on the employee level.

We touched on this earlier, but wooing retail employees creates unofficial brand ambassadors who look out for your product. Whether they push your brand during sales or audit shelving as needed, no one is better at the day to day maintenance than the general staff.

Distinguish yourselves as an asset.

The tightly run ship means a lot to retailers. Open communication comforts retailers, establishing your brand as trustworthy. Take the worry out of retailers hands by presenting sales data, marketing strategies, and an accessible communication channel to cut off any potential concerns before they arise. In doing so, you become an ideal brand to promote and maintain.
These are only a few tips to establish strong retailer relationships. While every retailer is different, respect is universal. Understand and amend what concerns retailers face and they will be more than happy to assist your in-store promotional needs.
Peter Manning
Peter Manning is a Content Market Journalist for Repsly. He's a recent graduate from Boston College with a degree in English. When he's not writing for the site, he's almost certainly playing bass, getting second place in trivia, or watching the Patriots like a good New England native.