When it comes to evaluating the quality of your distribution network, few metrics can provide as much insight as your total distribution points (TDP). TDP is a type of point-of-sales (or POS) data that can help you paint a picture of your performance at retail. By measuring total distribution points you will go beyond other distribution measures and better understand the growth of your distribution network and how it is impacting your performance over time.
We've previously discussed % ACV (all commodity volume) distribution, which can be a useful way of measuring total sales of all products relative to the sales of all relevant brands or retailers in a given territory. Just like % ACV, measuring your total distribution points provides you with insight into which locations to prioritize when it comes to distribution. TDPs take into account both % ACV, which shows us the "size" of the store based on the amount of product that specific retailer is actually moving off of the shelves, as well as the number of items carried by each retailer.
Why % TDP Matters for CPG Brands
Why is it important to know your total distribution points? Doing so gives you an idea of the breadth and the depth of your distribution, which paints a much more complete picture than simply counting the number of stores you're selling in or how many products you have in total. Different stores may carry different combinations of your products, and simply counting the stores ignores the fact that a convenience store might not have the same distribution power as a grocery chain.
How to Calculate Total Distribution Points
Calculating your total distribution points is relatively simple, but in order to do so, you first must know your % ACV distribution per each product you produce. If you aren't sure what yours is or how to calculate it, we wrote a comprehensive post on understanding % ACV you can reference before moving forward. While that post discusses calculating % ACV for your brand as a whole, the same formula can be applied to find % ACV per product.
Once you have each of your products' % ACV calculated, you can calculate your total distribution points by simply adding together the % ACV per each product. For example, say your brand has three products: product A is at 30% ACV, product B is at 60% and product C is at 75%. Your total distribution points calculation would then be 165.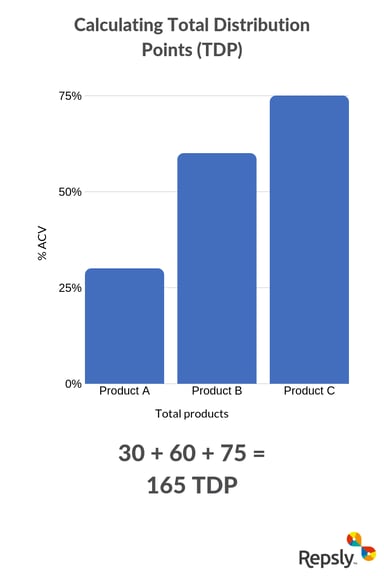 It is important to remember that when looking at your TDP the number will rise or fall based on your number of products or the size of your distribution network, so the health of your TDP is relative. Based on your % ACV and the number of products you have in distribution, you can determine whether your TDP is healthy.
Melissa Sonntag
Melissa is a recent graduate of Northeastern University and a content marketing specialist at Repsly, Inc. She is committed to applying her skills in order to bring value to Repsly readers and customers. Outside of work, Melissa enjoys practicing yoga, making music, and anything dog-related.