One of the most basic tools CPG brands use to understand their position in the market is point-of-sale data. From the very first time a shopper put your product in their cart to the nationwide sales you may enjoy today, POS data paints a picture of when and where your products -- and your competitors' -- are scanned for purchase.
Armed with this intel, brands can identify new shopping trends, opportunities for growth, competitive threats, and more, and use that insight to build an intelligent strategy for where and how to invest at retail.
What Is POS Data?
There are four major types of retail point-of-sale data, which are defined by both their source and their focus, according to CPG Data Insights.
Let's talk about data source first.
The simplest form of point-of-sale data comes directly from a single retail chain, like Whole Foods or Kroger. Not surprisingly, this is known as retailer direct data.
For brands looking for a wider picture of the market, syndicated data contains sales metrics from multiple retailers, which are gathered together by a syndicated partner like Nielsen, IRI, or SPINS.
Separate from source, point-of-sale data can either focus on overall sales by store, or it can focus on the behavior of individual shoppers.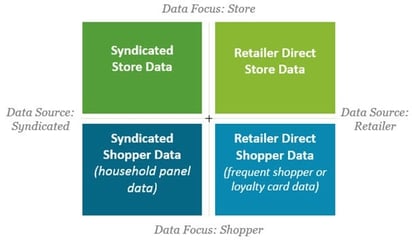 (Source: CPG Data Insights)
Which Type of POS Data Should I Track?
Through these two lenses, CPGs interested in store-level data should focus their attention on syndicated store data or retailer direct store data. Brands seeking to understand broader consumer behavior will have more luck with syndicated shopper data or retailer direct shopper data.
Retail execution teams should consider tracking store-level data (either syndicated or retailer direct) rather than shopper data, since retail campaigns are targeted at individual stores or chains. Shopper data, on the other hand, may be used to measure the effect of social media advertising, or other campaigns that reach shoppers beyond the four walls of the store.
How to Use POS Data for Retail Execution Insights
As CPGs build a deeper understanding of not just where and when they're sold, but what field activities and in-store conditions are influencing those sales, they're able to use POS data to inform their retail execution strategy as well.
Learn more with our free Guide to Using POS Data for Intelligent Retail Execution -- check it out here!
Frank Brogie
Frank Brogie is the Product Marketing Manager at Repsly. When he's not thinking about how to position and sell Repsly's products, Frank loves to explore Boston by bike and hunt for vintage cars through a camera lens. On weekends you can count on Frank to organize a pickup basketball game or play disc golf. An avid podcast listener, Frank recommends Philosophize This, 99% Invisible, and Radiolab.