It probably feels like some days your brand's growth depends on your ability to be in 15 places at once. As much as you hone your teleportation skills, it likely isn't possible to monitor consumers, retail staff, and your product displays all at once. Winning beauty brands have figured out how to get the data that brings them closer to reaching their retail performance goals, and it all stems from one easy-to-use tool. In this post, we'll run through three ways brands are using mobile CRM apps to master the field.
1. Measure and Test Education Programs
Retailer-oriented education programs help store staff to become more passionate about your products by helping them to form a personal connection to each one in training.
These training programs are important, but the benefits of the programs cannot be maximized unless the most successful campaigns are expanded upon and the initiatives that flatline are eliminated from your brand's procedures.
If a field rep logs the exact number of store staff educated into an app during each visit, these numbers can be compared with the individual sales of stores to determine specific correlation between increased education and increased sales. If one display and training method causes a large increase in sales at a cluster of stores exposed to the same method, it's a good idea to expand this training method to a larger percentage of your overall retailers.
To get these insights, you'll need data from your team in the field. CRM apps can help to provide this data in a way that is more efficient than manual systems involving boatloads of paperwork and external organization. With easy forms like the one pictured below, teams can quantify their education efforts from the store, giving brands the details they need to zero in on the most effective education strategy at each retailer. In fact, forms helped the retail team at Milk Makeup cut time spent on reporting by as much as 88%!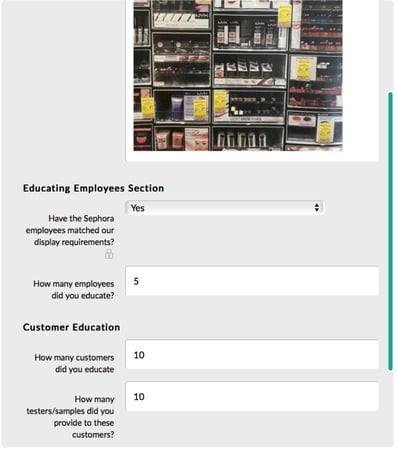 Because your education campaigns at each retailer might be different, comparing the increase in sales across different stores can help to zero in on the most effective education strategy out there. Chances are, you'll need field data to figure this out. CRM apps can help to provide this data in a way that is more efficient than manual systems involving boatloads of paperwork and external organization.
2. Drive Accountability in the Store
What does your display actually look like when you aren't in the store? Retailers have a million things to worry about; even though they care about your brand, they might not realize immediately if one of your lip gloss shades is out of stock. Although it seems like a small thing, your brand's reputation relies heavily on its availability when customers seek it out.
Similarly, it is important for your to monitor your shelves and gondolas to catch any damage or disorganization ASAP. If an element of your display was damaged in the store or one of your best-selling products went out of stock before schedule, your brand's field reps need to be able to report that information back to the rest of your team the moment they notice the inconsistency.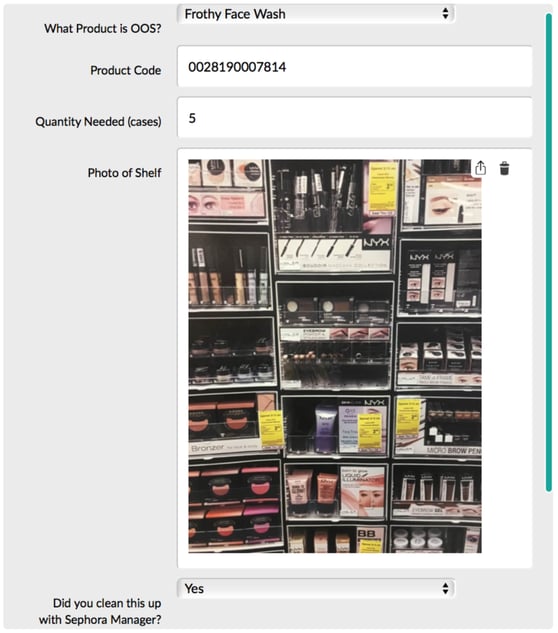 Because mobile CRM apps feature customizable forms (like the example form shown above) to communicate any of these inconsistencies the moment they are observed by field reps, sending field reps into stores with a mobile CRM app to follow up with retailers is efficient. Your brand can encourage the retailer to be more accountable for keeping your brand in stock by showing cosmetics managers and staff that you're serious about your brand's relationship with their store.
Happy Sunday🌸 Hope everyone had a good weekend. Most of all these cuties are out of stock but only 4 shades are in stock so go check them out before they are also gone❤️ pic.twitter.com/MALomNUOTY

— KYLIE COSMETICS (@kyliecosmetics2) February 26, 2018
When field reps gather information from stores about out of stock items, they can use this information as their waiting to restock shelves to provide customers with some piece of mind. Customers want constant updates on the status of their favorite products in their usual shopping locations, and field data can gather this information for later dissemination.
3. Learn About Consumer Opinions
Customer feedback is probably the most important information for the growth of any brand, but it can seem impossible to gather and organize in any sort of meaningful way. To answer the important questions -- things like "what product do our consumers want to go on sale next?" and "who should our next marketing campaign be targeted at?" -- gauge your consumers feelings about your current products and promotions first.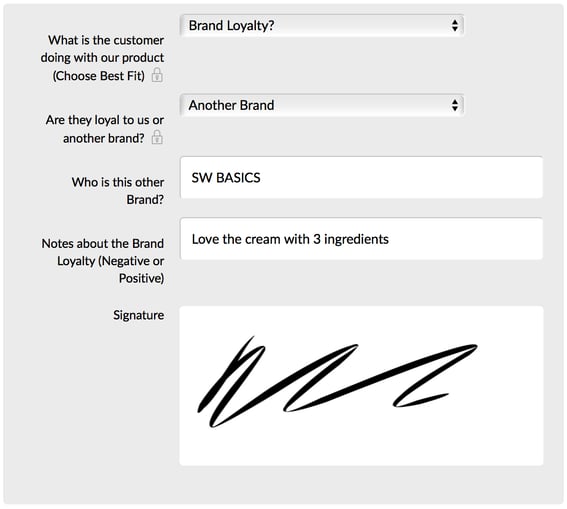 Using a mobile CRM app can simplify this process. If field reps are able to record any customer interactions into a standardized form such as the one above, information such as the consumers' favorite products can be easily compiled along with a signature from your field reps and used to influence future marketing and production decisions. Generating more personalized relationships between field reps and customers, and keeping a detailed record of in in an organized online system, can help to build and strengthen brand loyalty.
Sampling options for cosmetics are about to become a lot more important. 63% of Consumers Will No Longer Use Store Makeup Testers https://t.co/3HVUQwOZn1

— Kelly Dobos (@kellydobos) February 5, 2018
Although field reps are able to gather some feedback on routine tips to retailers, the majority of field rep to customer interactions will likely occur during in-store sampling events. This type of event-based feedback is helpful because it provides information to your management team regarding consumer feelings about the products, the specific store, and the events themselves.
As businesses continue to search for an efficient way to gather information from retailers, more and more successful brands settle on a mobile CRM app. Having an intuitive way to compile field data relating to retailer accountability and education while monitoring consumer feedback works for many brands interested in continuous growth.
See all this in action
To see exactly how brands like Milk Makeup, Sunday Riley, and Velour Lashes are using their mobile CRMs to get better feedback from the field and growing faster at retail, watch our free, on demand webinar here.
Sara Mack
Sara is a Content Marketing Journalist at Repsly and is excited to help brands grow. Sara is studying Public Relations and Environmental Analysis and Policy at Boston University, which basically just means she could talk about climate change and plant-based recipes all day long. She is passionate about lions, the clarinet, and her Mickey Mouse slow cooker.