How to Get Ahead of Retailer Noncompliance in 2018
There's nothing more frustrating for a brand than setting up a sale or promotion, or even negotiating for a prime spot on the shelf, then finding out it's not being executed at the store-level.
So in this post, we'll walk though exactly how to spot merchandising inconsistencies across all of your accounts, and respond to them in real time. Plus, we'll show you how to segment out all your stores with compliance issues and create action items for your team to resolve them as quickly as possible.
By the end of this post, you'll be able to answer questions like:
Which California stores have broken displays that need to be fixed?"

"Which accounts have my team not visited this month?"

"What percent of my New York doors

are in compliance right now?"
To start out, let's give you a quick introduction to who we are at Repsly.
Repsly is a field management software used by more than 1,000 teams in 75 countries around the world.
We not only work with innovative consumer brands like Kevita, Sunday Riley, and popchips, but hundreds of distributors, brokers, and other CPG brands also use our mobile CRM software to manage their teams out in the field.
We empower teams to sell more in the store while capturing the photos and point-of-sale details that managers need to make smarter decisions about their retail strategy.
Getting Visibility Into the Store
Let's start at the store-level. Brands can't even begin to think about merchandising and compliance unless they have an idea of what's actually happening with their products once they've been delivered to the store, but that's easier said than done.
Here's how we're seeing innovative brands solve that problem:
A brand's merchandising or sales reps are the key to getting insight from the store. But the way they deliver that information back to their managers has been super important when it comes to staying organized and taking action.
A lot of brands rely on email write-ups to log merchandising issues, but that just sets them up for a long and painful reporting process. Plus, they're actually far from real-time. It's often not until the end of the week that a team lead has the chance to review those emails, and even then it's not always apparent when there's a compliance issue that requires action.
That's why at Repsly, we empower brands to use mobile forms to collect and submit merchandising data from their accounts. As simple as these forms are, they're actually the building blocks for brands that want to get alerts about merchandising issues.
Let's walk through how we're seeing brands use forms to identify compliance issues at their stores.
Forms: The Key to Tracking Merchandising KPIs

With forms, managers can set key performance indicators they want to track in the store, then equip their team to report back on those every time they visit a store. Let me show you how we'd set that up with Repsly's custom form builder.
Let's say to start, we want them to snap a photo of our product so we can see exactly what we look like on shelf.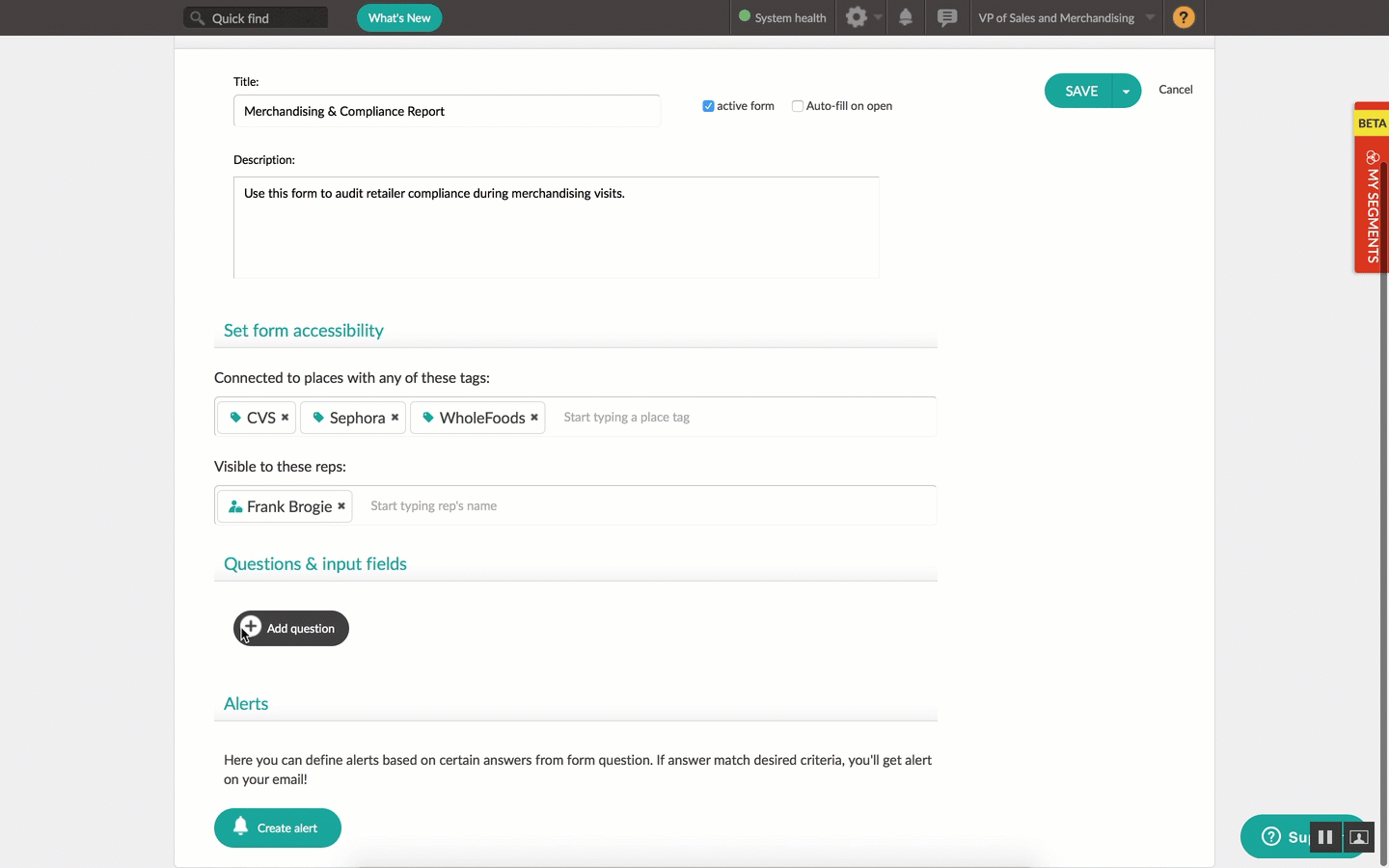 Next up, let's find out in which of our stores we have a secondary placement.
I'll simply set up a form question to ask my rep "Do we have a secondary location?" then give them the option to answer "Yes" or "No."
In Repsly you can add as many of these questions as you want to get visibility into any and all merchandising programs you have running. But for this example, we'll add one last question for our reps, giving them the chance to report the overall quality of the store. Let's make the options "Perfect," "fair," or "needs attention."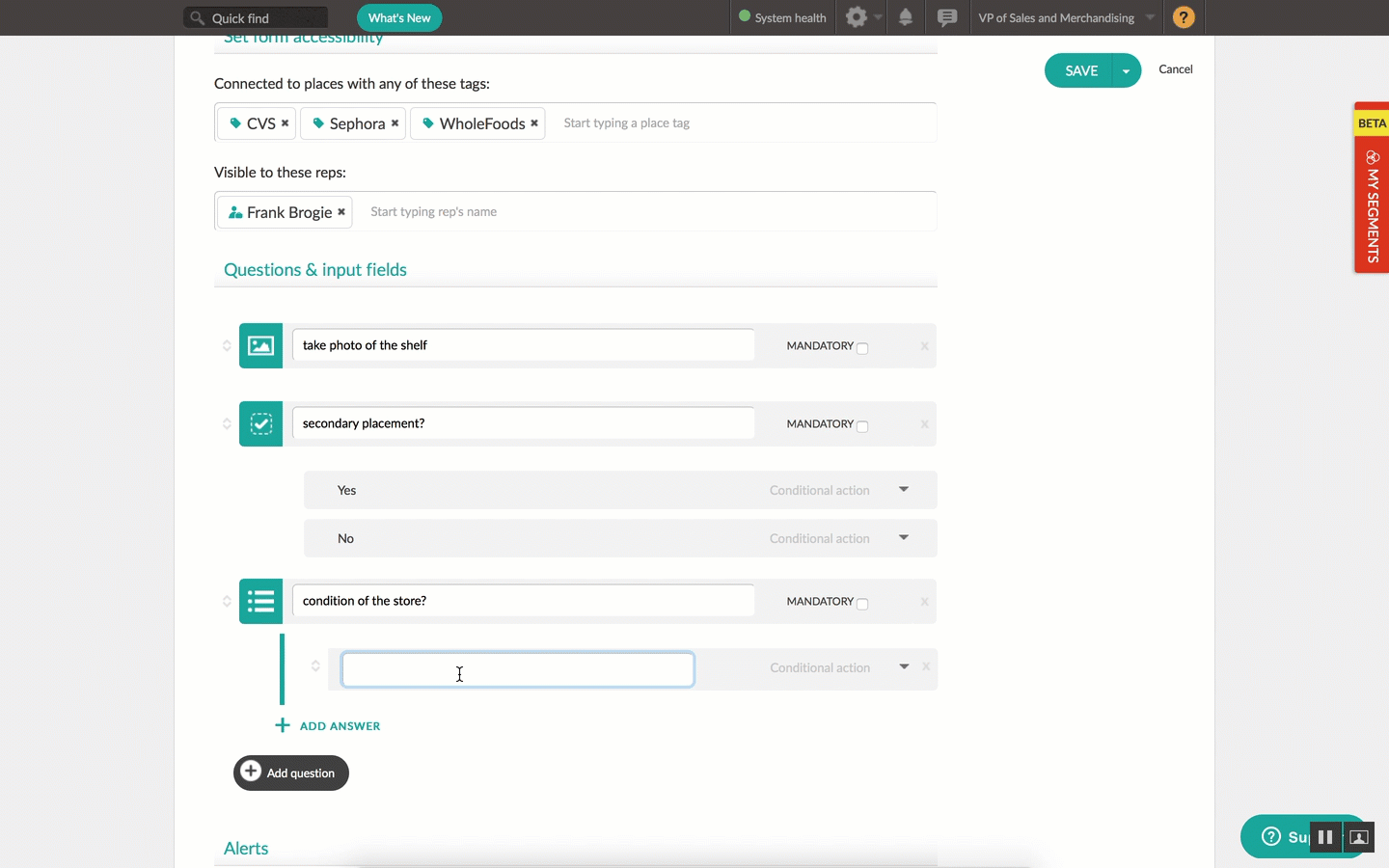 Most importantly here, I'm going to set up an alert on this last question. If any of our reps reports that a store needs attention, we can ask Repsly to send an immediate email so we can look into a solution.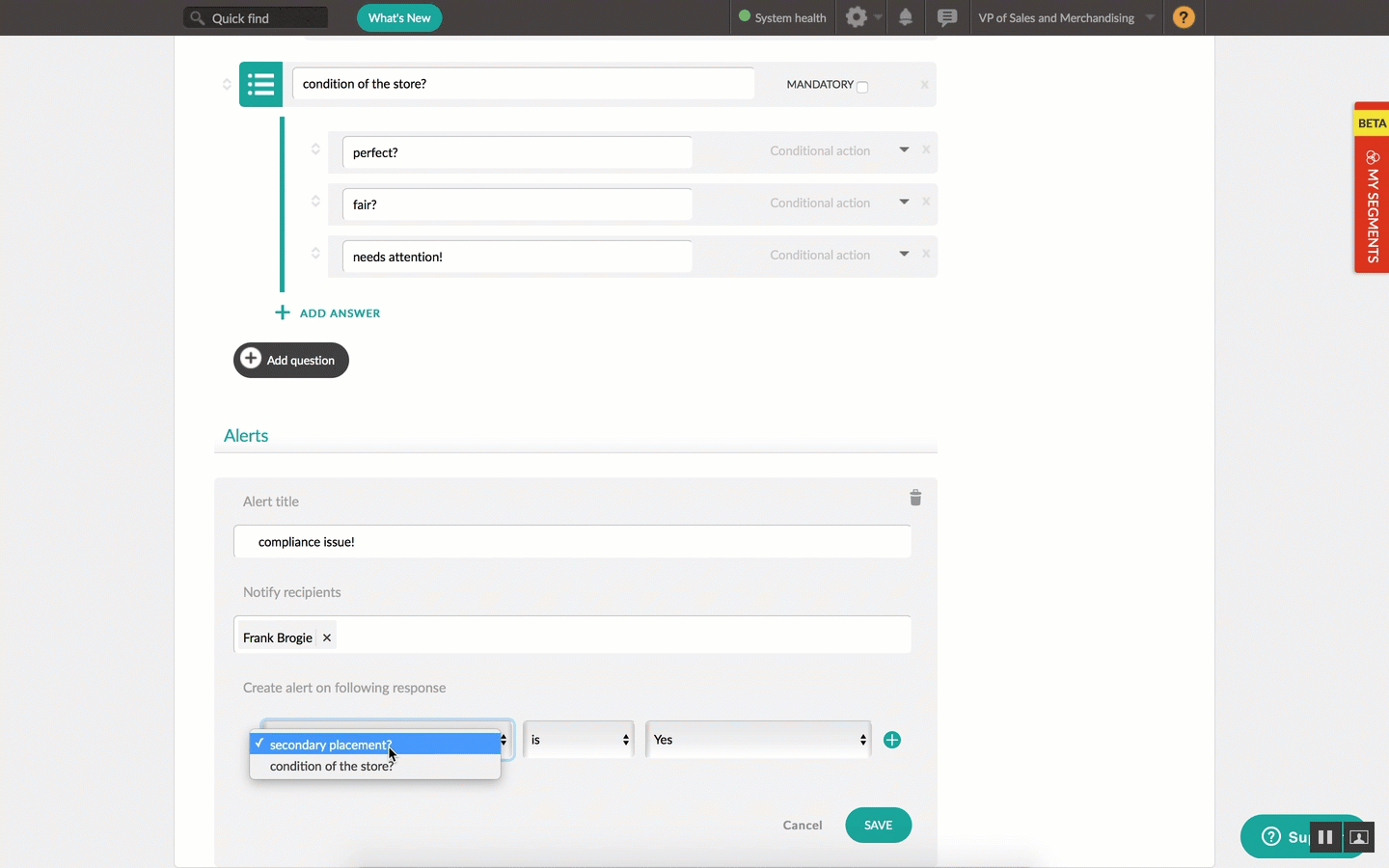 Just like that, we have a merchandising visit report all of our reps can fill out every time they stop by a store.
One of the great things about these forms is that they're super easy to edit or create altogether new ones. Then, those changes will be instantly be reflected for your entire team.
Empowering Your Team to Report Noncompliance From the Store
That's where the Repsly mobile app comes in. We make it incredibly easy for reps to collect all this data while they're at the store. Because of that, we find reps actually prefer filling out forms than writing up email reports.
First up, when they arrive at the store your reps can check into that location. That way all of their notes are automatically associated with that specific store.
Once they've checked in, it's easy for them to open up any form you've created and answer those questions as they audit your products.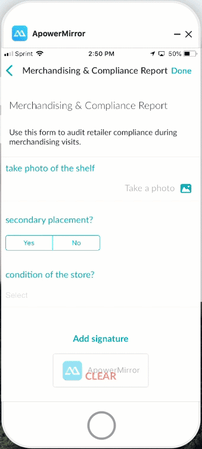 All in all, that takes no more than a few extra seconds during the visit.
Correcting Compliance Issues in Real Time
Obviously it's great to have your teams logging merchandising issues like this out in the field, but it's super important for them to not only take action, but to do so quickly. And ideally, that happens while your reps are still at the store.
So in addition to that alert we set up earlier, where we requested an automatic notification when a store was out of compliance, you can also see all the details your reps submit in Repsly's real-time Activity Feed.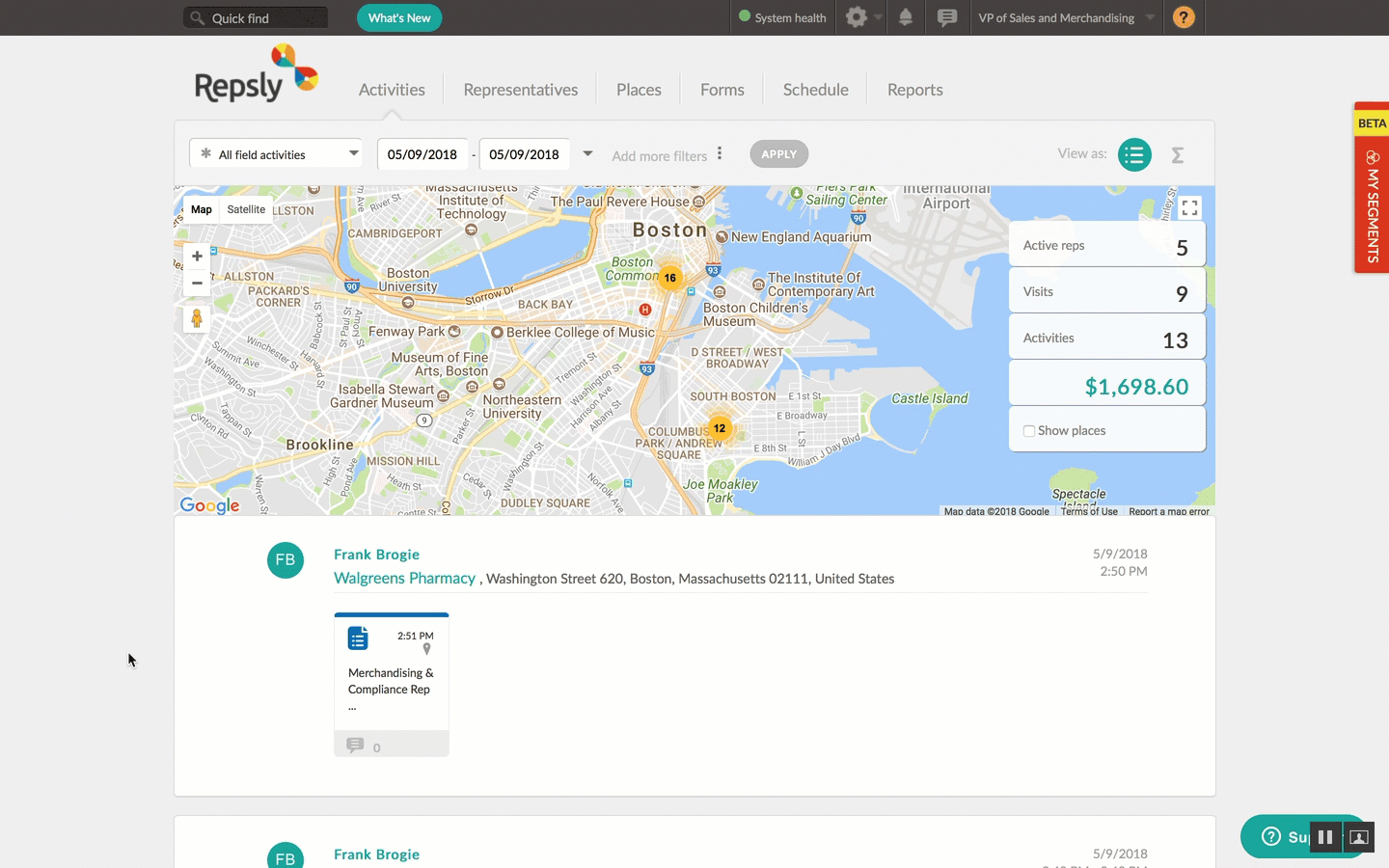 Here, managers can jump in and take a look at any visit their reps have made out in the field, and simply drop a comment for the rep any time they'd like to suggest a solution or ask the rep to take an action.
Just like a comment on social media, that appears in real time in the rep's mobile app, and you can have a quick back and forth if you need to to resolve the issue.
Identifying Noncompliant Retailers at a Glance
But what if the managers aren't there to take action on these kinds of issues right away? Or if their team isn't built to detect and solve errors like this in a single visit?
In Repsly, you can filter your accounts by any form question you've asked your reps to report. That way, you can identify just those with compliance issues, for example, helping us prioritize those accounts over those that are in the clear.
So to do that, we're going to jump into My Segments. You'll see on the left is a full list of all of my accounts. While it's great to have them all listed here, it's a large list that's intimidating to work with. With Repsly, we can simply set a filter to show us just the stores my reps have flagged as "needs attention."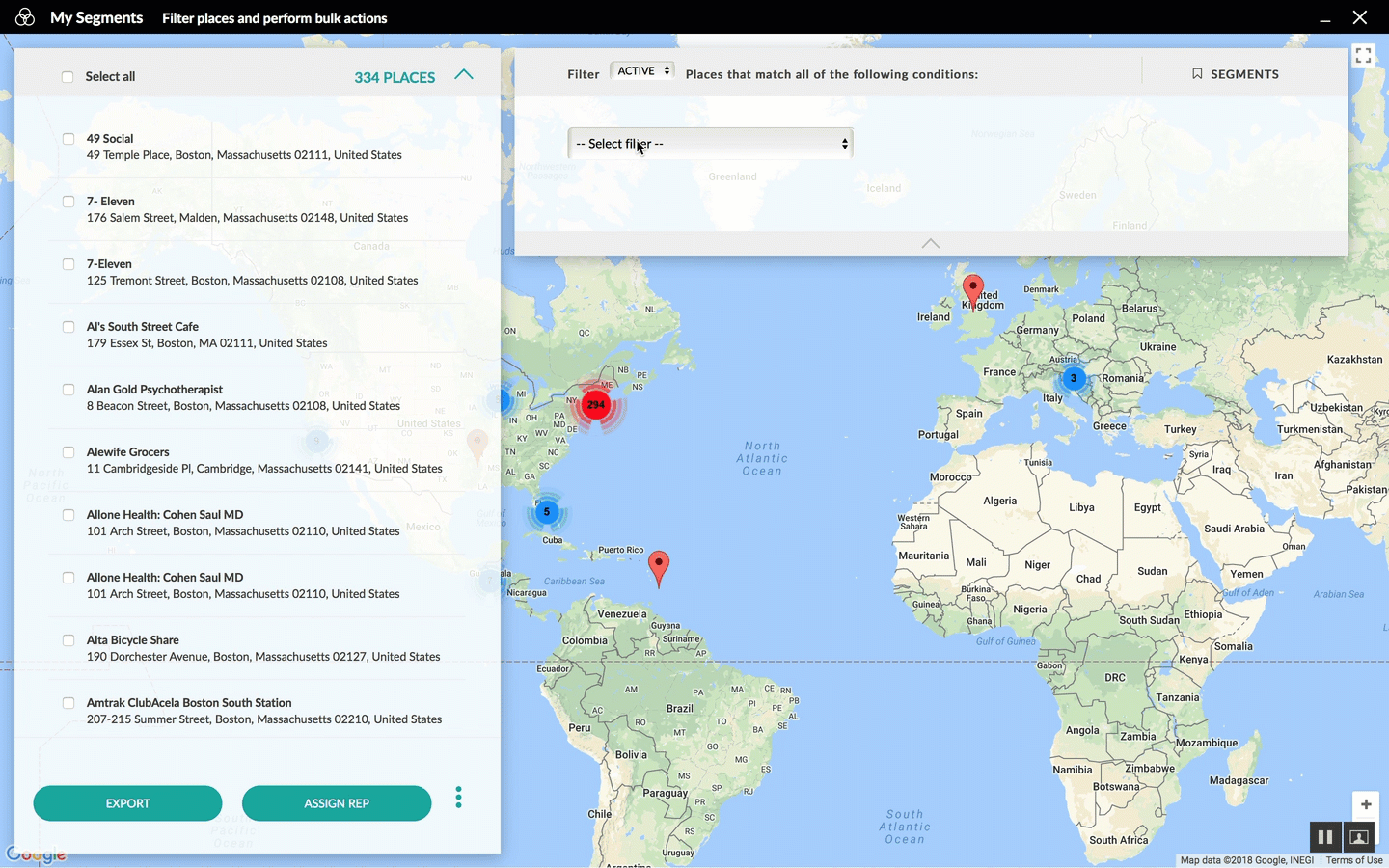 Now, you can see that list of a few hundred stores has been whittled down to just the one we just visited. With that more targeted list of accounts, brands can direct their efforts at ensuring compliance at those locations.
And you can use these powerful account filters to narrow your focus onto a set of stores with any criteria. In the example below, we'll see which stores in our East Territory have shown out-of-stocks of our most popular flavor.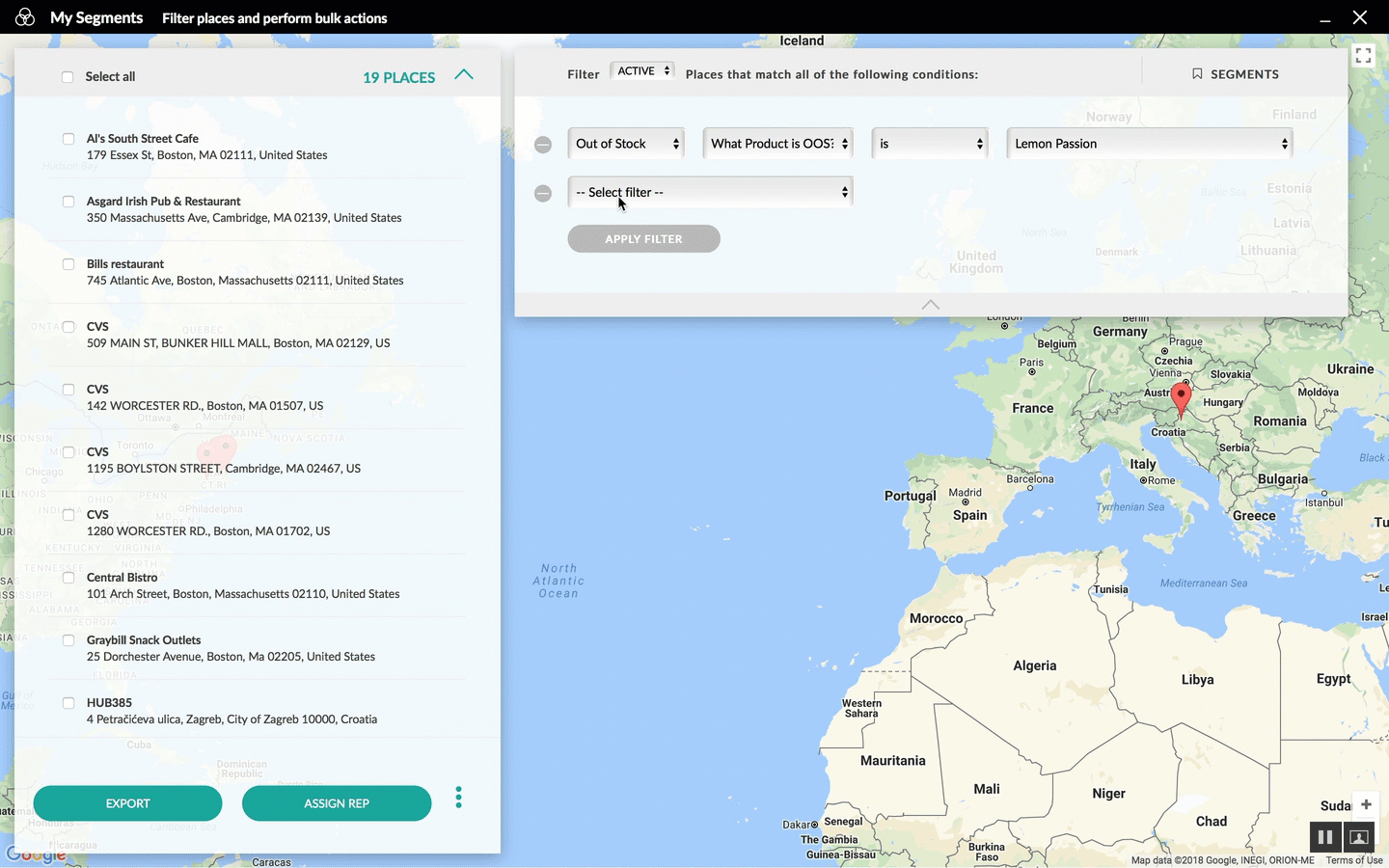 Having these targeted lists is so much more manageable, especially for helping team members prioritize accounts and actually get out and solve compliance issues faster.
Some of those metrics we see teams track include whether their coupons are present, or if they're being sold at the agreed upon sale price. For cosmetics brands, they often want to make sure the testers are all out and working, and that the staff is knowledgeable about their products. No matter what your priorities are at retail, you can track them in Repsly.
Once More From the Top...
It all starts with the mobile form, which your team can use use to report store level details during their visits. Managers can set alerts for key merchandising issues or signs of retailer noncompliance, then use in-app messaging to solve problems while their reps are still at the store. They can also use Repsly to see trouble accounts at a glance and communicate those opportunities for improvement to their team.
To see what all this would look like in action for your brand, chat with one of our Repsly specialists. They'll walk you through the details and answer any of your questions one-on-one, and get you set up to get started for free! Click here to choose a time to chat!