One of the biggest challenges of selling to Kroger is also the biggest opportunity: there are nearly 3,000 Kroger store locations in the U.S, and many of them are among the busiest stores in the country. Offering in-store support for your brand from coast to coast, or even in just a few key geographies, is essential, and sending your sales reps to do routine audits and merchandising can give your brand a big advantage — but supporting so many stores is expensive.
But what if you could see what was going on in every store in between visits, and just visit the stores where you knew your team would have a measurable impact on sales? According to Gartner, Retail Activity Optimization programs can substantially improve the effectiveness of CPG field sales efforts. But accomplishing that is far easier said than done. Until now.
Repsly just launched an all-new Retail Sales Reporting offering that uses brands' Kroger point-of-sale data to help them optimize their retail activities, driving down the cost of supporting their Kroger accounts while improving their team's impact on sales.
Kroger vendors can access their point-of-sale data via the Kroger 8451 portal. These files include performance by store and SKU. Now for the first time field teams can access this data alongside the shelf-level insights and field activity patterns collected in Repsly. Together, this data can be used to optimize retail activities and shine a spotlight on the stores your team should be visiting every week.
In this blog post, we'll break down exactly how brands are using their Kroger point-of-sale data to find sales opportunities and optimize their retail activities in the field.
Use Store-Level Sales Trends to Find Execution Errors
Track SKU-Level Sales to Anticipate Out-of-Stocks
Automate Distribution Voids
Equip Reps With Up-to-Date Sales Data
1. Use Store-Level Sales Trends to Find Execution Errors
When you think of field teams, it's easy to think about the big wins they achieve, things like securing secondary displays and winning premium positions at the home shelf.
While your field team surely spends lots of their time looking for ways to expand your footprint in the store, perhaps more important is the "dirty work" they do to make sure every store is in compliance with the planogram and promotion agreements. Poor in-store execution can pull sales down by as much as 25%, so simply driving compliance can be as important as winning a flashy new display.
Repsly's Retail Sales Reporting automatically detects potential execution errors so your reps can prioritize the stores where they can have an immediate impact on compliance — and therefore on sales.
One way many brands do that is to flag stores that underperform on a week-over-week or year-over-year basis. For example, a 15% drop in sales week-over-week could be a sign that you lost a premium shelf placement, or that a competitor displaced an important SKU. Repsly's Retail Sales Reports highlight stores with potential errors in between store visits so you can prioritize the accounts that need attention, even if they weren't already on the schedule for that week.
2. Track SKU-Level Sales to Anticipate Out-of-Stocks
In addition to finding sales opportunities in underperforming stores, brands can also use their point-of-sale data to uncover potential out-of-stocks. Tracking individual SKU performance week-over-week is a good way to identify stores with empty shelves, or even recognize when a store is on the brink of an out-of-stock. By using their point-of-sale data to recognize these risks before their team makes a store visit, brands are able to deploy their teams and fill shelves much faster than if they had waited until their rep's next regularly scheduled visit to that store.
3. Automate Distribution Voids
Another way your field team can move the needle on sales is by finding and fixing distribution voids. Voids can be hard to spot during routine store visits because there's not an empty slot on the shelf to indicate a product is missing. But whether the shelf is empty or not, having an entire SKU fall out of distribution can drag your category sales down as you miss out on opportunities to build cart size or introduce new products to fans of your brand.
Using your Kroger sales data, Repsly's Retail Sales Reporting can flag distribution voids even in stores your team hasn't been out to visit. Repsly can cross-reference SKU-level sales with the list of your products approved for distribution in Kroger, and point out instances where a product may have fallen out of distribution. You can then sort the store list to view the voids that have lasted the longest, and dispatch your team to take action in each account.
4. Equip Reps With Up-to-Date Sales Data
So far, we've focused on ways brands can use their Kroger sales data to find sales opportunities from the home office. But brands can take it a step further by giving their sales reps direct access to sales data in the field. Armed with the latest sales trends for each specific store they visit, your reps will be able to do two things:
Quickly determine which products or categories need attention
When reviewing sales trends in their accounts reps will be able to see which SKUs have struggled since their last visit. Low sales could indicate execution errors, competitive activity, or simply that they should phase out one SKU in favor of another. With this data on hand, reps can take a tailored approach to each store they visit based on demand.
Start data-driven conversations with retailers
Retail buyers and category managers deal with dozens of brand reps and brokers. Armed with actual sales data from their store, reps can cut through the noise and make a stronger case for their brand. Perhaps a certain SKU has sold well for a month straight and gone out of stock a few times over that period. With the sales data to prove it, a rep could make a strong case for placing a larger order and displacing a competitor in a prime off-shelf placement. With sales data at their fingertips, reps can position themselves as a helpful consultant that can work with buyers to grow the category.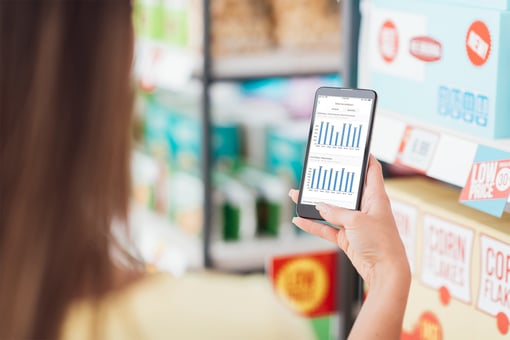 Repsly's Retail Sales Reporting gives brands access to reports like these right out of the box, with no coding or IT involvement required. Talk to us today to learn more about how you can leverage your Kroger sales data to drive execution and sales in the field.
Photo credit: Virginia Retail via Flickr, licensed under Creative Commons.
Frank Brogie
Frank Brogie is the Product Marketing Manager at Repsly. When he's not thinking about how to position and sell Repsly's products, Frank loves to explore Boston by bike and hunt for vintage cars through a camera lens. On weekends you can count on Frank to organize a pickup basketball game or play disc golf. An avid podcast listener, Frank recommends Philosophize This, 99% Invisible, and Radiolab.