People aren't drinking beer like they used to. Bars are finding lessening success keeping up numbers as people are looking for more than an after-work Bud Light. While standard pubs may notice the warning signs of patron trouble, "bars with a twist" -- bar-cades, rooftop bars, brewery tap-rooms, sports bars and pool halls -- are thriving. Beer as an experience seems to be the way of the future.
This plays to craft breweries' advantage in a big way. Craft beer is usually marketed as an experience or hobby, playing into this trend well. That said, not every buyer is looking for the same experience. So how do you tailor experiences to the right customer? Implement craft buyer personas by location to better understand sale trends.
On Premise vs Off Premise Sales
On premise and off premise sales are split by where consumers drink purchased beer. On premise sales are locations where beer is drank on purchase, bars or tap-rooms. Off premise sales are taken to a secondary location for consumption, buying alcohol in grocery or liquor stores.
Each venue offers different merchandising tools. Each tool speaks differently to each buyer. Good marketing first needs good buyer personas.
Buyer Personas in the Craft Beer Market
Every craft brewer splits their market in a unique way. We create our split from a West Michigan research paper on buyer trends in both markets. Comfort and experience splits craft buyers into the following three, relatively-straightforward groups:
The Novice: limited experience in the craft beer market. Easily intimidated by the massive quantity offered and the highly-specific, differentiated brewing methodologies. Experimentation takes a backseat to referrals when picking new names.

The Experimenter: A step beyond novice-hood. While still largely unable to distinguish between makes and styles, the experimenter begins to understand what palate they look for. Pushing this palate in new directions to hone personal preference is a large priority of these buyers.

The Connoisseur: they are the experts. Brand loyalty is huge as they understand both who they like and what styles they look for. This is their prefered beer medium, opting for craft at every chance, only choosing bargain beers when looking for mass appeal.
The three are tiered by experience and knowledge. Craft beers have their own language. Buyer familiarity with the influence of hops, fruit infusions and other industry practices distinguish between the experts and those intimidated by such terms. As trivial as this comfortability seems, it makes a world of difference in the places people order craft beer, and expectations walking into retail.
On Premise Sales
Where are people drinking? Bar atmosphere means a great deal to those who go out. Drinkers across most demographics are favoring balanced experiences to the standard pub -- opting for barcades, live music, dancing, and the social opportunities these locations provide. Bars are only half the picture though.
Many breweries come equipped with tours and tap rooms. Not all drinkers are equally likely to make the trip to their local tap room, though. Understanding how the craft buyer personas interact with the larger world around them reveals ideal merchandising by location.
The On Premise Novice
The novice goes to pubs and bars. If they go to breweries, it's for the environment and social factors, not brand loyalty. Craft beers aren't a lifestyle for these consumers, yet. Now that we've established their drinking habitat, what are their behaviors on site?
The novice seeks a good time fueled by a "better than average" beer.

When a novice seeks craft beer on premise, they look for price and referrals by friends. Otherwise, selection and flights have little sway on their decision.
Drinking, for the novice, is nothing more than a social vehicle, not an exercise in taste. As such, they aren't seeking to expand their palate or distinguish between an imperial pale ale and an Indian pale ale.
Marketing to the On Premise Novice
Build behind the bar market share: Market share means everything in these environments. How much physical space does your label, name, logo, or image occupy? Are bartenders wearing your merch?
Sun shining, #Fenway opener playing on the #Taproom big screen, & new #NSB trucker hats just arrived! #springishere pic.twitter.com/GjctyEKZ6i

— Night Shift Brewing (@NightShiftBeer) April 13, 2015
Bar specials have big sway in this demographic. Price is the largest barrier to entry for this demographic. If certain sizes or drafts are offered at a sale, the novice will bite.
The novice isn't looking for a 201 lecture on the intricacies of brewing; they want something good and something easy. Buyers like this have an affinity for name recognition, something they can effectively point to and say "that," with as little risk as possible.
Get visible, get accessible.
The On Premise Experimenter
The experimenter views on premise drinking as a low-risk opportunity to branch out. While their prefered atmosphere still favors socializing with friends, the experimenter is more willing to do their name justice. Here are the traits that push them to craft.
They may seek recommendations on tap or pairing from servers.

Flights become prevalent with this group as the opportunity to develop taste is a huge driver.

Price and specials have sway. To this extent, Limited time offerings have grip with these buyers.
Marketing to the On Premise Experimenter
The experimenter is more likely than the novice to explore specific breweries for their on premise fix. This isn't a brand-loyalty decision, though. The experimenter looks to breweries for the social traits they offer, something new and fun to spice up the monotony of clubbing. Factory tours, live music, and a unique sense of community mean more than what IPA is on tap.
That said, breweries offer experimentation in a way that appeals to this aptly named demographic. Flights are popular. If food is in the picture, the experimenter will play with pairings (when provided recommendations).
Selection is important. Let them hit and run with a diversity of flavors. These flavors shouldn't be bogged down with industry terms, rather laymen descriptions of flavor.
Aeronaut Brewing Co. does this phenomenally well. Their selection is clearly outlined with just enough industry terms (ABV, Double IPA) to bait in experimenters, but paired with easy to digest terms like fruity, spicy, and hazy.
The On Premise Connoisseur
The Connoisseur picks breweries for the brewer. There are social traits and expectations to brewery visits, but the connoisseur goes primarily for their love of beer. Unlike the previous two personas, socializing revolves around the drink, not drinking: chats with bartenders and patrons about personal preference, discussions on methodology with the brewers, conversations focused on the beer. This is a shift in focus from talking around beer to talking through it.
They've picked their brand and taste. Experimenting is more deliberate. Limited product offerings are critical here, seasonal and specialty drafts. Connoisseur buyer traits go as follows:
Trips are planned around individual breweries.

Craft beers are a hobby. As such, connoisseurs look for a like-minded community to engage primarily with the beer, as opposed to using beer as a supplement to watching sports or listening to live music.

As this is a hobby, connoisseurs usually possess a dedicated beer budget. They are usually willing to spend more and spend with confidence.
Marketing to the On Premise Connoisseur
Tree House Brewing Co. only offers their highly sought after product line in house, with little to no outside distribution. Through word of mouth and strong industry press, Tree House became a very popular spot among New England connoisseurs.
Great vibe here this afternoon. Short wait and pours of Alter, Lights Out, TWSS, Old Man, and Bright. Plenty of Green, Eureka, and Ma for takeaway. pic.twitter.com/pFNJUwvLKy

— Tree House Brewing Co.🍺 (@TreeHouseBrewCo) January 3, 2018
This layout excels in several key ways. The tap room (pictured above) is stunning. Fans of the brewer are encouraged to stick around in a welcoming environment. Connoisseurs are then encouraged to talk with complete strangers on their shared fandom and Tree House-specific obsessions. They get recommendations and gain new appreciations for their beer, creating an unrivaled experience tailored perfectly to this demographic.
Otherwise, communication is key. Lot's of breweries maintain very transparent social media presences. Post blog links and instagram-ready cans to fuel the craft-geek fire. It rewards diligent brand loyalty and creates a warm atmosphere hobbyists love. At the very least, give them a heads up when the drafts get switched around.
Off Premise Sales
We just tackled the wide world of on premise sales, ranging from bars to breweries. As just about everyone in the alcohol industry can attest, most sales numbers stem from retail, buying nips and 30 packs from gas and liquor stores. How should your retail presence look?
Location is everything. Craft beer doesn't move units in low end gas stations, not in any meaningful way. With their atmosphere of prestige and an elevated price tag, mid to high end liquor stores are ideal. But this is only half the battle. Once you get in the door, how do you get seen? Win facings and prime coldbox presence?
Let's breakdown what each buyer expects when shopping in retail.
The Off Premise Novice
Selection daunts the novice. Trying to parse through the finer details of an Indian pale ale, American pale ale, imperial pale ale, American imperial pale ale, and a New England Indian pale ale borders the impossible. Especially when descriptors like "hoppy" are used with little context. As such, exploring the craft aisles of upscale liquor stores amounts to little more than a complete stab in the dark. Several traits of note guide purchase:
The novice wants to try new beers, but commiting to a whole pack in retail is often viewed as a risk.

There is little brand loyalty among novices, unless they hit a particular flavor they enjoy.

Packaging and branding has as much sway as the aforementioned pale ale tags. With little experience to latch on to, a good design can often push to purchase.

Price serves as a serious barrier to entry, with novices often favoring brews on sale.
Marketing to the Off Premise Novice
As we mentioned, the typical selling points are lost on novices. In store branding is key. The familiarity established by logos on posters can provide implicit comfortable when staring at the massive wall of luxury brands. You can call it recognition appeal.
More important, in store sampling events provide huge sway. Have an authoritative representative provide samples of product. This removes the veil of mystery behind the sheer variety of offerings -- even among individual brewers -- lessening the anxiety of being stuck with an unappealing taste.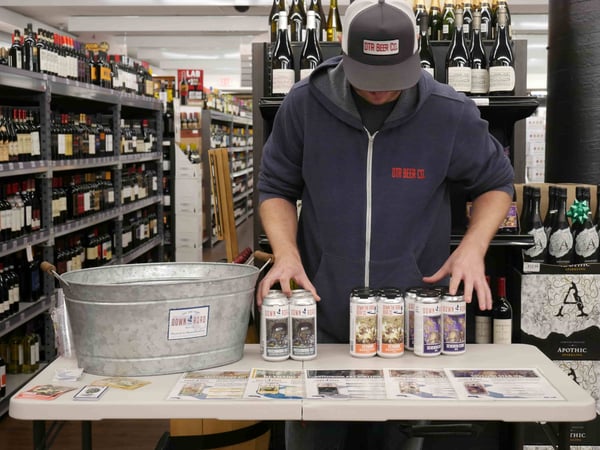 There are implicit ways to stress particular beers as well. If a coldbox or endcap heavily features a particular offering, that isolates a particular beer from the vast selections that overwhelm novice shoppers.
In short, the novice needs to be instructed to buy. Whether that be through brand ambassadors or general employees.
The Off Premise Experimenter
Look past the novice and we find a shopper who still lacks the delicate palate to distinguish the finer flourishes in craft beer, but processes confidence when diving into something new.
The experimenter looks to expand taste, promotions and sales encourage this desire further.

Price is less of an inhibiting factor than for the novice, less perceived risk at selecting a less than idea make.

Little brand loyalty, though brand recognition and preference is observed. Brand preference is usually dropped in favor of experimenting beyond standard product offerings.
Marketing to the Off Premise Experimenter
Exterior factors take priority over price. While signage and demonstrations can sway the novice, in store branding and promotions have even stronger sway over this demographic.
Effective methods of in store branding are often dubbed trade promotions. They are specifically designed to convert unassuming browsers to buyers. We recently spoke with a sales manager from Narragansett Beer on moving units in retail. His feedback directly syncs with this specific demographic, stressing what points of engagement have the biggest sway with experimenters as well as some tried and true audit points when inspecting retail presence.
The Off Premise Connoisseur
Luckily, connoisseurs are a self-sufficient group. They know the brands; they know the brew styles. Connoisseurs largely stay faithful to the product they like, though experimentation still occurs.
They enter retail with a firm idea of what they want, often upset when their drink is out of stock or otherwise not bottled.

The language on the can means more than the imagery (but imagery still matters). Their experienced understanding resonates with industry terms, often being a factor of sale.

The style of night holds personal significance and sway with their selection.

Recommendations come from authoritative sources. Recognized "experts" can influence, though they are likely hesitant of people with perceivably less craft experience than themselves.
Marketing to the Off Premise Connoisseur
Good news, bad news. If they already like you, you're in. Otherwise, you need to fight against established preferences and insert yourself in their craft beer arsenal, a tough win. When shopping for themselves, limited offerings create a sense of urgency that's hard for the connoisseur to ignore, especially if branding hits the keywords they look for.
Often, connoisseurs will expose friends to the world of craft beer with safer offerings. This puts brands in a tough bind of balancing mainstream recognizability in a market that encourages the niche.
Brands rely on trust, trust that their messaging rings clear. What's the hop profile? How does ABV impact drinkability. Light or heavy, oaky or fruity? These descriptions resonate well, and should be at the forefront of the connoisseur's decision making process.
Brand representatives who can speak authoritatively on these matters impact connoisseurs well.
---
On premise sales act more as viral marketing than anything else. Buyers across all personas view ordering a single beer from a new brewer as a far safer investment than banking on a four to six pack they may not like, even if the price per unit is staggeringly less. For most, a pint in a pub counts as a sample, a proof of concept for your brand. This familiarity drives off premise sales. Brand recognition established on premise encourages buyers to experiment in retail.
While buyer motivations vary by location, each pillar supports your brand in a way larger than sheer sales. Understanding how to capitalize on this balance and exceed in both families of sales really matters.
Peter Manning
Peter Manning is a Content Market Journalist for Repsly. He's a recent graduate from Boston College with a degree in English. When he's not writing for the site, he's almost certainly playing bass, getting second place in trivia, or watching the Patriots like a good New England native.