What is retail marketing?
Retail marketing is the process of bringing a product directly to customers in a retail store. It involves the planning, promotion, and presentation of a product. Having a unique commodity is only the first step -- addition components of retail marketing include ergonomic packaging, competitive pricing, and sales campaigns.

The four gold standards of retail marketing are product, price, place, and promotion.
Principle One: Product
This one seems pretty straight forward; before you can attack the marketing process, you have to have a product to market.
This product can be physical or intangible. Either way, it's important to compartmentalize whatever you're offering into a neat unit. How do you do this?
Packaging.
You can't have a product without packaging
According to Forbes, a staggering 95 percent of new products fail. While Forbes chalks it up to a lack of quality and deliverance, Inc. offers up another insidious cause of product failure: bad packing.
The article urges you to think of brands such as Tiffany & Co. and Apple, can you picture their packaging?
Tiffany and Co.'s packaging is so iconic that "Tiffany blue" is now a widely recognizable color, while the Apple brand has crafted its entire brand around minimalistic, sleek packaging.
These examples definitely don't work for every brand, but they do provide a rigid set of guidelines to follow. Here's how Inc. breaks them down:
1. Know your demographic
2. Make cheap packaging look chic and personalized
3. Make the packaging part of the experience
4. Consider eco-friendly options
Principle Two: Price
With the right tools, you can tackle pricing head on. There are a lot of different factors to consider, such as overhead expenses, competitors, profit, demand, product positioning, and market conditions. In order to optimize sales, you must find your product's pricing sweet-spot.
Here are two of the most common pricing methods we see:
Cost-plus pricing
Cost-plus pricing involves determining your break-even price for a product, and then adding on a markup for each unit based on how much profit you want to make. This pricing method is often used for things uninfluenced by competition or market changes, such as commodities and services (think: credit card processing fees.)
Since it doesn't take into account a product's value or that of competing products, it's not a great strategy for retail items.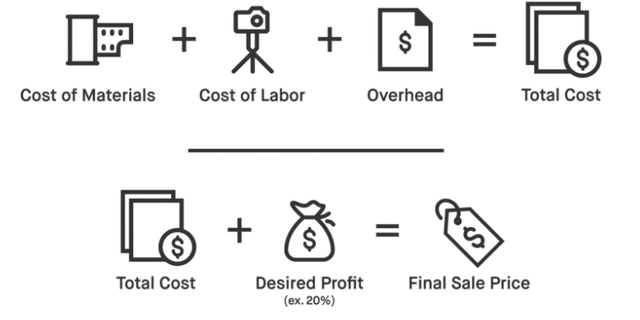 source: George Casely
If a coconut water costs only 50 cents to produce, and you add on another dollar, your price is still way too low, since consumers are paying double that for competitor's products.
So how do you account for this?
Value-based pricing
The answer is value-based pricing. Value-based pricing involves estimating how much your product is worth to customers. This strategy appeals to your customers' emotions, which can be especially high when it comes to fashion and niche markets. It's most fitting for products with varying levels of value and demand (think: Kanye West's Yeezy sneakers.)
Often this is the best strategy to use in retail, since it allows for higher prices, ergo higher profits.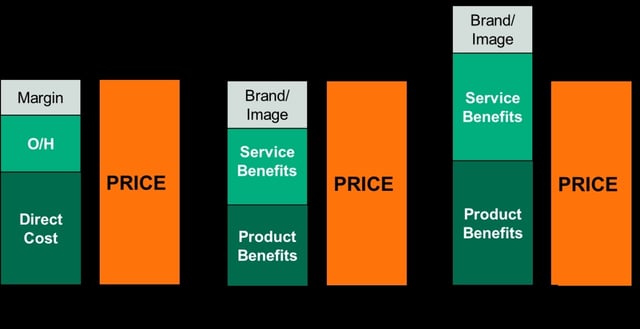 source: Optimization Group
For example, a "super tea" kombucha may cost the same to make as an original flavor, but you can increase its price because customers perceive it as more valuable.
Principle Three: Place
Location, location, location.
You can have the best product in the world, but if it's out of your customers' reach, you're out of luck.
Distribution channels get your product in front of your customer. When deciding on which channel to choose, you must consider where your target customer shops.
For example, you might sell your homemade jam at a local farmer's market, while Smucker's opts to sell its jelly through a large wholesaler.
In theory, this is simple. But it's not always easy to get your product in front of retailers in the first place. Here's how to get your product in stores:
1. Ace your packaging
2. Know the retailer and how you'll fit
3. Practice your pitch (then practice some more)
Check out this checklist for more information on choosing the right retailer.
Principle Four: Promotion
Last but certainly not least is promotion. Promotion is often the point where retail marketing and field marketing meet. It's all about communicating with your consumers and sparking their interest in your product.
Promotion can be anything from traditional advertising to influencer marketing. In all forms, promotion requires a deep understanding of your target consumers and how best to reach them. This principle is perhaps the most elusive of them all, as brands continue to one-up each other when it comes to creative promotion.
However, a few of the standby promotion tactics include face-to-face marketing, in-store merchandising, and sales promotions.
Check out these two trade promotion tactics that can boost sales by 15 percent.
Data- Driven Retail Marketing
Want to ace your execution of the four gold standards of retail marketing and increase sales? Check out how using three types of data can be the easy difference between adequate and advanced retail marketing.
Here are the top 10 retail marketing blogs to follow.