Just announced! We're revealing our 2017 list of the 100 Buzziest Food & Beverage Brands, ranking the year's fastest-growing brands by the buzz and conversation they stir up.
We started with the top food and beverage brands named in Inc. Magazine's Inc. 5000 list of the fastest-growing private companies in the United States, and added our own metric to see which were the "buzziest." To start, we looked at each brand's following across four social media platforms (Twitter, Facebook, Instagram, and YouTube). Then, we added points for any creative marketing campaigns, awards, or charitable contributions each brand made over the course of the last six months.
We've organized our Top 100 into categories for food brands, alcoholic beverage brands, non-alcoholic beverage brands, food service organizations, equipment providers, service providers, online retailers, and distributors.
Check out the map and table to below to see which brands made the cut, and keep scrolling for details about the top brand in each category!
Top Food Brand: Arctic Zero (#1)
The SoCal based (non-)dairy company produces lactose-free, gluten-free, low glycemic, GMO-free frozen desserts. The brand's creamy pints, chunky pints, and chocolate-dipped bars are sold in a whopping 14,000 retailers despite being a startup.
Over the summer, the dessert purveyor launched its "Freedom Tour" which included pit stops at events across the country where consumers could meet brand reps, and of course, try free samples. The tour even had its own accompanying Spotifly playlist. Way to keep things cool!
Top Alcoholic Beverage Brand: New Glarus Brewing Company
An eleven-time honoree on Inc.'s list, New Glarus Brewing produces six annual beers, plus seasonal additions. New Glarus is the 16th largest craft brewery and the 25th largest overall brewer in the country. A figurehead in the state of Wisconsin, the brewery sponsors an annual Oktoberfest celebration in its "village."
Top Non-Alcoholic Beverage Brand: Nuun & Company
A force in the nutritional space, Nuun produces sugar-free, gluten-free, and carb-less, electrolyte-enhanced dissolvable drink tablets which come in a recyclable tube. Dozens of athletes and teams show their support for the brand as ambassadors.
Nuun sponsors several athletic events across the nation every year. Watch out for the hashtag #nuunlife to get in on all the action. Our friends over at Honey Stinger even named Nuun as their favorite brand on the market this year. Keep it up!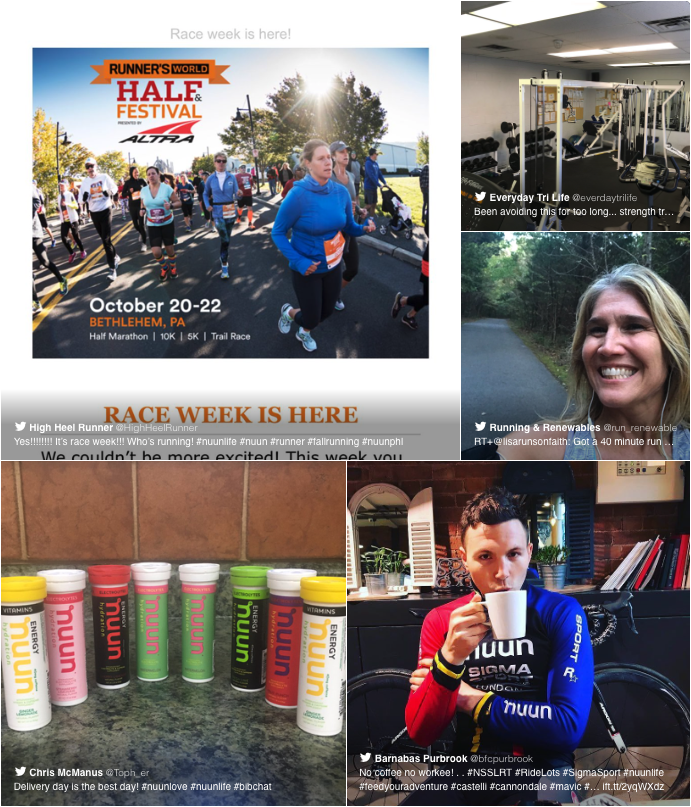 Top Food Service Organization: Magnolia Bakery
Any and all Sex and the City fans know about Magnolia. Although the show might have gotten it some airtime, the bakery is acclaimed in its own right. With storefronts in New York, Los Angeles, and Chicago, as well as an e-commerce business, Magnolia has experienced 76% growth in the past 3 years alone.
Top Equipment Provider: KaTom Restaurant Supply
This restaurant supply wholesaler offers over 150,000 products for commercial and residential kitchens. The female-owned company has catapulted over the $100M revenue mark since its inception in 1992.
Besides being wildly successful, KaTom is well-known in the community as well. The company recently sponsored a theater performance and hosts regular cooking demos at its facility in Tennessee.
Top Service Provider: Untappd
Millions of beer drinkers use the app to explore nearby bars and breweries. Users can check-in at a location and rate beers while earning badges for trying new styles. It even offers live tap list updates, recommendations, and a schedule of local events. Businesses can use the app to attract potential customers by sharing their location and menus with the world. Untappd also sells promotional items for beer enthusiasts.
Another year of drinking socially down! Celebrate by unlocking our 7th anniversary badge or new core badges today! https://t.co/2rcu4vwTlZ pic.twitter.com/rEJbA0U9aw

— Untappd (@untappd) October 18, 2017
Top Online Retailer: GiftBasketsOverseas.com
This gift-giving powerhouse is making it easier than ever to deliver gift baskets, gourmet foods, and flowers to the most important people in your life. Loved by family members and colleagues alike, the company is doing business in over 200 countries.
GBO has been able to differentiate itself with a guaranteed 3-day delivery time and round-the-clock multilingual customer service. They even provide help selecting the best gift option from their enormous assortment.
Top Distributor: The FruitGuys
These guys (no pun intended) have made a name for themselves delivering fresh produce to workplaces, residences, and schools in the San Francisco bay area. With a focus on supporting local farms, The FruitGuys sell what's in season at peak freshness.
The company produces an online magazine with wellness tips that it also shares on social media. It also operates a charity program aimed at reducing food waste by providing excess produce to those in need.
Victoria Vessella
Victoria is a Marketing Associate at Repsly, where she leads the company's P.R. and social media efforts. You can also catch her prepping for slew of exciting industry events. A New England native, Victoria has spent time living in Italy and traveling throughout Europe before settling back in Boston. When she's not planning her next trip, V is probably tasting wine or brushing up on her Italian.