In the United States, alcohol suppliers rely on the aide of liquor distributors to bring their products to market. For budding alcoholic beverage brands, the process of selecting and partnering with a liquor distributor can seem overwhelming. However, with patience and persistence, liquor suppliers will find the right distribution company that can help them penetrate their target market and maintain scalability.
In This Blog:
The Purpose of Alcohol Distributors
Distributors: Benefits & Drawbacks
Choosing the Right Liquor Distributor
Attracting Alcohol Distributors
The Purpose of Alcohol Distributors
After Prohibition was repealed in 1933, the federal government handed over the responsibility of alcohol distribution to the states and instituted the three-tier system. Under this structure, liquor suppliers are required to go through a middleman, known as the distributor or wholesaler, who then sell their products to retailers.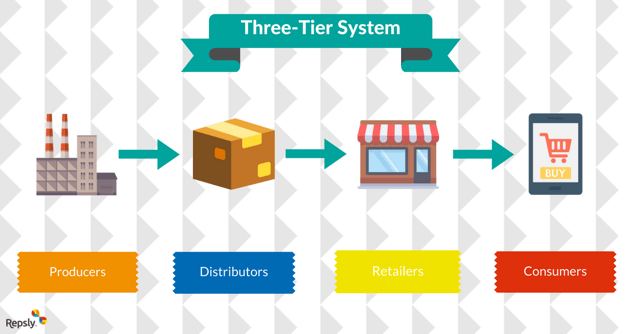 Distributors: Benefits & Drawbacks
Theoretically, including a distributor in the supply chain prevents overindulgence because the cost to the consumer increases as a result of introducing a third-party. Liquor distributors administer identical pricing to all retailers and allow small companies to compete with industry giants, who would otherwise be able to just pay their way onto shelves. A three-tier system also offers tax transparency, since a single body is responsible for monitoring the shipments of product.
Naturally, the system is not without its flaws. For starters, alcohol distribution laws vary from state to state, making it a challenge for suppliers to legally get their product in front the widest possible audience (we will address these concerns in the following section). Moreover, distributors are not necessarily a "neutral party", as some choose only to work with the country's largest alcohol companies because of their consistent sales.
Despite the pros and cons of using a distributor,this partnership is often an intrinsic part of alcoholic beverage sales. Nevertheless, vendors' relationships with wholesale liquor distributors are mutually beneficial: the producer gains a retail presence with the hope of future expansion, and the distributor adds an additional brand to its portfolio.
Choosing The Right Liquor Distributor
Not all alcohol distribution companies are created equal. Emerging brands have specific needs that pertain to their production capacity and ability to market and merchandise their products in stores. These considerations will limit the options that liquor suppliers have available to them when choosing a distributor.
State Statutes
Open vs. Control States
The first step in your quest for the optimum wholesaler is to research distribution laws as they differ by state. The vast majority of states are considered "open," meaning that any company with a valid license to distribute alcohol has the power to do so. There are seventeen others, known as "control" states, which only permit the state itself and its authorized agents to distribute alcoholic products, with minimal exceptions.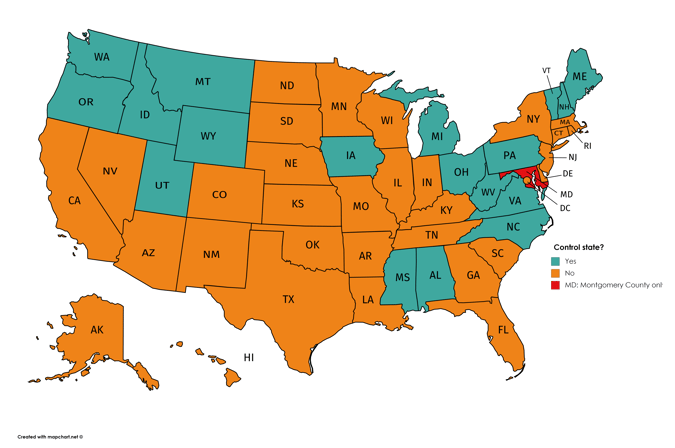 *Note: Maryland is not included in this map because only its Montgomery County operates as a control state.
Franchise Laws & Taxation
Certain states, such as New York, permit self-distribution and direct sales, whereas others, like California, restrict the quantities spirits suppliers can sell to visitors at their distilleries. The state laws that regulate brewer-wholesaler relationships, known as franchise laws, also fluctuate by state. Prior to establishing a contract with a wholesale liquor distributor, suppliers should familiarize themselves with state franchise laws because they may take precedence over contract terms.
State taxes regarding the sale of alcoholic beverages are also erratic. They fluctuate from fixed-rate per volume taxes, to wholesale taxes that are a percentage of the value of the product, among many other types. Because of this variance, it always pays to consult the respective state tax authority.
Starting the Search
After considering state-specific regulations, the next step is to find prospective companies that distribute in the area where you'd like your products to be sold. In some instances, this geographical territory may cross state lines. For a checklist to help you select the right distributor, click here!
Liquor distributors sometimes refer to themselves as "brand houses." Within a given geographic territory, there is usually a major, a miscellaneous, and a specialty brand house.
Major brand houses distribute for the nation's biggest alcohol companies and are extremely selective when adding new brands to their portfolios. Therefore, a young liquor company is unlikely to partner with a this type of distributor.

Miscellaneous wholesalers may also distribute power players but serve regional companies as well.

A specialty brand house is inclined to provide the highest level of service but is sometimes understaffed, meaning that this service can be compromised at times.
Additional Considerations
Another factor to keep in mind when researching is the type of alcohol being sold.
Wine and spirits distributors interact with retailers less frequently than beer distributors because of the slower pull-through time.

Beer, wine and spirits companies should verify if the wholesalers they're interested in working with have refrigeration abilities needed to store and transport their products.

Producers must evaluate whether or not distributors have the space required in their warehouses to store the necessary amount of product today and in the future as a supplier scales.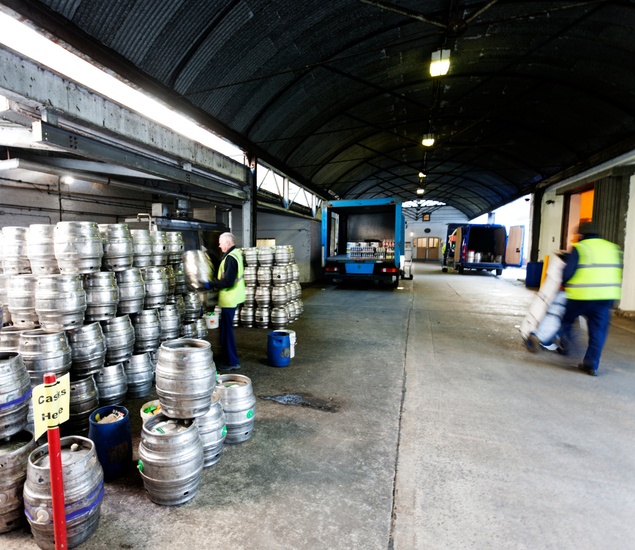 Attracting Alcohol Distributors
After deciding upon a handful of wholesale alcohol distributors to contact, suppliers must present them with a pitch. Distributors of all sizes are choosy about the brands they add to their portfolios, meaning that producers need to prove their value.
A supplier's initial contact with a distributor should be in the form of a phone call or succinct email that details their beverage's specifications and why it's a good fit for the distributor's product lineup. The information in this call or email should indicate that you've researched the company and understand how your products satisfy a particular niche market that they do not yet serve.
The Pitch Process
Once you've secured a meeting with an alcohol wholesaler, it comes time to make your pitch. A key concern for distributors is whether or not your product will sell. Address this problem by obtaining a commitment from retailers, ideally in the form of a written letter of intent, to confirm that there is already a demand for your brand in the marketplace.
Knowing your numbers is a must. Liquor distributors typically want to see 40% margins, according to Beverage Trade Network, so be prepared to discuss your pricing, shipping costs, and advertising budget. Anywhere that you can make compromises in order to afford distributors a higher return will be a key advantage in your negotiations.
Pitch Meeting Prep
Liquor companies need to convey these selling points in their meeting with a distributor in order to win a deal.
Bring product samples and point-of-sale materials to the meeting to demonstrate your company's ability to execute field marketing efforts. Differentiate your business in this area by using a

merchandising tool

that collects data about in-store placement or product promotions, among numerous other points of interest.

Your company might want to switch over to branded cartons which make your products more easily identifiable in a warehouse, thus allowing them to reach the retailer faster and ultimately make distributors more money.

Showcasing the efficacy of your packaging and any quality ratings or media coverage as sales mechanisms is advantageous.

Producers must indicate their capability to prevent out-of-stocks. This means meeting inventory demands in the present, scaling up production in the future, and being resilient against supply chain mishaps.
Finally, alcohol suppliers should understand that the process of securing a wholesaler can be long and drawn out, since the prospective relationship between the two parties will be long-term.

Sealing The Deal
With patience and perseverance, liquor suppliers will eventually land a deal with a distributor. Above all, alcohol producers need to assess their "comfort level" with the distributor they choose to partner with, as companies should be confident in commencing a long-lasting, mutually beneficial relationship. Questions that suppliers need to ask distributors in order to decide if they're the best fit are as follows:
Does the distributor carry other specialty brands? If so, what has their success been with these products?

Is there a brand manager or other specific individual responsible for your product line?

Is the distributor willing and able to sell all of your product lines?

Does the liquor distribution company actively train its sales staff?

Is the wholesaler flexible in allowing the distribution of seasonal product offerings?

Is there monthly programming (i.e. Management by Objective (MBO) or Pay For Performance (PFP))?

Will the distributor administer monthly reports?

Does the distributor monitor competitor activity?

Does the distribution company have a positive rapport with its retailers?

Are there delivery minimums?
Before the two parties start doing business together, there are some legal issues that need to be addressed. One of these is pricing -- while producers cannot decide how much distributors will sell their products for, there should be a mutual understanding of what margins the distributor expects. Secondly, distributors are supposed to enforce identical pricing across retailers. Irregular pricing can make record keeping a challenge for producers and doesn't promote a consistent brand image.
Set a date when the distribution agreement will expire, as most states prohibit unwarranted termination, according to Eugene Pak, an attorney who specializes in brewery law. As a best practice, suppliers should seek professional help when drafting contract terms since precision is critical to success. Keep in mind that it's the supplier's responsibility to provide the distributor with the contract.
Suppliers and liquor distributors also need to come to an agreement on how often they will be in contact with one another and what will be covered in these check-in calls. In addition, the two parties should discuss whether or not they will ever conduct ride-alongs to retail outlets. Finally, producers must educate wholesaler's sales staff about their products to the best of their ability. Often times, reps have many brands to keep track of, so if one brand equates to 5% of their sales, it will get 5% of their time. It's up to the supplier to ensure that distributors have all the know-how they need to make the products sell.
Capping It Off
Finding the right distribution company for an up-and-coming liquor brand can seem intimidating. There are many options to choose from, but not all are created equal. Alcohol suppliers need to be decisive in their prospecting and persuasive in their pitching. Remaining proactive, organized, and diligent is the best way to achieve reciprocal success with a liquor distributor.
Victoria Vessella
Victoria is a Marketing Associate at Repsly, where she leads the company's P.R. and social media efforts. You can also catch her prepping for slew of exciting industry events. A New England native, Victoria has spent time living in Italy and traveling throughout Europe before settling back in Boston. When she's not planning her next trip, V is probably tasting wine or brushing up on her Italian.