The craft beer industry is booming in the United States, as it generated $22.3 billion in 2015 alone. Moreover, the industry experienced 12.8% growth in sales volume. Increased growth means increased competition, which is why it's so important to create and implement strategies that differentiate your brand from the rest. Here we'll discuss some beer merchandising ideas designed for the craft brewery, namely distributing craft beer merchandise and utilizing attractive in-store and promotional displays.
Craft Beer Merchandise
As any craft brewery knows, there is more to beer than meets the eye. Yes, craft beer is a delicious adult beverage, but why would a customer buy a lesser-known brand over a cheaper, more recognizable alternative?
Generally speaking, consumers who choose craft brands over industry giants value high-quality products, want to support small businesses, and probably have some sort of affinity for "the beer drinking experience." It's these same consumers who are likely to go the extra mile to advocate for companies that they like by purchasing complimentary items that identify them as being part of that brand's "cult following".
So what types of items does the craft brew customer want? In short, something that is both functional and fun. Consider craft beer clothing . Matt Eldridge of Breckenridge Brewery explains, "Any wearables — T-shirts, hats, hoodies, etc. — are absolutely cost-effective because every item sold or given away becomes a new billboard for your brand." Mike Lozar, owner of Brewery Art International, adds that with apparel "You can offer your customers some value and something that looks cool, while reminding them of the experience they've had."
Other examples of merchandise to offer patrons include coasters, glassware, bottle openers, or koozies. These memorabilia are closely tied to the activity of beer drinking, and like apparel, serve as a form of free advertising for your company.
Images courtesy of Carson's Brewery
Where do beer merchandisers come into play?
Good question! Beverage merchandisers serve two purposes in your craft beer merchandising strategy. First, they are responsible for ensuring that beverage displays within retail locations are fully stocked and visually appealing to the consumer. Second, they serve as brand ambassadors during field marketing promotions.
POS Marketing & On-Site Promotions
With so many different offerings on the shelf, it's hard to get your brand noticed amongst the noise, especially by first-time customers. One way to get consumers' attention is by using POS (point-of-sale) marketing materials. Banners, floor stickers, and other signage draws the eye to your product over another. They create the illusion that your brand is of some special importance in comparison to the others, and in turn, helps to drive impulse buys. What's more, educational literature can provide consumers with additional information about your business on-the-spot that they wouldn't have access to from your packaging alone.
Beer merchandisers need to make sure that POS materials are set up properly in accordance with agreements made with vendors. Poorly displayed visuals will certainly do more harm than good. Having beverage reps use a merchandising software in the field with photo capture functionality is a great way for managers to "see" how POS materials and case displays look without physically being present at the retail location, thus allowing them to make strategic changes than can lead to higher sales.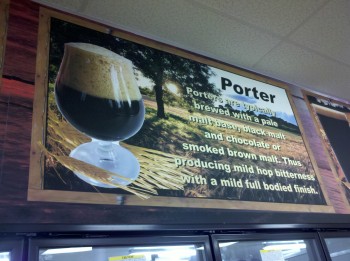 Images courtesy of LexJet Blog
Aside from exhibiting aesthetically-pleasing custom merchandising displays displays, assuring that your craft beer does not experience out-of-stock instances is absolutely critical. Out-of-stocks will hurt your beer's sales in the short-term and harm your brand's image in the long-term, as customers are reluctant to remain loyal to a company that is not always readily available to them. Furthermore, out-of-stocks cost retailers an average of 4.1% of revenue every year, so empty shelf space hurts your relationship with these key business partners. To avoid the dreaded out-of-stock, consider taking advantage of a software that lets merchandisers fulfill replenishment orders and track stock levels in an efficient, one-step process.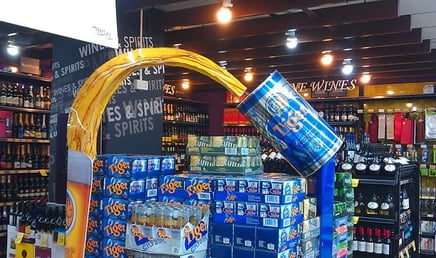 Promotional events are an excellent means of attracting new customers, as they provide an opportunity for consumers to try your product risk-free as well as learn more about your company. Hosting a tasting, info session, or contest at a location where your beer is distributed (liquor store, restaurant, farmer's market, etc.) is powerful and impactful because these events involve face-to-face interaction with your target market.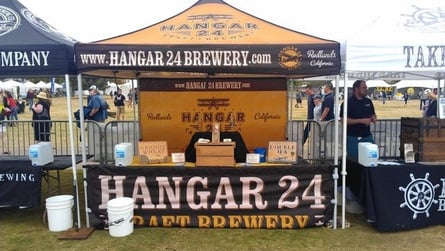 Image courtesy of CraftBrewingBusiness
As with beverage displays, you will want your promotional display to be eye-catching and enticing. Ice-filled beverage carts can be highly effective at pushing product. Studies show that when beers are placed in an ice bin versus a room-temperature display, sales of the iced product are greater by nearly 8-to-1. After all, there's something about the "ice cold beer" motif that makes chilled brews irresistible to customers! The display design will probably depend on the location of the event. For example, you are likely to have more space to work with at an outdoor market than you would at a bar.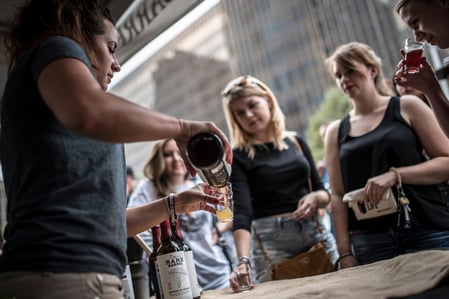 Along with the beer itself, you can offer customers your craft brewery merchandise, informative pamphlets or flyers, and a way to provide their contact information on the day of the event. The beverage merchandisers who are present should be extremely knowledgeable about the products being showcased, and also be certified to serve alcohol. Mobile data collection software allows beer merchandisers to record any relevant information about the event, such as how much product was given away, units sold, notes, photos, and more.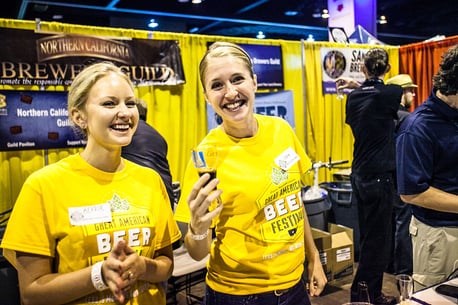 Image courtesy of Great American Beer Festival
Making the Most of Merchandising Trends
In an industry saturated with competition, it can be challenging to stand out from the crowd. Educating first-time customers about your beer through POS displays and promotional events is a great strategy for creating hype about your brand. Supplying repeat customers with merchandise that is symbolic of your company makes them feel included in your business's inner circle. Collecting and analyzing data about field operations with an agile mobile software is the best way to stay on top of ever-evolving merchandising trends and shifts in customer sentiment that affect your craft brewery's success.
Victoria Vessella
Victoria is a Marketing Associate at Repsly, where she leads the company's P.R. and social media efforts. You can also catch her prepping for slew of exciting industry events. A New England native, Victoria has spent time living in Italy and traveling throughout Europe before settling back in Boston. When she's not planning her next trip, V is probably tasting wine or brushing up on her Italian.