Educated field teams, CRM platforms, strategic placements and killer packaging are all important tools to your brand's success. So are you.
Some parts of your job can be harder than others. Competitive reports are one of them. Doing them right takes more than just identifying the brands you're competing with; assessing their strengths, weaknesses, differentiating factors, marketing tactics and retail presence is a boatload of work. Technology is making the process a whole lot easier these days (shameless Replsy plug), but there can still be understandable resistance to doing them.
Digging into what your competitors are up to can be tough, especially if they're doing well and you're trying to catch up. Once you realize that doing competitive reports not only empowers you to take on your competitors, but makes you be better, happier and personally empowered in your role, the process gets less daunting. Don't just be a manager. Be a leader. Let's get you motivated to start, revamp or invigorate your competitive reporting process.
1. Get Your Eye-of-the-Tiger Focus On
Rising up, back on the street. Did my time, did my audits. Putting in the work to organize, implement and analyse a competitive report will arm you with what you need to set the right goals and accomplish them in the field. Without clear, organized analysis, you're setting blind goals. You need focus. Don't settle for casting a wide net when you could be directly reeling in big fish instead.
Analysis shapes strategy. Weak analysis means weak strategy, and you aren't weak, so don't let your tools be either. If you need more resources on what to include in your competitive report, start with this audit toolkit.
PRO-TIP: Throw in some earbuds and get in a focused headspace at the start of your workday. Food Startups Podcast rocks. The interview below with Bizzy, the #1 ranking cold brew coffee on Amazon, is a personal favorite. If music pumps you up better, we have a Spotify playlist just for you.
2.

Inject Motivation Into Your Team
Numbers aren't where you want them to be? Feel like you're chasing your tail sometimes? Frustration and lack of focus on your end can leave your reps feeling bummed out too. Monkey see, monkey do.
Doing competitive analyses of your direct competitors and your overall retail landscape will part the fog. You'll not only have clearer targets, but distinct paths for you and your team to hit them. Maybe you'll discover you need to schedule more frequent site visits to a specific chain of stores where your competitor is flexing their marketing budget, or that two other brands are now using shelf talkers in your top account so you need to do some defense.
The most important part of going through a competitor analysis isn't just getting it done, it's what you do with the information afterwards. Pull out important takeaways and pass them along to your team.
PRO-TIP: You found out in an audit that a competitor is creeping into your space? Try gamifying your sales for the next month and include an incentive for your team to increase facings or meet certain demo goals.
3. Improve Your Own Overall Focus
Consistently setting objectives for yourself and executing them not only checks off tasks, but builds self-discipline and makes you a more efficient, prepared and focused employee. You may not like being a pencil pusher, but if you realize that data is your friend, doors will open. If you've been putting off a more robust competitor report, get to it! Block time in the next week to do some competitive auditing.

PRO-TIP: Get in the habit of making to-do lists on pen and paper with actionable, SMART goals (specific, measurable, achievable, results-focused, and time-sensitive). I personally love an old-fashioned steno pad and using multicolor pens to easily color code and prioritize my tasks and notes.
4. Better Understand Profitability and Differentiation
As a manager, making the numbers add up falls on you. Rather than just keeping random tabs on other brands, having competitor pricing data to look back at means you'll be able to see promotional trends and other important metrics. By asking the right questions in a competitor report and focusing on the factors matter, you'll come out on the other side with a better, more actionable strategy for your pricing.
But, increasing profitability isn't just about minimizing your costs and boosting sales. 85% of corporate leaders of the highest achieving brands in the Food and Beverage industry believe that strategies aiming at increasing value have more potential to lead to long term growth than strategies aiming at reducing prices, according to a Deloitte survey. Take a note from Ben Rudman of SDR Ventures:
"The biggest challenge food manufacturers will face in 2017 will be competitive differentiation. So much innovation has occurred over the past 10 years that multiple companies represent the proliferation of emerging brands across categories, so differentiating from one another will be difficult."

— Ben Rudman, director at SDR Ventures, via FoodDive
In the video below on competitive landscape analysis, I break down how to run a competitive landscape analysis, offer a few examples for the food and beverage space in particular, and explain how the more you compete on price, the more detrimental it is to your brand.
Thanks for reporting a problem. We'll attach technical data about this session to help us figure out the issue. Which of these best describes the problem?
Any other details or context?
message
5. Data is Changing How CPG Brands AND Retailers Do Business
More information available isn't just enabling your competitors, it's also making retailers more choosey and agile. They're using data. If you're a leader, you should be too. Competitive analyses take time, utilizing third party research, competitor audits and other, often overwhelming, paperwork. Thankfully, SaaS companies are making things easier, and the process doesn't have to be so painful.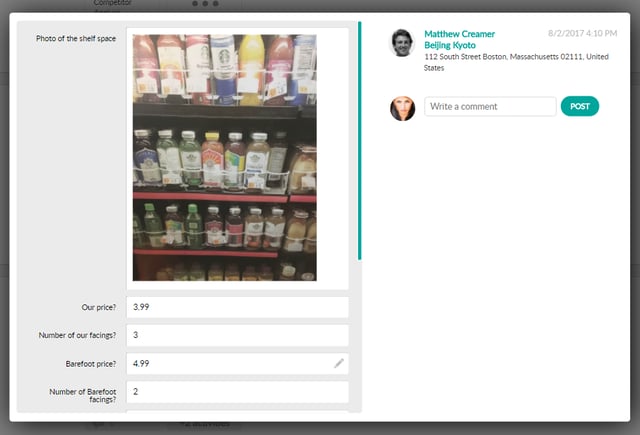 After evaluating their competitive landscape, Angry Orchard discovered that declines in their sales reflected slower growth for the entire cider category, even as more companies continue to enter the space, according to their CEO Martin Roper. Conducting a competitive analysis can give you important insight into trends in your category, which can help you decide whether to increase profitability by battling it out in the existing shelf space or by attempting to grow the industry altogether.
So What?
There are some obvious business reasons why competitive reports are an essential part of any good manager's playbook: to determine pricing strategy, personnel allocation, marketing messaging, retail partnerships, and more. But doing competitive analysis on a specific competitor level as well as a broader landscape level makes you a better leader, too.
It's easy to talk about CPG trends and forget that there are living, breathing, rockstar humans behind every all-star brand. As a manager, your position isn't just about being a few rungs up on a ladder; you have people who depend on you for guidance. You set the tone for the employees you oversee and provide an important connection between them, any leadership above you, and the broader industry.
Take control of your workload. Don't run from competitive analysis. Lead your team, and you'll lead in your category.
Sarah Mooney
Sarah is a Content Marketing Journalist at Repsly. With a background in broadcast journalism, advertising and as a brand ambassador, Sarah is always looking for ways to connect with readers through concise, visual and interesting content. On the weekends you'll find her hitting a trail or at a live show.