Has your brand ever run a promotional campaign on a product, only to find out that after months of planning the display materials were set up incorrectly, in the wrong location, with the wrong product, or just not at all by retail staff? While this situation is incredibly unfortunate, your brand is not alone. A study found this to be the case with 60 percent of promotional displays. And when promotions are not executed to plan, both the brand and the retailer see the negative impact on sales.
Many brands today still struggle to quickly find display errors. Through no direct fault of their own, displays that are set up incorrectly – or not at all – could end up costing weeks of lost potential sales and increase the risk of actually losing money on their promotion.
The Cost of a Promotional Display Error
According to HBR, more than half of all promotions fail to have any impact on sales. For your brand, being able to identify noncompliance as it's happening could be the difference between a promotion being a total success or a huge waste of money.
In 2019, overwhelmingly, 70 percent of companies reported that they struggle with compliance and in-store execution on retailer aligned promotions. While this is a positive improvement from 91 percent the previous year, there's still certainly plenty of room for continued growth.
It's also important your brand sets realistic goals for measuring the long-term success of trade promotions. A study found a severe disconnect between expectations and reality surrounding promotions, as CPGs had a perceived compliance rate upwards of 70 percent when compliance was actually closer to 40 percent. It's going to be extremely difficult to reach any set goals if less than half of your promotions are set up properly.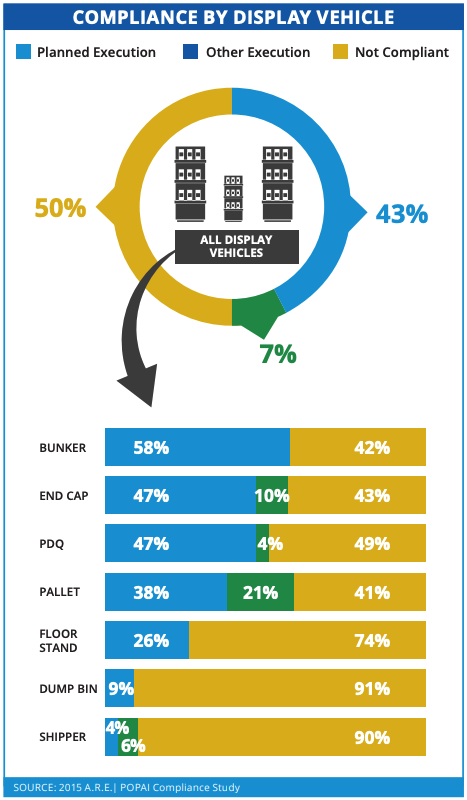 With so much of a brand's profits and losses relying on trade promotions, it's crucial to maximize your efforts in-store. To do that, it's important your brand has the capabilities to monitor promotions in-flight. With only 40 percent of brands reported having these monitoring capabilities in place in 2019, it's no wonder the dislocations between what is planned and executed for trade promotions continues to be a long-standing issue for many CPG brands.
Reveal Potential Display Errors Through POS Reporting
In-store compliance may feel out of your control, but it doesn't have to be. Here's the good news: for many brands, no longer are the days of relying on each store visit to assure promotional compliance and execution. This blanket-coverage approach can often take weeks to catch even the easiest to spot display issues.
Advanced brands with strong reporting capabilities know that you don't need to be in-store to find out about display noncompliance. One of the most effective approaches that your brand can take to reveal those pesky display errors dragging down promotional goals is by monitoring your POS data.
By augmenting your display execution reporting with automated alerts that can highlight stores with display errors, if there's a sales lift in all stores running a promotion except one, you can quickly dispatch reps to investigate and correct the problem before days or even weeks go by.
In today's age of big data, brands that can leverage their point-of-sale data to find actionable growth opportunities based on the detection of execution errors will outsmart their competition and become top performers in their field. Check out the CPG Sales Guide to learn five ways your brand can use POS data to prioritize accounts and grow sales in near real-time.
Ben Weiner
Ben is Repsly's content marketing manager, focusing on digital storytelling through blogs, video and podcast production, and social media. He recently served as Bullhorn's senior content marketing specialist and is also the founder of InVision Media, a video production company that helped small businesses promote their message. Before joining the workforce, Ben was the captain, president, and social media manager of the men's ice hockey team at the University of Maryland. In his spare time, he enjoys rollerblading with his dog Chewbacca, watching the Boston Bruins, listening to classic rock, and playing competitive games of Settlers of Catan. Follow Ben on Twitter: @bennybyline.