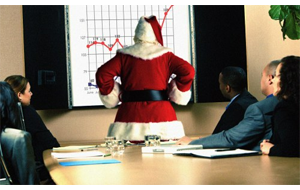 There's a generally accepted idea that, in the days or weeks before and after the winter holidays, business slows down, so having your salespeople working sales then may not be necessary or even a good idea. However, last week on their B2B Marketing Mentor blog, Software Advice published an article explaining some of the possible advantages to having your sales team stay active in the week before Christmas and after New Year's. After doing some in-depth research into the topic, they found that generating leads and being able to reach clients by phone around the holidays can be hugely beneficial. It turns out that the number of businesses searching the web for new opportunities doesn't drop as significantly as expected in the days leading up to and following Christmas and New Year's, so having an inside sales team around during that time to nurture leads and/or contact anyone who's converted from lead to client is the right move.
According to the article's findings, based on data collected by Software Advice from more than six million unique visitors to their site, web traffic remains fairly steady until only a few days before Christmas. And even then, the dip in traffic is not nearly as dramatic as one might anticipate. Furthermore, leads generated by that pre-Christmas traffic tend to get turned into viable prospects at a higher-than-average rate, so having your sales team working in the week before Christmas can actually lead to increased productivity. Similarly, in the week after New Year's, while there is admittedly less web traffic (though, again, not as big a drop as you'd expect) conversion rates for leads generated in that time are above those of the rest of the month. Business picks up at the start of the new year, and without your sales team around, these potential new customers could quickly and easily be lost to a competitor who does have their people working around the holidays.
While Christmas and New Year's feel like a time when it might be safe to give your salespeople some time off, the fact of the matter is that business gets done then at rates that are similar to, and in some cases higher than, the rest of the year. Leads still roll in for the week before Christmas, and then they turn into customers by the week after New Year's. But that's only possible if you've got your sales reps around to get contact these potential customers and secure them for the future. This is a valuable lesson to learn, and while maybe not everyone will be thrilled to work around the holidays, they'll all be glad they did once they get to the other side and see the results.
Matthew Derman
Matthew Derman is a Pennsylvania-born, Boston-educated writer and customer service specialist. He currently works at Repsly as a customer success manager, focusing on supporting customers, and is a regular contributor to several blogs. He is a comicbook enthusiast, amateur comedian, and dedicated dog owner.