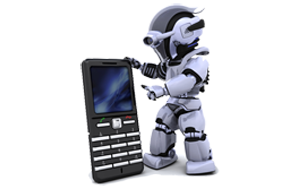 According to Webopedia, Sales Force Automation, or SFA, is "a technique of using software to automate the business tasks of sales". This is a very succinct definition and probably doesn't tell us much about what we really want to know when we ask the question 'What is Sales Force Automation?' What we probably mean when we ask is 'What are the tools, techniques and technologies that companies use to make their sales force as efficient and production as possible?' In the early days, SFA referred to systems that took paper out of the process for field sales reps, but now this category of business automation is represented by a continuously evolving set of solutions and approaches that drive efficiency and effectiveness that can be summed up like this:
Sales Force Automation is:
Back-end systems that manage data and content that is used in the sales process:
Customer Lists,
Lead details,
Product catalogs,
Configuration guides,
Pricing,
Territory assignments,
…
Mobile solutions that make this data available to reps as they plan and execute their sales activities:
Detailed customer lists, with history, contact info, mapping and more,
Tools to organize and plan field activities,
Leads that are automatically assigned to the rep,
Ability to create orders,
Ability to add new leads/customers, and to update existing records,
Communication amongst the sales team,
Access to sales support content (product images, catalogs, spec sheets…),
Integration with Calendars, eMail and Social Media,
Tools and Techniques to monitor and adjust the performance of field sales reps:
Geo-Tracking of activities with live map views and historical movement,
Score carding rep activities and results,
Ranking and comparison tools,
Communication channels between management and reps.
All of these aspects leverage some form of automation that make it easier for field sales reps to focus on selling rather than on processing sales, and for sales managers to focus on the sales process rather than administration. The tools that make the most sense for your particular kind of sales (route sales, restocking sales, complex business sales, hardware, services or consumer goods sales…) will vary widely since the efficiencies that each type of sales needs to achieve vary. For example, if your reps are door-knockers that quickly qualify a prospect, you may look to maximize the number of sales calls per day, while an organization selling long term business relationships may be more focused on driving quality time with prospects. The first step in finding the right SFA solution for your business is fully understanding the optimum sales process that your field sales team should follow in order to maximize success; only then can you determine which aspects of a comprehensive Sales Force Automation solution are best suited to your style of sales.
Matthew Brogie
Mat Brogie is part of the founding team, and CEO of Repsly, the world's leading solution for high performance retail execution teams. Mat has spent the past 15 years of his career focused on bringing technology enabled business solutions to the consumer goods industry, having implemented solutions for tens of thousands of field reps at companies such as Coca-Cola, Procter & Gamble, Pepperidge Farm and hundreds of others.