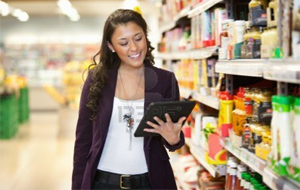 For many of us, "tablets for business use" probably means loading a movie on the Nexus or iPad for a time-killer in the airport lounge. However, many companies and businesses are finding that tablets can help them meet a surprising array of needs.
One niche in which tablet use is soaring is in small retail businesses and cafes. Owners are moving to tablet point of sale (POS) systems to lower overhead costs and improve the customer experience. Dan Rowinski over at ReadWriteWeb writes
[Tablets] are cheap, collect data on customers' purchases and make that data easily accessible across any type of computing system. They can be used to make payments, take surveys, provide coupons and notify consumers of offers.
Adding increased functionality for businesses using tablets is Square, which makes a dongle that attaches to a tablet or mobile phone and allows merchants to accept credit cards or debit through its Square Register service. And the best news for small businesses is that all of this functionality often comes at a fraction of the cost of traditional POS systems, which can cost tens of thousands to install and maintain. Tablet POS systems, on the other hand, offer a relatively cheap startup and installation cost, as well as increased control and security of data via cloud storage.
Another area in which tablet usage is thriving is the restaurant industry. Companies such as TouchBistro, Revel, and Aptito all aim to increase restaurant efficiency and customer satisfaction. Not only do these point of sale (POS) systems allow restaurants to easily perform tasks like splitting a complicated bill, but they can also: manage reservations, keep track of inventory, easily manage tables, bookkeep, and help front-of-house and back-of-house staff communicate more effectively.
And what about other industries? As Keir Thomas at PC World points out, tablets may not be the most logical choice for business use, if only because a truly standout office suite has yet to be released. (That may change if this rumour regarding Microsoft Office proves correct). However, Jason Hiner at Tech Republic and Chris Murphy at Information Week compiled an excellent roundup and slide show of how different industries are utilizing tablets, some of which may surprise you. The medical field, for example, uses tablets for diagnostic imaging, e-prescribing, and appointments and scheduling. The legal field uses them for depositions and documents. on how businesses are using tablets. The hospitality industry offers tablets for guest usage. Waste Management is test driving tablets for route changes and maintenance.
Is your business using a tablet in an innovative way? Tell us about it in the comments below.
Matthew Brogie
Mat Brogie is part of the founding team, and CEO of Repsly, the world's leading solution for high performance retail execution teams. Mat has spent the past 15 years of his career focused on bringing technology enabled business solutions to the consumer goods industry, having implemented solutions for tens of thousands of field reps at companies such as Coca-Cola, Procter & Gamble, Pepperidge Farm and hundreds of others.