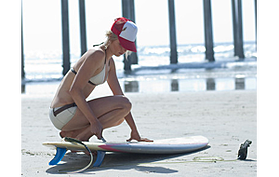 As an avid action sports athlete and passionate marketer, I am constantly looking for the parallels between the two. After all, if I could just combine them, this blog post would be written from Cabarete, Dominican Republic, where I kitesurf all day and swear by theFour Hour Work Week. But, as I sit here in an office dreaming and perfecting my marketing craft, I can't help but compare the two activities.
I find there is a lot of things from sports that can be overlapped with business. It is why many great athletes become great business people. Peter Thiel takes it one step farther, saying that a company has two types of people, "nerds and athletes." Nerds to build and athletes to market and compete. Since I tend to lean towards the athlete side, I am going to explain the similarities that can be helpful in any type of athlete and business person. (I wouldn't say change your job interview questions to 'what sports you do', but I would maybe bring it up in conversation.)
1. Practice
Sure business is something we think of as inherent ability or smarts, but to tell you the truth it is practice. Malcolm Gladwell's theory of 10,000 hours to become a true professional and expert holds true, across hockey players, Bill Gates, and perhaps you. (or at least we think so) That being said, hours working is not a measurement of practice, but hours focusing is. Just like in sports, time spent focusing adds up quicker than time doing your sport at half speed.
2. Muscle memory
It is sad to say, but as sales people, marketers, accountants, and engineers, much of what we do is muscle memory. So make sure you are practicing with the right form. In both sports and business, you can perfect your form through mentors. Find the best, ask them how they did it; and repeat. It is complex in practice, but as long as the theory is simple; live by it.
3. Strategy
I am an action sports athlete, so our strategy is a bit different. Much of our sport is trial and error for most of the hurdles until you reach the level of elite when gravity and physics come into play. Up until this point, we really don't have much strategy, just throw yourself and hope it works out. But, when you reach this point, you have to start calculating every small move. In traditional sports, strategy starts on day one. Just like in business. I started my last job with the action sports trial and error mentality and was told to get back to strategy. In business, it is all about strategy. Strategic thinkers put themselves in the path for success. In basketball, the same is true. Start strategizing in your sports and in your business. You will likely see greater returns.
4. The will to win
Athletes don't just play for the sake of playing. Yes, they play for the love of the game, but I would be shocked to talk to many that say they are not there to win. This is an approach we should take in business, but not necessarily only in terms of competitors. I want to be the best marketer in tech, or if I was in sales, I want to be the guru, or merchandising, the best person to scale. It is an athlete trait to want to be the best at whatever it is you do. Why? Not because you could get a raise or a promotion (although, these are nice), but because your pride won't settle for anything less. There is nothing wrong with wanting to win- I would say it is far better than wanting to be mediocre.
At Salespod[Now Repsly], we are athletes, nerds, and even in between. That being said, we practice, we strategize, and we want to be the best mobile software for sales, merchandising, and retail management ever made. Every time we get customer feedback, we play harder, practice longer, and strive to be better. So please, always give us your feedback.
If you have a great athlete story, please feel free to share in our comments, through an email or on Facebook. We would love to hear your inspiring story on how sports has made you better in business.
Jenna Hannon
Jenna Hannon is a Canadian born technology marketer and writer living in Silicon Valley. She is currently Strategic Communications at Fanhattan, advisor at Treasure Data. Jenna is also an adrenaline junkie; as a kiteboarder, skateboarder, snowboarder and surfer.