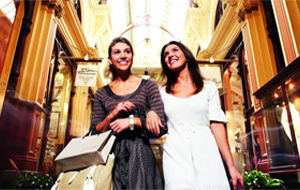 f you are one of our localized retailers using Salespod[Now Repsly], here are some great digital local marketing tips from our guest blogger, Ann Buechner.
These days, local is huge. Local farm. Locally made. Locally sourced. What started as a way for hometown businesses to take a stand against aggressive market moves by big box retailers has, perhaps somewhat ironically, become quite a big business itself. Have you ever noticed, for example, how many restaurants cite who supplied what on their menu? Often it is a local dairy, farm, bakery, or specialty shop. Or perhaps you've noticed that a neighbourhood boutique takes great pains to label its wares as being made by local artisans or artists.
Conscientious consumers know that a healthy and diverse local economy must include patronizing local shops, service providers, and restaurants, but they can't support what they don't know about. Local businesses, especially new ones, don't have the luxury of name-recognition that national brands and companies do. So how can a business leverage its geography to grow a customer base?
Social media, of course!
1) Twitter. The folks over at Grow Map have some terrific tips for capitalizing on location:
Claim a Twitter username that includes your location. Consider common abbreviations and local nicknames.
Add an Avatar image related to your location and write a bio specifically about that city, metro, state/province, or country.
Create a blog about your new location and link to it from your Twitter account and make sure your Twitter username is easy to locate on that page and on your blog or site.
Follow Twitter users in your desired location .
Find interesting content about what's happening, live events, local entertainment, or even the local news and weather and use Twitterfeed or something similar to feed useful information to your local followers.
Manually share additional tweets of interest locally.
Interact with others in your target location.
2) Rise of the SoLoMo (social-location-networking) apps. Jennifer Beese at Sprout Social cites some staggering stats:
Usage of social networks to find local businesses has increased 67 percent since 2010.
Individuals searching for local businesses through social means are active content creators, with 45 percent submitting reviews online.
63 percent of those surveyed are more likely to use a local business if the company has information available on a social network, such as Yelp or Facebook.
61 percent of online searchers consider local results to be more relevant and 58 percent find them more trustworthy than paid search results - which only caught the eye of 10 and nine percent, respectively.
49 percent of smartphone and tablet owners are using apps to find local information.
Which apps might you ask? Well, as Beese mentioned, there's Yelp and Facebook, but there are also several new players in town, notably: Highlight, Circle, Kismet, and Ban.jo. Foursquare is also back in the game. Each takes advantage of smartphones' geo-location services and maps its users accordingly, recording check-ins.
3) Update often. Update differently. Although it's convenient to link all of your business' social media content, you should also remember to offer a varied experience based on which platform you're using. For example, Samir Balwani writes on Mashable:
Social platforms each have an ecosystem of their own...Understanding that each site is different and then customizing your message ensures they do well on each respective site. Not only does customizing messages across sites help the message spread, but it keeps users from receiving multiple identical communications. Be sure to maximize your potential by sending a user that follows the business on Twitter and Facebook two different messages, instead of the same thing.
Hopefully these tips have given you a good starting place or a way to supplement current business practices. Have a social media success story? We'd love to hear it.
Jenna Hannon
Jenna Hannon is a Canadian born technology marketer and writer living in Silicon Valley. She is currently Strategic Communications at Fanhattan, advisor at Treasure Data. Jenna is also an adrenaline junkie; as a kiteboarder, skateboarder, snowboarder and surfer.