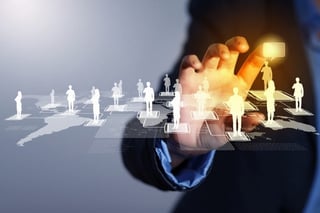 Mobile CRM software is an easy way to organize your reps- with it, you can practice effective territory management and have your reps collect data with ease. What you may not have considered, however, is how Mobile CRM software makes it easy for you to increase employee accountability among your reps.
There are two important facets to accountability - communication and visibility. If you regularly communicate with your reps, then you are able to check on them as well as help them out whenever necessary. As for visibility, if you monitor your reps, then they will be more motivated to perform at their best. Here we will go into more detail on the ways that Mobile CRM software can help you increase employee accountability.
Communication
Mobile CRM software facilitates easy communication between managers and reps with its chat feature. This form of internal text messaging makes it simple for managers to check in with their reps or for reps to ask a quick question without making a phone call or even leaving the app. In addition, the Billboard feature allows managers to post announcements to the entire team, which is easier than sending announcements to each individual member. Unlike email, this form of communication is simple and ensure that the rep will see it immediately.
Direct communication between managers and reps is vital because it allows managers to convey their goals and expectations. It makes the rep feel valued and defines the rep's responsibilities. When your rep knows what you want them to accomplish and that you value the effort they put into the job, then they will be more motivated to do the job well. Reps that feel undervalued may shirk their responsibilities, but managers can circumvent this via direct, regular, and effective communication.
Regular communication also allows you to help struggling reps. Sometimes reps may seem to be lacking in accountability because they do not know how to do something and are too proud or embarrassed to ask. If you communicate regularly with your rep, they will be more likely to ask you for help, especially since Mobile CRM software allows them to easily ask questions while in the field. Since you can virtually "see what your reps see" with Mobile CRM software, you will be able to pinpoint where the issue is and how to best help your rep.
Visibility
Geo-tagging and GPS tracking are two easy ways that Mobile CRM software increases employee accountability. Simply put - if your employees know that their day-to-day activities will be acknowledged, they will work to go beyond expectations.
Mobile CRM software allows for real-time tracking of your reps, giving you full visibility of what is happening in the field. With GPS tracking, your reps will be held accountable for each client visit they make.
Having your reps send photos of their completed displays is also a good way to increase accountability. Mobile CRM software allows your reps to effortlessly snap a photo and send it over immediately in the app. The software also geotags photos, meaning that you can ensure that your rep is where they need to be (i.e. in the store and not snapping a photo of a display they constructed in their basement). With this combination, your reps will not only be motivated to perform their duties, but also to perform them to the best of their ability. If they know that they will have to document their job with photographic evidence, they will make the display look as good as possible.
With 11% of businesses reporting that over 50% of their employees shirk responsibility, employee accountability is an important aspect of your business. For field reps, accountability is especially important because their actions can have major impacts on your company. Sloppy displays reflect badly on your business because they convey that you are not 100% committed to excellence. Failing to visit a client deteriorates customer-business relationships and is detrimental to your customer service policy. Both instances may result in a loss of sales and maybe even customers. By increasing employee accountability, you will be ensuring that your business is represented in the best way possible. Increase both communication and visibility using Mobile CRM software, and you will find that your company will run much more smoothly and effectively.
Nancy Chen
Nancy Chen is a Content Marketing Intern at Repsly, Inc. and is currently completing a Marketing degree at Northeastern University. A contributor to the national online publication Spoon University, she is experienced in delivering knowledgable, quality material to readers.