Whenever you walk past your favorite clothing store or supermarket and you see a sign for "Buy one get one free!" or "Sale on Organic Fruit," be sure to thank your local merchandiser. Merchandisers are behind almost every decision you hear and see taking place at your local retail chains, making your shopping experience the best it can be.

If you are considering hiring a merchandiser or even becoming one yourself, here's everything you need to know to succeed.
Merchandiser Definition
Merchandisers are responsible for everything that happens to a product from the moment it is delivered to the store to the moment a shopper picks it up off the shelf. Depending on the retailer, that may include: performing stockouts, organizing the shelf, setting up displays, and setting up price and promotional signs.
No two days of merchandising are the same. Merchandising representatives often cover a large territory and might visit several stores every day where they perform completely different tasks.
Merchandiser Job Description
Job Summary:
Merchandisers are responsible for product appearance and supply in various stores throughout their designated geographic area. By working closely with both suppliers and manufacturers, they make certain that the promotion of specific products and services will increase sales over a period of time.
Job Responsibilities:
Here are just a few of the responsibilities you may run into:
Collaborating with suppliers

, manufacturers, and stores to ensure proper execution of plans

Creating and organizing promotions and advertising campaigns

Managing the educational materials for training employees

Managing layout plans of store and maintain inventory of products

Gathering information on market trends and customers' reactions to products

Analyzing sales figures - reporting growth, expansion, and change in markets
Merchandiser Salary
A merchandiser's pay may vary based on many aspects, like experience, education, skills, and more. Including these aspects pay may also vary depending on if you're paid annually or hourly. Here's what merchandisers typically make, depending on the pay structure:
Annually:

$25,000 to $73,000 a year, excluding bonuses.

Hourly:

$9 - $16 per hour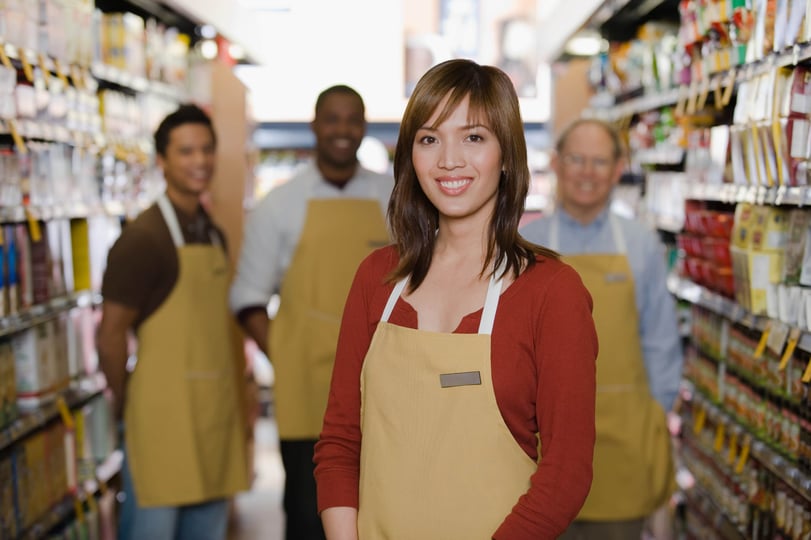 Merchandiser Education, Skills, and Experience
Although most employers do not require merchandisers to have a degree, they do require either a high school diploma or GED. The ideal merchandiser is an individual who has previous experience not only in marketing and business, but also retail. Previous retail experience can give a new merchandiser the upper hand, since they already have an understanding of how the retail world works.
It is important to think about the types of skills employers are looking for in their merchandisers. Here are three key characteristics of a merchandiser:
Attention to Detail
Aside from having a bit of a creative side for store layouts, merchandisers must also have a keen eye for detail. The day-to-day responsibilities require merchandising reps to know what the market trends are and how customers tend to buy products. Understanding and predicting these major details allow merchandisers to make the fundamental decisions of what a promotion should be and where a certain product should go in the store. All of these aspects come together to make for the best shopping experience for the customer.
Written and Spoken Communication Skills
Having well-developed communications skills is non-negotiable for a merchandiser, since every day involves collaborating with suppliers, manufacturers, and stores. Some days may be spent in the office writing emails, making calls, and drafting sales reports, while other days are spent in the field negotiating with suppliers and training junior staff at store locations. Merchandisers need both skills in order to build professional and long-lasting relationships with all of these individuals.
Wo
rking Und
er Pressure
Consumer markets are constantly changing every day, meaning deadlines can be tight for merchandisers. This role is often a demanding one that will keep reps on their toes every day, so keep in mind that organization and working well under pressure are key to succeeding in this field.
Merchandiser Job Listings
There are opportunities for merchandising within many industries, so try these links to search for more job opportunities - Indeed, LinkedIn, Monster, and Glassdoor.



Ameyna Jackson
Ameyna is a Content Marketing Journalist at Repsly. As a public relations professional, she is dedicated to providing readers with the original and compelling content. Ameyna is a DC-native always down for a game of hoops.