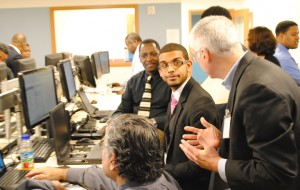 Recently, Software Advice published an article on their New Talent Times blog profiling a personality type they referred to as "The Champ." One of several kinds of people that Software Advice recommends as members of a hypothetical "Dream Team," the Champ is an optimistic, confident, competitive go-getter who flourishes in sales and management roles. Often motivated by a "Chip" on their shoulder, Champs are driven, focused, high-achieving members of any company, and if managed correctly, they can contribute a lot to their team's overall performance.
As part of a field force, the Champ is an ideal salesperson, possessing impeccable interpersonal skills and immense self-confidence. Determined to succeed, Champs won't let themselves be deflated or defeated when they encounter a potential lead who is unhappy, uninterested, or unviable as a customer. These small steps back only encourage a Champ to take a much larger step forward next time, so that they are always moving onto the next task, always striving to achieve as much as possible as quickly as they can. They will do their best to move quickly from one client visit to the next, while still making sure that each visit is as productive and profitable as it can be, since Champs aim not only to be prolific, but helpful, contributing team members as well.
Another advantage of having Champs in the field is that they tend to be fairly independent, so they don't require excessive micro-management in order to get all of their field work done. Champs want to be active and on the move, so there's little need to remind them to do so. They will be naturally competitive with the rest of the team and with their own past successes, incessantly working to make themselves better than ever before. They will form strong relationships with the customers for which they're responsible, and determine the best way to get the most out of all of them.
This is not to say Champs need no supervision at all, because in order to get the most out of such a high-energy, self-sufficient employees in the field, it is of course important to make sure that they and all the members of your field force are properly managed. In the case of the Champ specifically, this means regularly challenging them to reach even higher heights while at the same time making sure to keep them in line. Champs need to be part of successful, active teams, so it's important to ensure that they always have work to do, that the whole team is productive enough that nobody ever gets bored. Rewarding a Champ for a job well done is also key, as these kinds of incentives give them a reason to stick around and keep up their efforts. And if they're consistently strong in their performance, providing them chances for career advancement is never a bad idea, because, again, this will push them to keep up the good work. But Champs should not be overly applauded, either, nor should they be given entirely free reign. A clear managerial hierarchy and well-defined expectations of the Champ's own responsibilities will be necessary to have in place so that the Champ isn't tempted to clash with management. Because of the self-assuredness of any Champ, butting heads with superiors is sometimes an issue, so that problem can and should be headed off at the pass through clear direction from the manager.
The Champ has the potential to be an invaluable part of any field team. They will move fast and produce positive results right away, and only become better over time. To be sure that the Champ is at their best, however, proper management is key. Give them enough independence to do their thing, but also enough control to keep them in step, and they will bring great advancement and improvement to your field team's overall performance.
Matthew Derman
Matthew Derman is a Pennsylvania-born, Boston-educated writer and customer service specialist. He currently works at Repsly as a customer success manager, focusing on supporting customers, and is a regular contributor to several blogs. He is a comicbook enthusiast, amateur comedian, and dedicated dog owner.