---
This week, we investigated the average number of photos a field representative captured per day in the field. The following statistics were taken from the Repsly database of field organizations in over 40 different countries.
From our analysis, we've discovered that field representatives in the United States captured significantly more number of photos in the field than any other regions around the world. On average, a representative captured 20.2 photos per day. Following the United States was the Asia Pacific Region, which captured 15 photos per day. Next was Latin America with 11.8 photos per day and then Africa, which captured 8.1 photos per day. In very last place was Europe, with 4.9 photos per day.
While we cannot attribute this distribution to a specific cause, we might be able to make a few assumptions about cross-cultural organizational behaviors. One hypothesis is that European organizations might be less concerned about visual display of product or services than other regions. It could also be the result of more autonomy or trust in remote employees - therefore, employees might not be required to take photos in the field.
We cannot know for sure… but if you are a field representative or manager, we would love to hear your feedback on this week's field data insight in the comment section below. Let us know where you are from and what you think about the statistics!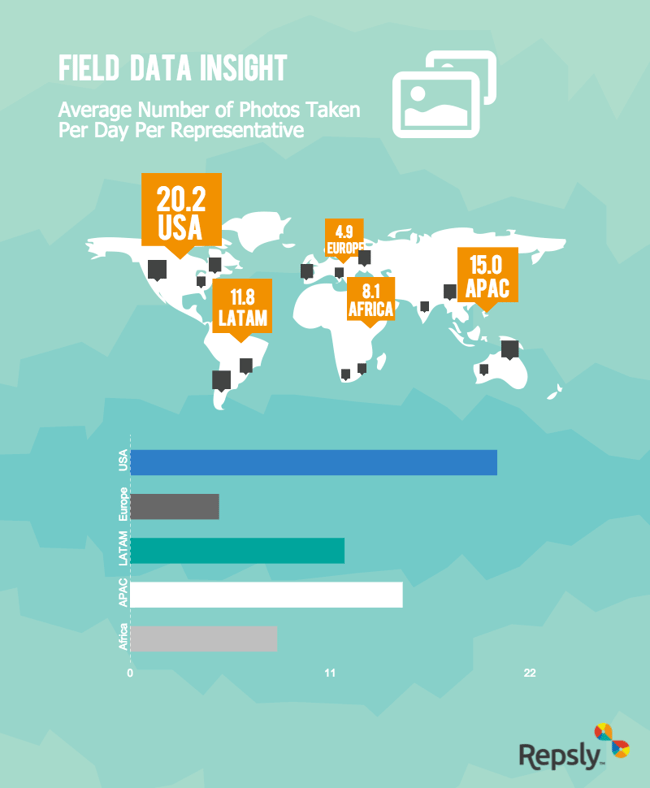 You can find out more about Repsly's Field Data Reports here.
Matthew Brogie
Mat Brogie is a COO of Repsly, Inc., and a long time mobile technology consultant. With deep experience designing and implementing mobile retail execution solutions for some of the world's largest CPG companies, Mat has developed a passion for mobile computing, particularly around retail execution best practices.