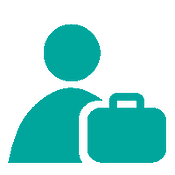 Whether or not you are actively selling a product, it is more than likely that at some point in your career you will be selling something. There is a lot more to sales than the straight sell. You need to have a strategy, a backup plan, and do plenty of homework on the person you are addressing. To make the most of your selling experience, no matter what it is you're selling, there are a few things you should keep in mind. Ensuring your clients perceive you as competent, genuine, and helpful can go a long way, remember these five sales strategies to boost your sales techniques and reputation.
1.) Know your business
Go after the leads that you actually need to succeed. Sales is more than than simply addressing anyone with the ability to buy; you want to sell to people that can give you a long-term and prosperous relationship. There is probably a demographic to which your business specifically caters . Go after those leads, and make sure you're acquiring the kinds of sales your company needs. To assess how well you are achieving your sales goals, Jeffrey Hayzlett suggests performing a SWOT analysis. This stands for strengths, weaknesses, opportunities, and threats. You and your sales team should keep a log of all interactions with customers, whether in a field CRM tool or field activity management software. This will allow you to analyze what has been working, and what hasn't been so you can adjust accordingly. Additionally, if there is an opportunity for a sale, or if you are potentially going to lose a client, a SWOT analysis will deliver early awareness allowing you to take preemptive measures.
2.) Have clear goals and know how to reach them
Set out a weekly or monthly target for calls or meetings to keep yourself organized and efficient. Having a clear set of expectations for yourself ahead of time makes you more likely to follow through and maximize on your time for the week. More than just mapping out your goals, come up with a plan for the best way to reach them. Do your homework not only on the goals of the product you're pitching, but also who you're talking to. Figure out the best, most likely way to reach them, be it phone, email, or through social media channels. Also, identify if that person is the decision maker in their organization. Even if you are not presenting to the decision maker, deliver your pitch as if it was. Your message will likely be relayed back to them, so make sure they find it relevant.
3.) Foster trust
You and your clients are on the same team, and you want them to know that. Be genuine and offer great customer service to reinforce that you want their goals to succeed with your help. Micheline Nijmeh's article Why Trust is the New Buzz Word for Sales puts particular emphasis on the necessity of being able to respond to customers in real-time, and on having company insights which give more accurate depictions of what the client needs to achieve their goals. Be sure to implement systems that will give you these insights, and allow for immediate communication.
4.) Let prospective customers discover you
Discovery based selling, as advocated by Gay Gaddis's sales article, is the strategy of letting customers who need what you do find and reach out to you, rather than you going to them with your company's accolades. To do this, make sure you are present in the forums your clients use, be it web, social, print, etc. If they find you and are excited by your product, they will be more receptive to what you have to say and bring them.
5.) Be prepared for any problems along the way
Think of issues that may arise for your clients ahead of time, and come up with a plan to fix these issues. Your buyers will be sure to ask "what if" and if you can answer them on the spot, with clear answers, you will remove any doubt they have about your product before it sets in. Tom Searcy's guide calls this a "landmine map," this preparation may save your relationship with a client.
There are many variables to consider when buying or selling something. As a salesman, you need to consider these variables from a client's perspective, and think of what you would expect were you in that position. However, you also need to know what your business needs from you to deliver on that front. These tips address both of these perspectives with some universal sales techniques. Try implementing these strategies on your next sales call to attain the maximum benefit for both parties.
Amanda McGuinness
Amanda McGuinness is a Content Marketing Journalist at Repsly. A social media expert and avid writer, she believes in creating fresh, creative content to build brand awareness.