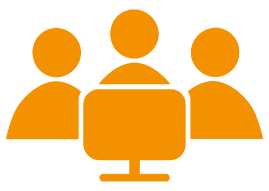 With the immense growth of online business in the past decade, businesses have shown a large rise in the number of employees who work remotely from home or in the field. While the number of "telecommunicating" employees has shown a nearly 80% increase from 2005 to 2012, virtual teams are still relatively new, uncharted territories.
For the manager with a bevy of traditional team management experience, making the jump to mobile employee management can come as a shock. Plenty of the traditional managerial tactics used in the workplace do not apply when leading remote employees, and special care must be taken to ensure that certain missteps are avoided when stepping into the role of a virtual team leader. While it is the job of the manager to assess their team and build a strategy around them, here are a few mistakes that virtual team leaders will desperately want to avoid.
1. Micro-managing like your team is in the office.
While leaders can track virtual employees in the field, they should be careful not to overdo it. In the virtual workplace, where employees are not always immediately available, and often need to make difficult decisions on their own, managers should look to delegate more than they usually would. Instead of telling employees what to do, good virtual leaders will coach them the best way to approach their tasks, and then let them take some control.
2. Selecting your team based solely on their functional skills.
While this works for a number of roles in the traditional workplace, the virtual employee needs to possess certain characteristics if they are to be successful. Good virtual employees will need the ability to handle the social side of remote work, which often lacks face-to-face communication and casual chatting. Virtual team leaders will also want to ensure that their team members are proactive, both in networking and learning, as their role will be evolving quickly. Having these traits, along with a determined work ethic and great time management are some of the essentials a virtual team member will need.
3. Not having hang-out time.
In a physical office, employees chat over lunch, in the parking lot, pretty much anywhere. Virtual employees miss out on the little social interactions that help create strong team bonds between employees. These bonds are a big part of what helps to drive employees towards mutual goals—knowing that they have team members that they care about relying on them will encourage everyone to step up their game. Hold physical meetings weekly, or if that isn't possible, use field management software to let your remote employees communicate with you and with each other.
4. Forgetting to set up a schedule.
While this is important in any work environment, it is vital to the success of a virtual team. Time management should be near the top of the priority list when working with remote employees, and having a good schedule makes this much easier. Not only will a good schedule help employees to stay on task and easily show when an employee is not pulling their load, but it provides a great opportunity for team members to share part of their life with the rest of the team, given that they're comfortable with a shared schedule.
5. Being vague or unclear with instructions.
Clarification after the fact can result in poor employee performance when working with a remote team. Making sure that employees understand exactly what is required of them means simplifying instructions and tasks, and then simplifying them some more. Without a shared objective and clearly defined roles, the team may be working towards separate long-term goals, or even worse, working against each other. Make sure that the team understands exactly what is needed the first time around, and avoid any confusion and trouble later on.