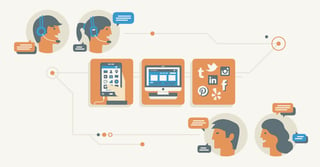 Millennials, or those aged 18-35, are now the largest consumer group in the world and are estimated to have the greatest spending power of any generation to date as of 2017. Needless to say, catering to this demographic through exceptional customer service is vital for any business hoping to remain profitable in the long-term. In his Forbes article, customer experience consultant Micah Solomon reveals the secrets for providing optimal service to the new Gen Y. In this post, we'll explore a few of his points more in-depth to provide you with a greater understanding of what great customer service means.
Exceptional Customer Service Examples
Avoid Busywork (For Both Customers & Employees)
Anything employees can do, an app can do better. Although this might not always be the case, it's pretty often that millennials can get the information they need on a company, product, or service directly from their mobile phone without ever interacting with a store employee. Therefore, it's crucial to ensure that as many customer service duties and responsibilities as possible can be carried out in an automated, digital format. To give a simple example, millennials would rather receive a text message in real-time to know when their order is ready for pick-up rather than having to make a phone call to speak with a customer service rep.
When the need for interpersonal communication does occur, members of Gen Y prefer personalized, authentic attention as opposed to a scripted greeting coming from a corporate giant. This can certainly be an advantage for small business and startups who are generally more agile than their larger counterparts and are willing to be flexible to accommodate the needs of their clients.
There's No Such Thing As "Too Fast"
You've heard it before: millennials are obsessed with instant gratification. Growing up in the digital age has led Gen Y to expect their impulses to be satisfied immediately. Hence, your brand needs to keep up with this velocity at the risk of being outdone a competitor, especially since this age group emphasizes convenience over brand loyalty. If your product is not available to millennials at the moment they are looking for it, it's unlikely they will have the patience to wait for it.
To stay ahead of the game, take advantage of mobile data collection tools that allow your field representatives to check product stock levels and submit replenishment orders instantaneously using their mobile devices. Moreover, being mindful of supply chain management best practices will help your business avert out-of-stock instances that can hurt short-term sales and long-term brand image. Being aware of Gen Y's expectation for speedy service can set your brand apart from the competition.
Buying Into Values
Millennials are more likely than any other generation to participate in values-based buying, which Solomon explains as a willingness to do business with a company that holds the same values as you. For this reason, making your brand's mission known in the marketplace is a customer service strategy that can entice millennial consumers.
To do this, field sales managers will want to make sure that promotional materials vibrantly display your brand's core values. Keeping your values blatantly in front of millennials' eyes through packaging, banners, pop-up displays will get your brand noticed by a customer base that holds the same beliefs.
In an age where choices are endless and loyalty is fleeting, it's more important than ever to be attentive to your company's service skills. What's more, social media-savvy millennials will spread the word about their experience with your brand, whether it be good, bad or ugly. So what does exceptional customer service mean? Simply put, keeping it quick, authentic, and hassle-free will resonate with Gen Y. Keeping these examples of good customer service in mind can help your business captivate the most influential consumer group in today's retail environment.
Victoria Vessella
Victoria is a Marketing Associate at Repsly, where she leads the company's P.R. and social media efforts. You can also catch her prepping for slew of exciting industry events. A New England native, Victoria has spent time living in Italy and traveling throughout Europe before settling back in Boston. When she's not planning her next trip, V is probably tasting wine or brushing up on her Italian.