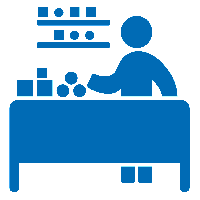 In the United States, craft beer sales are quickly overtaking some of the most established brands in the country. According to the Brewers Association, craft beer sales rose 18% last year and they show no signs of slowing down. A diversified beer market is good news for beer enthusiasts and for retailers, but what about for brewers? The Brewers Association estimates regional breweries are opening at the lightning-fast rate of 1.5 per day. This means more beer, and that means more competition for aspiring brewers. How then, can independent breweries hope to build up a loyal clientele and grow to new retail locations?
The answer starts with giving consumers a taste. Recent studies show that having just one sip of beer causes tasters to experience a dopamine reaction, the chemical that controls the reward and pleasure area of the brain. The subjects of the study reported an increased craving for beer after the tasting—a craving that did not exist with other tested beverages. Taking advantage of this reaction is simple for breweries that are looking to grow their customer base.
In-store tastings have been a staple of craft brewery field marketing strategies for a long-time, but they are still underutilized by emerging brands who rely on word-of-mouth and packaging to create sales for them. While there is greater legwork involved in setting up and manning an on-premise table or booth, the resulting sales and publicity almost certainly outweigh any costs associated with doing so. For those looking to create a merchandising or beer tasting booth at a retailer, there are a few tips, tricks, and ideas to take into consideration.
Making a good first impression is vital for both your product and your field marketing rep. If you want consumers to try your beer, you'll need to get them to your booth first. Negotiate with retailers to get a high-traffic location in-store—usually somewhere near the entrance. The booth or table should have clear signage indicating your brand name, product samples, and full-product on hand. Beyond this, brands can get creative with what they offer. Including a free pint glass or t-shirt with a six-pack may be what it takes to get a first-time buyer to try your brew.
Another recent study showed that supermarket shoppers exposed to a product-specific podcast while shopping bought more of the described product, boosting sales by 33% on average. Setting the tone for customer engagement gives field marketing reps a huge advantage, and now is a better time than ever for small breweries to beat out the titans of industry. Grab new consumers, and spread your brand image with effective beer tastings and sample booths this new year.