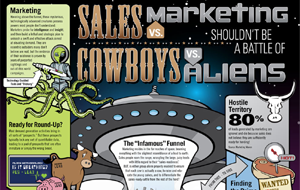 This is a guest post by technology copywriter, Ann Buechner.

Market Star produced a great infographic: "Sales vs. Marketing shouldn't be a battle of Cowboys vs. Aliens." (Try to ignore, for a moment, that it's based on a terrible movie). In it, marketers are depicted as the "aliens" who exist in the ether, "probing for intelligence and insight" and unleashing campaigns based on their findings; cowboys are depicted as the cowboys who roam the earth, wrangling cattle and bringing the biggest, most marketable herd home. Market Star argues that even though the alien marketers may generate leads, the cowboy salespeople may not find those leads ready to join the herd. So what's an alien or cowboy to do in order to maximize new business?

First, understand the the difference between the two. As Chron.com describes, marketing and sales embody two different business philosophies. On marketing, Neil Kokemuller writes:
A marketing oriented company makes meeting the needs or wants of its target customers its primary business motivation. This includes responding to stated consumer needs by developing new products, improving on existing products, or improving services. Companies with especially strong marketing orientation may even detect consumer needs before the general market is aware of them. These companies are usually cutting-edge innovators that try to give customers what they want faster than competitors.
Some great examples of marketing oriented companies are Amazon, which offers an incredibly tailored shopping experience for its customers; Porter Airlines, which offers an amenity-filled flying experience for a cheaper price than its competitors; and Sephora, which offers lots of samples in-store and online, a great loyalty program, and a generous return policy.
A sales oriented company, on the other hand, is focused less on the customer and more on selling products, usually via a highly trained, highly specialized sales person. Laura Dunnett writes:
This philosophy assumes that people will buy if aggressive sales techniques are used...this orientation often assumes that sale prices of high value equate to substantial profit. Because a sales-oriented business is so focused on pushing its product out to the customer, it must rely on aggressive sales techniques. These include intensive promotion, such as advertising, and price-focused strategies. The sales-oriented business also relies on the strength of its sales force to move its products or services.
You may be hard-pressed to think of sales oriented companies off the top of your head, as many of the companies that we know are market oriented; however, think of companies that sell services or products directly to businesses, companies that sell their wares at mall kiosks, or companies that sell salespeople out door-to-door.
It's easy to imagine that these two philosophies seem naturally opposed, but they needn't be. Furthermore, the success of your company may depend on the alignment of the two.
Phil Fernandez over at STL Today has some suggestions:
Focus on value delivered - Educate both teams on how each adds value to the company
Agree on lead equality - Have both teams agree on what constitutes a good lead and a saleable lead.
Take each other to work - Marketing should be involved with sales meetings and vice versa.
Take them out for a beer - (Either actually or metaphorically) A non-work setting can do wonders to improve relationships amongst co-workers.
See? It needn't be sales vs marketing, it can be sales working with marketing. Happy harmonizing!