Every May, the National Confectioners Association produces its flagship trade show, aptly titled the Sweets & Snacks Expo. Held in Chicago, this three-day event features 800 exhibitors and draws a crowd of 18,000. The event's organizer reports that this group represents roughly 85% of the U.S. buying market, with more than 100 new companies and 2,000 new products on display.
You can be sure that some of these new-to-the-world product launches are just what the market needs. I sifted through dozens of chips, puffs, bars, and more to determine which new offerings are forgettable fads, and which are here to stay. Check out my roundup below.
RXBAR
One of the industry's hottest protein bar brands, RXBAR, has just expanded its product line to include single-serve packs of nut butters. Available in three flavors, the pouches pack nine grams of protein and two grams of fiber. Staying true to the brand's founding mission, the butters include "no B.S." and are made only from natural ingredients.
Project 7
Perhaps a little less well-known but equally buzzy, Project 7 is a specialty gum and mint brand that gives back to charitable causes representing the "seven areas of need." Clever and caring!
Known for flavors that appeal to both adults and kids - think Girl Scouts Thin Mints and Champagne Dreams - the brand just launched a new line of chewies. These organic chewy candies come in a pouch that features a mix of the brand's most popular flavors.
🎉 We are SO happy to announce the newest addition to our product line, launching nationally in @wholefoods this June!! 🎉 Introducing Project 7 Chewies, a USDA-Certified Organic Chewy Candy featuring our iconic, fan-favorite flavors. #project7 #wholefoodsmarket pic.twitter.com/k11aqh0dy2

— Project 7 (@Project7) May 15, 2018
Enjoy Life Foods
Energy balls are definitely having a moment. No stranger to this trend, allergen-friendly brand Enjoy Life Foods debuted new flavors of its popular protein bites at the show. Consumers can now find dark raspberry and chocolate banana as options for their healthy snack fix.
SkinnyPop
Speaking of protein, everyone's favorite lightened-up popcorn, SkinnyPop, is releasing a protein-packed version with five grams per serving. The better-for-you snack will be available in ranch and cheddar and cracked pepper flavors.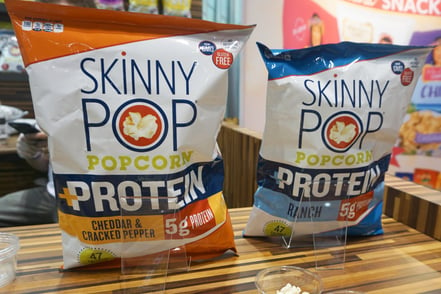 Image courtesy of BakingBusiness.com
Snack Pack
No roundup would be complete without touching on the millennial effect. Many from my generation have a fascination with the fantastical creature that is the unicorn. Hence, it's unsurprising that the snack industry is capitalizing on this.
Traditionally associated with kids' school lunches, Snack Pack is expanding its horizons to appeal to a wider audience with the launch of its Unicorn Magic pudding, complete with a hashtag #YasssUnicorn on the packaging and temporary unicorn tattoos inside.
Sweets & Snacks Expo proved to be a must-attend event for brands looking to stay relevant in a highly dynamic category. Want to see where else Repsly is headed this year? Find out here!
Victoria Vessella
Victoria is a Marketing Associate at Repsly, where she leads the company's P.R. and social media efforts. You can also catch her prepping for slew of exciting industry events. A New England native, Victoria has spent time living in Italy and traveling throughout Europe before settling back in Boston. When she's not planning her next trip, V is probably tasting wine or brushing up on her Italian.