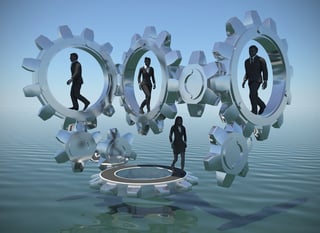 Over the past few weeks I've been exploring the different approaches to building retail merchandising team. The crux of the issue centers on the most basic business decision: How can you get enough value from the team to justify the costs? This leads to the two basic goals: Maximize value, and minimize costs. While it seems that this may be a fairly straight forward assessment, there are in fact many facets to the analysis, which lead to the need to understand the various approaches that this series explores, and how each one impacts your ability to meet those goals.
This installment focuses on outsourcing your Retail Execution team to a Third Party Merchandiser (TPM) or Merchandising Services Organization (MSO) as they are more commonly called these days. MSOs provide feet on the street merchandisers to take care of your products in retail. Unlike Brokers and Distributers (which I covered in the 2nd part of this series), MSOs do not sell or distribute products on your behalf, they focus strictly on providing hands-on Retail Execution services.
There are hundreds, if not thousands of MSOs around the world; some have tens of thousands of reps spread across every inhabited continent, and some have just a handful of reps covering a very specific geography or aspect of service. The reason there are so many is obvious; there is a great demand for retail execution services, and it's not easy for brands to build and manage field merchandising teams. So what are some of the most important things to consider when contemplating an MSO?


Avoid Hidden Costs
According to Angie Garrett, President of WorkSmart Merchandising, a mid-sized MSO based in South Carolina that provides both project based and general coverage services in 32 states, one of the most compelling reasons to work with an MSO is cost management. Ms. Garrett says "There are so many hidden costs to hiring a field team that go into the rates that MSOs charge. Things like Paid Time Off, Workers Comp and Social Security taxes, not to mention the costs of hiring and training field reps."
When working with an MSO, particularly when working across multiple states, there is a deep administrative cost that many companies don't consider at the start of their quest to build a field team. Managing remote workers is difficult, and keeping attrition low is nearly impossible in the Merchandising business. The raw costs of recruiting, interviewing, hiring and training new employees to represent your products with quality and passion is very high, and attempts to cut corners on the hiring process can lead to hiring mistakes, which drive the costs of managing the team even higher.
MSOs (at least the good ones) are structured to deal with these expensive administrative burdens. "We might not have every person available at all times in every region that we service", says WorkSmart's Garrett, "but we have the people and processes to find them and add them to the team quickly when it is important to our clients." This focus on the process of managing teams is a key part of the value proposition that compels many brands to rely on 3rd Parties for their field merchandising needs.
Gain Flexibility
Another key piece of value that MSOs provide is their flexibility to provide dynamic coverage. When a brand is launching a new product, or pushing a major promotion, it often requires a surge of field activity that may only last a few weeks. MSOs are well equipped to grow and shrink the field team on short notice to accommodate project work, and to take on coverage that would be difficult for an in house team to accomplish.
WorkSmart got its start by focusing on services that were difficult, and others were unable or reluctant to tackle. This approach evolved into a company that now provides a broad range of coverage and services, and accentuates the fact that MSOs can be a resource that brands can rely on to execute their complete vision for product management on all shelves. "3rd party merchandising organizations are better equipped to maintain a constant and reliable workforce by keeping them busy at all times through multiple projects and assignments", says Garrett, "and this is a task that a manufacturer may not always be able to uphold."
One of the main arguments that is made against using MSOs is that their field reps may not be as focused on, or as passionate about the success of your brand's success on the shelf. Their time is often spread across multiple brands on a single store visit, or they may shift focus on and off different products over a period of time. Garrett counters this argument by focusing on the MSO's drive to "do everything they can to build trust, confidence, and a good relationship with their client." She continues, "The outsourced company knows that if the client is pleased then the work will return, therefore will do what is necessary to make it happen".
Leverage Relationships With Retailers
In addition to a drive to please, there is a strong argument to be made that an MSO's field rep will probably have a stronger relationship with retailers, and can therefore lobby for your product with more power when it is needed. MSOs also work hard to deliver the quality that they need to retain client relationships by providing ongoing training and coaching of their reps. An MSO is likely able to provide more supervisory infrastructure in the field than a manufacturer can, and can also implement accountability, data gathering and reporting systems across teams in a manner that spreads costs across brands. All of these combine to give MSOs the power to provide a level of service that may be higher than can be accomplished by an in-house team.
An MSO can be a strong and economical partner for brands that need retail execution coverage, but not all are created equal. Since the difference between complete & excellent coverage, and spotty mediocre retail execution can have a huge impact on your bottom line; it is important that you do your homework before committing to a relationship with one. It is best practice to check references, both from existing clients of the MSO, as well as retailers where they provide services. Ask for the details of how the company will communicate with you; everything from basic accountability of coverage in the field, to the data that reps collect during their audits, to how they will alert you of issues that are discovered in the field.
If the MSO provides reports to their clients, review them to make sure that they provide the depth and breadth of information that is important to you. Interview a field rep and a field supervisor as part of your process to get to know the company and develop a first-hand feel for the type of people they hire and the type of culture they foster. If possible, visit their offices to gain an understanding of how professional and stable they appear to be, and look for industry certifications like the Worldwide Alliance for Retail Excellence Gold Certification, and the Better Business Bureau Accreditation. All of these things can help you to build a better picture of who will be representing your brand, and impacting your bottom line at the shelf.
If you'd like to reach out to Angie Garrett at WorkSmart, she can be reached at (888) 246-2988.
In the next post in this series, we take a look at some of the important things to consider when building your own merchandising team, be it part-time, full-time or a 'surge' force. Read that article here!
Matthew Brogie
Mat Brogie is part of the founding team, and CEO of Repsly, the world's leading solution for high performance retail execution teams. Mat has spent the past 15 years of his career focused on bringing technology enabled business solutions to the consumer goods industry, having implemented solutions for tens of thousands of field reps at companies such as Coca-Cola, Procter & Gamble, Pepperidge Farm and hundreds of others.