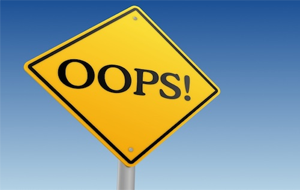 We've written quite a bit in recent months about Retail Execution and Workforce Management, with a focus on best practices to win at retail. Today we're going to highlight some of the common mistakes that Field Organizations make that frustrate the efforts to achieve the greatest results on the retail shelf.
Generally these common mistakes come in 3 categories:
Territory Coverage
Rep Efficiency, and
Task Execution.
Starting with Territory Coverage, the goal is to balance cost (e.g.; rep salaries) with complete territory coverage by making sure that you have the right number of reps visiting the stores in a territory. Too many reps and you are spending too much, not enough reps and some of your stores will be short-changed. The problem is, in the real-world reps don't always alert management to the fact that they weren't able to cover all of their stores, nor do they alert management when they have a few hours of 'slack time' each week because the territory is too small… they just make sure that the paperwork tells a good story. The best solution to this problem is to automatically capture data about arrival and departure time at each store in the territory. If you know when each store was visited, and how long the rep spent on each visit, it is very easy to determine if you are getting the right number of quality visits from each rep.
A closely related metric in the retail execution space is rep efficiency. You get the most value from your reps when they are spending quality time merchandising, marketing and building relationships in retail. You want to minimize the time they spend on non-productive tasks like paperwork, visit preparation and traveling between visits. The most efficient field forces enable their merchandising teams with mobile solutions that organize the work that is to be done in the outlet, and eliminate all paperwork that reps have to do during and after their visits. Capturing data and photos using readily available mobile technologies (read 'SmartPhones or Tablets') enables data to be tagged and cataloged as it is collected, rather than having to transcribe, upload and manually tag data later… when the rep leaves the outlet, their work is done. An added benefit is that data comes back to the office in a structured and organized way, making it easy to share and analyze.
If you are geo-tagging rep activities, either with a tracking solution that follows them around, or simply geo-stamping activities as they are entered on the mobile device, you can make better decisions about how territories should be set up to minimize driving.
Finally, field rep productivity can be severely undermined if reps don't know exactly what to do during a visit, or worse yet if they shortcut the tasks that you have laid out for them. Many organizations have dynamic execution plans and it may be difficult to keep reps fully informed about the exact process to be followed, or reps may inadvertently skip key parts of an 'optimal' visit sequence. While it would be great to have a spot-checker or trainer along on every call, it is simply unrealistic to do so. The better solution is to provide reps with easy to use, information rich guides to help them understand and fully execute the perfect visit every time. You can further your ability to review how standards are being met in the field by enabling reps to take and share photos of the work they have done. You'll be able to verify that your instructions are properly understood, and you'll be able to identify any impediments to getting full execution in the field.
Matthew Brogie
Mat Brogie is part of the founding team, and CEO of Repsly, the world's leading solution for high performance retail execution teams. Mat has spent the past 15 years of his career focused on bringing technology enabled business solutions to the consumer goods industry, having implemented solutions for tens of thousands of field reps at companies such as Coca-Cola, Procter & Gamble, Pepperidge Farm and hundreds of others.