It's no secret that competition in the food and beverage space is fierce. With over 21,000 food manufacturers in U.S. alone, it seems as if new brands are popping up next to yours on the shelf every day. To prevent competitors from taking a bite out of your brand's sales, you need a way to track what they're doing on a store-by-store basis.
Competitive Audits: Your Secret Weapon
Your bottom line is directly affected by what your competition is doing. These three stats about retail competition are very telling:
Your brand can reap many benefits from having reps in the field gather competitive intelligence, including:
More agile decision making

- Adjust and execute your strategies with powerful insights from the field.

Better strategic planning

- Having hard data about competitor activity makes planning for the future seem less uncertain.

Primary research

- You can only find out so much from the internet. Documenting what the competition is up to with photos and data on a store level gives you an edge.
Sure, these high-level ideas are great, but what actionable solutions can they give your brand? Enter a competitive audit. A tool like this lets you capture the information that you care about, and nothing that you don't.
Why Conduct an Audit?
Below are five reasons why a competitive audit should be in your toolbox, and how to craft one that will deliver actionable results. Remember that the audit questions you ask shape the insights you'll be able to get from it.
Understand industry trends.

In an industry as fast-paced as CPG, managers need to stay on top of trends in their sector. A competitive audit can help your reps record any notable happenings on the shelf. Maybe there's been an uptick in packaging redesigns or sampling events. Or perhaps consumers are flocking to the brand that is 100% sustainable. Taking note of these qualitative observations lets you plan accordingly faster than ever before. Using a consistent format for competitive audits also makes it easier to track trends as opposed to having brand reps jot down notes on what they think might be important.

Improve marketing efforts.

Competitive audits expose how aggressive marketing efforts need to be from account to account and territory to territory. Your biggest competitor might have invested in floor decals and shelf talkers that are robbing consumers' attention at certain key accounts, leading you to pour more marketing spend into these types of materials. Including photos as part of audit also gives you the power to visualize what competitors' marketing materials look like in the store. Without real-time data, it's difficult to know where to allocate marketing dollars that will deliver the most bang for your buck.

Identify new players.

Any good

competitive landscape analysis

will involve determining the threat of new entrants. Industry giants will always be present in your category, but other emerging brands can spring up on the scene at lightening speed. Besides identifying a new brand itself, you should identify what it is that's giving them traction in your space. You want to know if a company introduces a new product that's a game-changer for the category, or uses a unique merchandising tactic that you've never tried.

Determine the perfect price. You can't make adjustments to your prices if you don't know how competitors are pricing their products across retailers. Another reason to collect data on this is to keep track of promotional pricing. Does a competing brand offer steep discounts a handful of times a year? Or maybe they knock off a small percentage on a biweekly basis. You won't know if you're not reporting on it.
Flag stockouts. Sure, you want to be aware of when your own brand is out of stock. But you should probably track when your competitors are experiencing stockouts too. This element of your competitive analysis could be used leverage with a current or prospective retail partner to show explicitly how your competitors' inefficiencies are hurting that retailer's bottom line. Proving that you have lower stockout rates is a compelling argument when bargaining for shelf space.
Audit Questions to Ask
The specific data points that you track will depend on your brand's needs, but you have to start somewhere. See below for a sample competitive audit that you can use as inspiration when designing your own.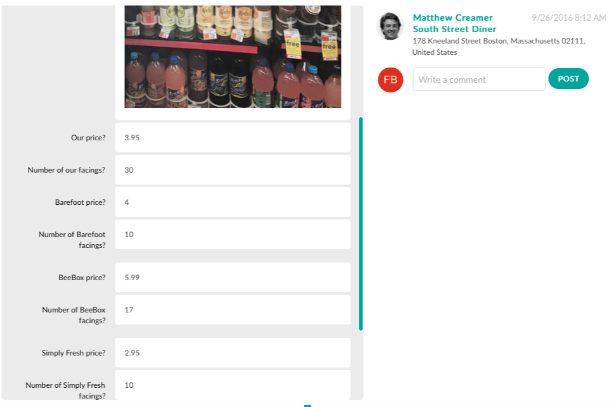 Competition is inevitable in any industry, but your brand has the power to proactively manage it. Implementing simple processes, like a competitive audit, puts you in a position to outsmart the other guy by streamlining how your field team works.
Victoria Vessella
Victoria is a Marketing Associate at Repsly, where she leads the company's P.R. and social media efforts. You can also catch her prepping for slew of exciting industry events. A New England native, Victoria has spent time living in Italy and traveling throughout Europe before settling back in Boston. When she's not planning her next trip, V is probably tasting wine or brushing up on her Italian.