Does it ever feel like there's a new competitor on your shelf every time you walk through the grocery store? Trust that feeling, it might be right. There are about 21,000 food manufacturers in the United States, according to California Manufacturing Technology Consulting. Unless you're one of your category's most well-established names, you have your work cut out for you when it comes to distinguishing your brand.
While you might want nothing more than to leave your competitors behind without a glance in the rearview, the key to beating them may be to keep a close eye on their activity in the retail market. The most effective (and easy!) way to boost your brand ahead is to use a competitive analysis template to track your competition's wins and losses.
In this post, we'll discuss the importance of gathering data about your competitors, then outline a few best practices you can use to create a competitive analysis of your own. Next, we'll demonstrate the insights you can glean from your competitive analysis report. Finally, at the end of this post, you'll find a complimentary competitor analysis template you can use to get started.
Why Conduct Competitive Research?
Consider the Four P's of marketing: product, price, place, and promotion. If you're able to measure those last three — price, place, and promotion — it will be far easier to imitate your competitors' successes and learn from their mistakes. Monitoring your competition's pricing strategies, shelf placements, and in-store advertisements will empower your company to be proactive rather than reactive by augmenting its retail strategy at the first sign of a competitive threat.
To keep all of these observations organized, food and beverage companies must take a systematic approach to data collection. Taking advantage of collaborative, cloud-based, mobile tools helps retail merchandisers execute this task more efficiently while allowing managers to stay aware of what's happening at any given retail location. See below to find out what types of data companies should collect as part of their competitive analyses.
How To Create a Competitive Analysis
The specific components of a competitor analysis will vary from company to company based on each business's unique requirements. Nevertheless, there are a certain elements that remain constant as part of any competitive analysis research.
These include:
Competitor name

Competitor product line

Competitor price

A description of the competitor's visual merchandising (shelf location, marketing materials, etc.)

Number of facings present

Date

Retail location name and location
Depending on your business needs, it might make sense to take note of additional competitor activities.
Such data includes:
Competitor packaging (material, color, style, etc.)

Competitor product description (fresh or pre-packaged?Color? Texture? etc.)

Notation if the competitor is direct or indirect
Representatives from your organization will be responsible for collecting competitor analysis data in the field. In order to do this most effectively, reps need to be equipped with retail merchandising software they can use to record key information quickly and accurately. Using a solution with custom mobile forms lets managers design competitor analysis questionnaires that only capture the most relevant information (see below for an example).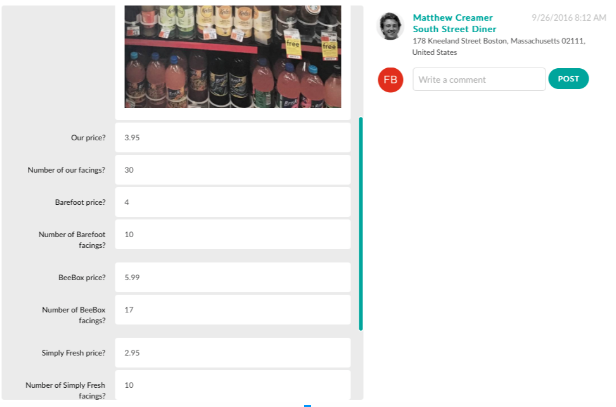 You can use this data to fill in a competitive analysis template for a more in-depth review. Moreover, certain retail merchandising software affords companies the ability to automatically populate charts and graphs based on data they collect in competitive analysis mobile forms. This capability gives managers a quick snapshot of the health of their product performance in the marketplace.
Check out a sample competitive analysis chart below.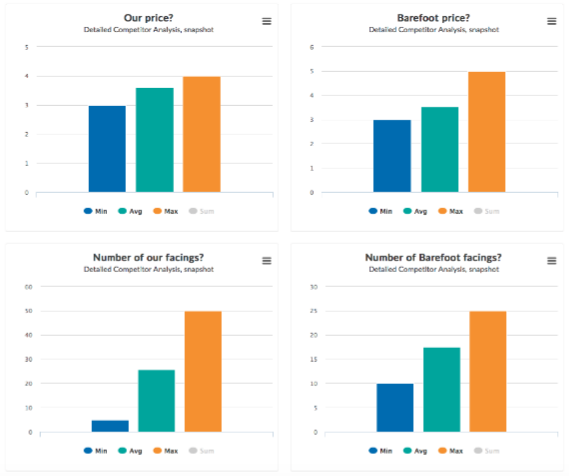 Extracting Value From Your Competitive Analysis Report
What good is a retail competitive analysis if you can't learn anything from it? Remember that the reason you're analyzing competitor data in the first place is so that you can position your brand to outdo your neighbors on the shelf.
Perhaps the most valuable aspect of competitive analyses is the ability to track trends over time. Knowing how your competition alters its strategies based on the changing market allows your company to do the same and avoid falling behind the times, especially in an ever-evolving industry such as food and beverage. Another benefit of using a competitive analysis template is that company leaders can compare their performance against multiple competitors at the same time.
The list of insights you can realize from a competitive analysis report are numerous. Below are a few examples of what you can learn from field data about your competition.
Whether or not your competitor is outselling you

How much shelf space your competitor is being offered in comparison to your brand

The types of promotional materials your competitor is using (free samples, floor stickers, banners, etc.)

The quality of your competitor's packaging

Pricing strategies your competitors use over time
Sample Competitive Analysis Template
Populate the competitive analysis template below with the field data your reps collect about your competitors. Feel free to make adjustments to certain fields to fit this template to your business's needs. Click here to download the template.
Victoria Vessella
Victoria is a Marketing Associate at Repsly, where she leads the company's P.R. and social media efforts. You can also catch her prepping for slew of exciting industry events. A New England native, Victoria has spent time living in Italy and traveling throughout Europe before settling back in Boston. When she's not planning her next trip, V is probably tasting wine or brushing up on her Italian.