It's no secret that the food and beverage industry is crowded. Between corporate giants and emerging newcomers, there's no shortage of competition. If you're worried about losing sales to your neighbors in the store, we've got three action items you can use to outsell your opponents.
1. Switch Up Your Pricing Strategy
A competitive pricing strategy should be always designed with your target customer in mind. With so many variables to consider, it can be overwhelming to decide what options will work best for your brand.
Luckily, we've taken a deep-dive into the psychology behind pricing strategies specific to food and beverage. Some neat things we found are:
Introducing a 3% change in price between two or three of your products can almost double the incidence of purchase, according to several joint studies by the Yale School of Management and Singapore Management University.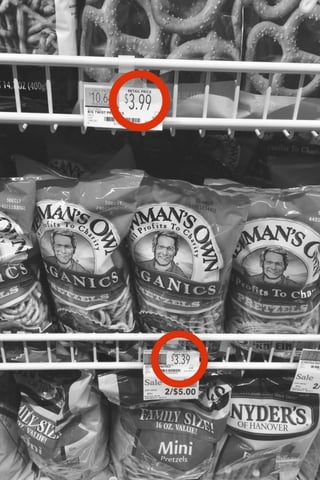 Prices ending in "9" (also known as "charm pricing) communicate not only that the price is low, but that it's a bargain, according to a pilot study conducted by MIT and the University of Chicago.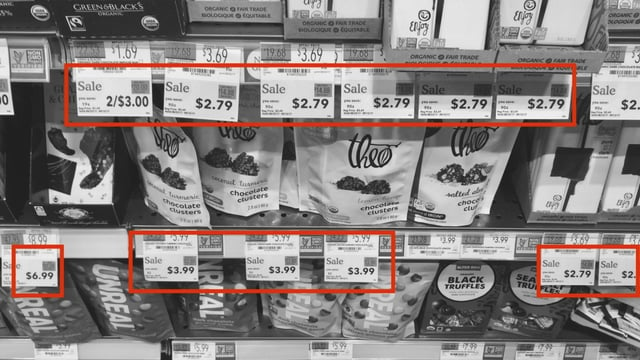 In a study by the University of Connecticut and Clark University, researchers found that bigger isn't always better; displaying sale prices in a larger font to grab attention could actually have an adverse effect.

One way to overcome the consumer's initial psychological pain of making a purchase is to create bundles/variety packs, reusable packaging, include free bonus products, or do anything else that will create the perception that the price they're paying is justified.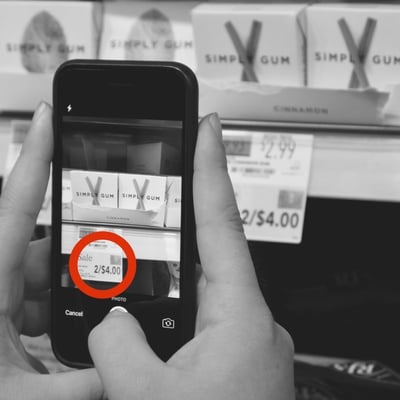 And that's just the tip of the iceberg. Check out this post to learn more about these studies in detail and get 21 unique pricing ideas your brand can try.
2. Drive Traffic to the Shelf Using Social Media
Did you know that 71% of consumers who have a good social media service experience with a brand are likely to recommend it to others? No doubt there's a direct correlation between having a healthy social media presence and having healthy sales.
Your brand can experiment with one or several of the following tactics to draw traffic to your products on the shelf:
According to a recent survey by

Sprout Social

,

46%

of consumers said that they're likely to make a purchase from a brand that offers a promotion on social media. Consider giving an exclusive coupon code to be used in-store for users who like or follow your brand's accounts. Or, try hosting a photo contest where users have to feature your product.

Have brand reps use "social proof" when negotiating shelf space with retailers to prove a demand in the market for your products by showing that you have high engagement with your target market online. This might be seen through higher-than-average follower counts or a wildly successful viral campaign.

Share any photo-worthy displays or sampling on your social channels to entice consumers to try your brand next time they're shopping. Perhaps they're scrolling through their newsfeed before or during a shopping trip and happen to see your awesome post!

Social media isn't just for marketers; Make your brand's voice heard as much as you possibly can online. Encourage your sales reps to create social profiles affiliated with your brand to share clips from in-store demos, cool merchandising displays, etc.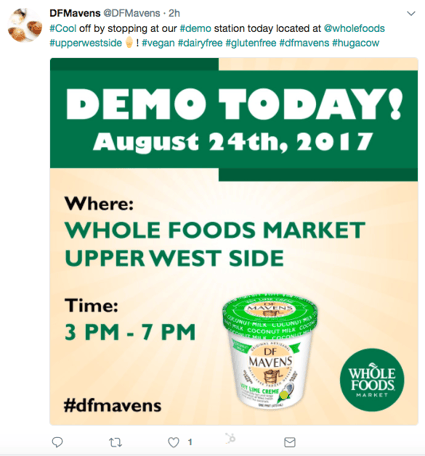 3. Collect Actionable Data
You don't know what you don't know. This age-old adage applies to what your competitors are doing at the store. Without a means of systematically tracking what they're up to, you'll always be a step behind.
Your brand might want to start using a mobile tool to gather competitive intelligence at the individual store level. Some things to include in your custom competitive audit are:
Number of competitor facings on the shelf

Any competitor stockouts

Special promotions competitors are running

Competitor field marketing displays

Photos of competitor products in the store

In-store position of competitor products

New competitor product lines

New entrants that pose a threat in your category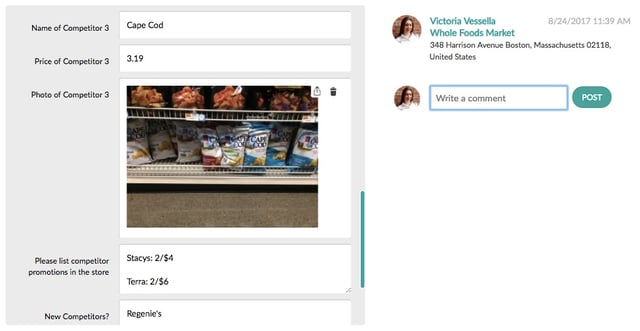 To view a more complete competitor audit, click here.
While dealing with competing brands isn't a choice, how you're able to outdo them is. Staying aware of the latest industry trends and putting customers' needs first will put your brand in a position to boost sales. By experimenting with price, getting creative on social media, and being agile in the store, your food and beverage brand can more effectively manage the competition.
Victoria Vessella
Victoria is a Marketing Associate at Repsly, where she leads the company's P.R. and social media efforts. You can also catch her prepping for slew of exciting industry events. A New England native, Victoria has spent time living in Italy and traveling throughout Europe before settling back in Boston. When she's not planning her next trip, V is probably tasting wine or brushing up on her Italian.