A poorly executed strategy can cost you up to 25% in sales. In order to achieve the ROI you are looking for, it's important to remember that the success of your retail execution strategy relies heavily on the processes you use to achieve your goals. But what exactly are the processes you should be using, and how do you make sure the methods you use to implement them are better than your competitors'?

In this article, we will discuss three key retail execution processes that many brands struggle to nail down or even miss entirely. Read on to understand the tips and tricks you can incorporate into your retail execution strategy to guarantee your in-store victories.


Invest Resources Where They'll Make the Biggest Impact
As a manager, it is your job to take a close look at where your team's time and money is best spent in the field. This involves evaluating the different types of retailers your brand is selling in and developing a different strategy for each.
For example, if you are selling in multiunit chain stores such as Walmart or Target, you have to consider what will work best for you to increase sales. Consider this: if you are running demos in 20 chain stores within your territory and those demos only increase your sales a few percentage points over a short period of time, it may not be in your best interest to go the demo route. However, having your reps go for increasing your SKU count could be a better investment of your resources.
How can you do this? The best way is to invest in creating more demand for your products to prove to retailers you're worth more space on the shelf than your competitors are. Demos and promo sales show only opportunistic demand — brand awareness campaigns can increase demand over time and develop customer loyalty.
Consider working alongside your brand's marketing team and determining ways you can help boost engagement together. If marketing is running a new social media campaign, sales can implement targeted promotions or demos at specific locations — such as events popular with your customer base — to drum up the excitement. As you track growing customer engagement over time, you'll be able to tell retailers a comprehensive data story that actually shows them that prioritizing your brand over competitors on the shelf can benefit their bottom line.
Establish a Data Collection Process
After you analyze the high-level factors that determine your strategy from one retailer to the next, you'll need to think about exactly how you plan to collect the data needed to showcase your prowess to retailers. To do so, you'll have to determine what data is worth collecting, and exactly how you plan to collect it.
A great way to collect necessary data is by using KPIs. We've collected a few of the most effective ones for brands to use when monitoring in-store performance:
Inventory turnover — Tracking how much of each inventory shipment is making it off the shelves and how quickly is a great way to measure success. It also can help you prevent against out-of-stocks if you notice a trend of your products selling more quickly, as well as overstocking or deadstock so you can adjust your shipment schedule.
Gross vs. net profit — Monitoring your gross v. net profit can help you determine how much leeway you have to work with moving forward and whether or not you have the necessary finances to try something new.
Incremental sales data — Tracking the additional sales that occur due to a marketing or promotional campaign and comparing them to your expected sales can give you insight into how much more product you sold as a result of a promotion.
Sales per square foot — Determining your sales per square foot across multiple retailers is a great way to show how more shelf space increases your sales. This is done by dividing your net sales by the sales space.
Sales order changes — Evaluating the size of your sales orders to individual retailers over a set period of time can show growth if you have had to increase either the size or the frequency of orders to a retailer to keep up with demand.
Build a Data-Driven Cycle of Improvement
Now collecting data is one thing, but putting that data to work is another. This is the importance of the final step in your retail execution process: creating a data-driven cycle of continuous improvement. Focusing on this cycle will allow you to take the insights you gain from previous in-store activities and help improve your retail execution process in the future.
Coupled with the quality data you've gained from your KPIs, employing this cycle is a one-way ticket to improving ROI. So what does this cycle consist of? There are three main components:
Insights — Insights are the takeaway information you get after analyzing data from your KPIs.
Planning — Using your insights, you can then begin planning your next move so as to maximize your time, spend, and efficiency.
Action — After the planning stage, it is time to put everything into action. From there, you cycle right back around to insights, using whatever you learned to improve your retail execution.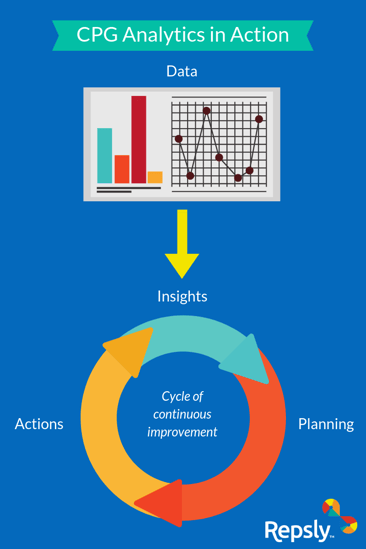 Using the cycle of improvement will not only help you make better retail choices, but it also will improve your ability to create and then demonstrate growth over time. Through the three processes outlined above, your brand can reach the top of your game and maintain your spot well into the future.
Melissa Sonntag
Melissa is a recent graduate of Northeastern University and a content marketing specialist at Repsly, Inc. She is committed to applying her skills in order to bring value to Repsly readers and customers. Outside of work, Melissa enjoys practicing yoga, making music, and anything dog-related.