Let's face it. Customer loyalty is hard to come by. Or on the opposite side of the spectrum, it can be hard to get someone who's never tried your product to try it when they're already loyal to one of your competitors. The moment shoppers enter the store is the moment when your in store marketing strategy is put into work. As you know, the competition is fierce and consumers have a limited attention span to process everything that gets thrown at them. If your in store marketing campaigns aren't producing strong results, here are three best practices you may be missing.
Use In-Store Demos to Build Cart Size
Free product samplings are a great way to attract new buyers, because who doesn't like free stuff? When they've arrived at your table/stand, this your chance to not only educate them on the strengths of your product but also to get feedback about what they like and don't like. Even better, if you have a range of products, this also provides a great opportunity to cross-sell and teach consumers about your other goods. The main purpose of in-store demos is driving trials with new shoppers, but savvy brands will take the opportunity to recommend complementary products, even if it's not what you're handing out that day.
Use Packaging to Add Color to In-Store Displays
Visual cues are so powerful. It takes our eyes about 80 milliseconds to process the world around us, which makes color a powerful tool for shaping your product's first impression on shoppers. The colors you choose to include in your displays can influence everything from the perceived "cheapness" of a product to feelings such as hunger or uncleanliness, so be deliberate about the flavors or products you include in your most important displays.
Here are a few interesting takeaways:
Orange is the color most people consider to be cheap.
Blue can suppress appetite because there are so few naturally blue foods in nature.
Black tends to be synonymous with luxury and power.
Red creates a sense of urgency that can be effective in sales.
Green is a relaxing color that is synonymous with health.
If white is your dominant color, it is best to use restraint in your design/setup, as seen below.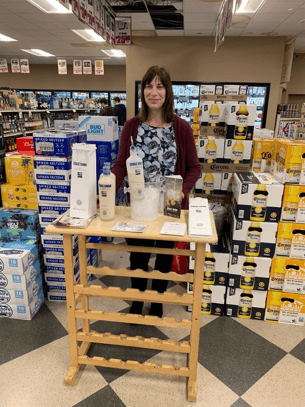 Develop Buyer Personas for In-Store Promotions
No matter what you're selling, you can always split up consumers into "buyer persona" categories. Also known as a customer profile, a buyer persona is a profile that depicts a type of consumer and provides a framework for understanding your shoppers' motivations and buying habits. Below are three ways to organize your potential customers.
Novice
The Novice is the person with limited experience and a low-interest level in your type of product. Whether you're a new drink or a niche snack, they don't buy your type of product often and will likely make a decision based on their first time experience and referrals from trusted sources. To get this person's attention, be as visible as possible. Sampling events can be great icebreakers with this type of shopper because you give them a risk-free environment to try your product instead of their usual purchase.
Experimenter
This buyer persona has a more experience and a higher interest level in what you're selling. The Experimenter has a few favorites but is more willing to branch out and try new brands they haven't heard of. Promotions and limited time sales work well this buyer persona, since they might just need a little nudge to reach away from their typical purchase.
Expert
They know exactly what they want. They've tried a variety of brands and know which tastes appeal to them and which ones don't. Even more importantly, they are very big on brand loyalty, so when they do try something new, they'll be quick to judge it a hit or miss. This is the toughest buyer persona to bring into your fold. Being clear and descriptive is your best bet with these ones because if you get into their inner circle, you're more likely to stay there.
With this information, there's no longer any need to get frustrated with your in store marketing strategy. By implementing these ideas, you can feel confident that your campaigns will produce positive results that will; affect your bottom line.
Colin Chiakpo
Colin Chiakpo is a Content Marketing Intern at Repsly and currently stuides Behavioral Economics Boston University. When he's not writing articles on marketing or learning more about more about brand building, Colin can be found at the movies or playing pickup basketball.