Kicking the New Year off right, Retail CIO Outlook recently recognized Repsly as one of the "Top 10 CRM Solution Providers of 2019"! Described as "the annual listing of 10 companies that are at the forefront of providing CRM solutions and transforming businesses," we are honored to be featured, and appreciate Retail CIO Outlook's acknowledgement of the continuous hard work we do at Repsly to provide our customers with the best retail execution solution possible.
In addition to this honor, Retail CIO Outlook also featured Repsly in their magazine's December/January edition. You can read the full article here to learn all about how Repsly is at the forefront of smarter and data-driven retail execution.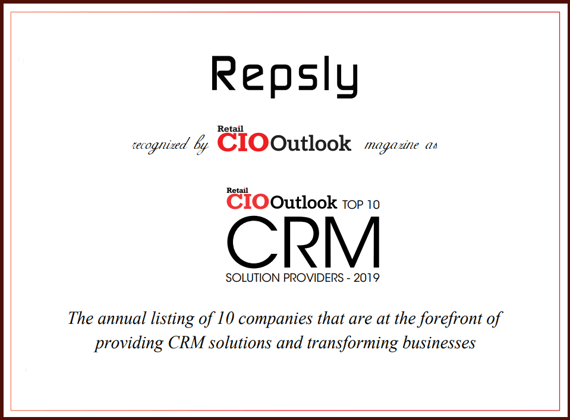 We extend our gratitude to the folks at Retail CIO Outlook, our dedicated team, and our loyal customers for this achievement. We promise to continue to provide award winning solutions and service into 2020 and beyond!
Melissa Sonntag
Melissa is a recent graduate of Northeastern University and a content marketing specialist at Repsly, Inc. She is committed to applying her skills in order to bring value to Repsly readers and customers. Outside of work, Melissa enjoys practicing yoga, making music, and anything dog-related.