Today on International Women's Day and every day, we want to show some appreciation to some of the incredible women-powered businesses we are lucky enough to call our customers!
Uncle Nearest - Kate Jerkens SVP Global sales
Siete Foods - Veronica Garza Co-Founder & Aida Garza Co-Founder
Simone Perele - Madame Simone Perele Founder
Bobo's - founder Beryl Stafford
Hint Water - CEO Kara Goldin
Koia - co founder Maya French
Amika - co founder Vita Raykhman
CAULIPOWER - founder & CEO Gail Becker
Steaz - CEO Linda Barron
Beauty Blender- founder Rea Ann Silva
Beckon Ice Cream - co founders Gwen Burlingame and Katy Flannery
Nix & Kix - co founder Julia Kessler
Wella Bar - co founder Deborah Nease
Supergoop - founder Holly Thaggard

Repsly Board Member - Tara Levine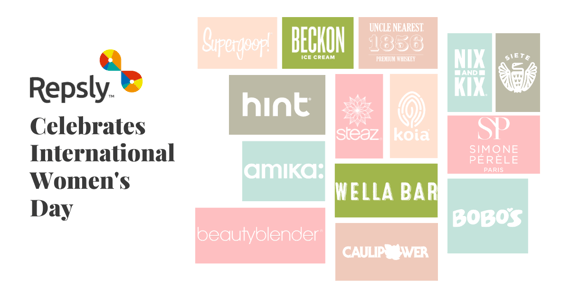 Melissa Sonntag
Melissa is a recent graduate of Northeastern University and a content marketing specialist at Repsly, Inc. She is committed to applying her skills in order to bring value to Repsly readers and customers. Outside of work, Melissa enjoys practicing yoga, making music, and anything dog-related.