As a sales manager, you're constantly looking for ways to improve the performance of your team. There are many schools of thought as to what the best strategies are to boost your numbers. Should you be more results- oriented or focus more on the process? How much freedom should you grant your reps in their daily activities?
While these types of questions may not have a clear answer, everyone agrees that you as a manager must put the best tools and technologies in your reps' hands to empower them to success.
The best tool that you and your reps have at your disposal is data. Being data-driven will make your team more efficient, informed, and productive in the long run. Here are three ways your team can use data to make an immediate impact on your sales.
1. Provide Coaching
Coaching sales reps is one of the most commonly overlooked functions of a sales manager. It's so overlooked that roughly 73% of managers spend less than 5% of their time coaching their reps.
This isn't to say that coaching your team and giving them guidance isn't important. In fact, effective coaching practices have been shown to lead to much more successful sales teams.
The harsh reality is that many managers simply don't have the time or the right tools to coach their reps as much as they should. Amidst the countless other duties that the job entails, coaching often slips through the cracks.
So what's the solution? By monitoring and utilizing activities data, you can help your reps improve during all of their daily tasks.
Activities data syncs in real time and can be presented in a similar format to a social media feed, allowing you to see everything your reps have done in a chronologically organized format. Use this to provide feedback, praise, or suggestions as soon as you see that your rep has completed a task.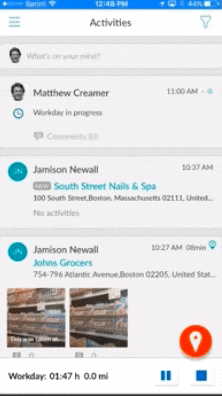 It works like this: imagine that one of your reps makes a visit to an account to sell a new product from your brand. He records the details of his visit within the activities feed, which you can then see instantly. If something from the visit catches your eye, you can provide feedback in the form of a comment on that particular activity. This has a few benefits:
You now have a specific example to refer to when giving your feedback

You can give coaching while the event is still fresh in everyone's mind

You can provide the necessary information without taking time away from anyone's schedule
By using this to your advantage, you can fill an important gap in your sales management strategy, without having to make sacrifices in other areas.
What Can You Do Today?
Start monitoring your reps' daily activities using a Mobile CRM. Provide insight and suggestions whenever possible, and be ready to provide more information should your reps ask for it. Work towards making constant feedback and coaching the norm for your team.
2. Promote Data-Driven Decisions
The smartest leaders aren't the ones that seem to have it all figured out from the start, but rather the ones that can adapt and change based on the information in front of them.
Having the ability to constantly iterate and modify your process is a major determinant of success, but it's affected by the data that you have available.
When debating a potential change to your strategy, you don't want to make critical decisions based on hearsay or memory. You want your decisions to be based on cold, hard numbers that truly demonstrate what works and what doesn't.
Sales data can help with this. This type of data provides the numbers associated with all of your sales activities. Some questions that sales data can help to quantitatively answer include:
What types of accounts generate the most revenue?

Which reps perform better with which account types?

How much revenue is a new product generating?

Did this month's strategy perform better or worse than previous months?
Without supporting numbers, your strategy and decisions could be based on opinion or vague qualitative observations. While the opinions and observations of your team are without a doubt important, it's crucial that you have some real data to confirm them.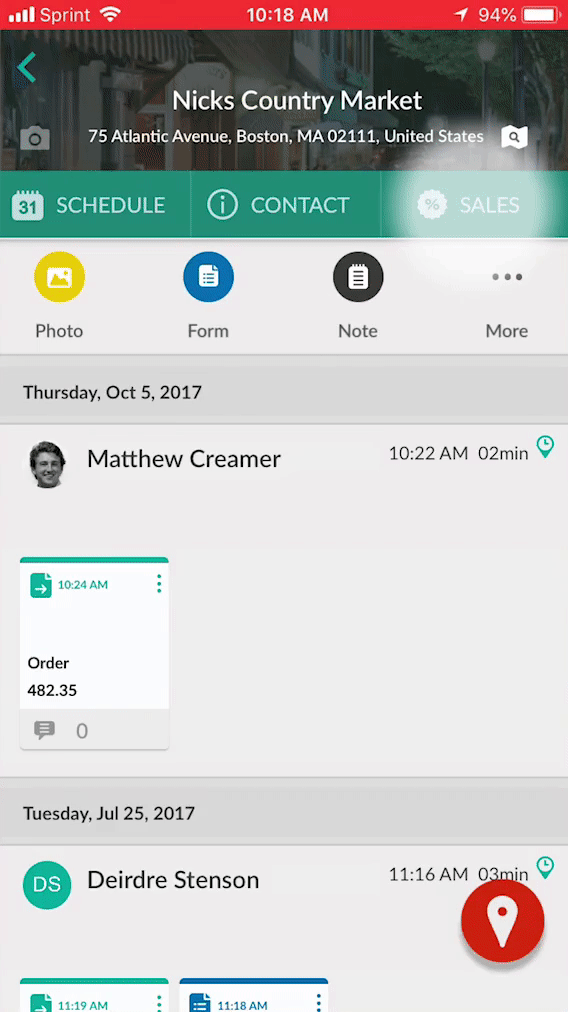 What Can You Do Today?
Start regularly analyzing sales data for all of your accounts. The next time you and your team are iterating your process, utilize any sales data that is relevant to promote data-driven conversations and decisions. Constantly check the numbers and look for areas to improve.
3. Streamline Your Process
With all of the calls and visits your team completes in a given day, there's lots of things to keep track of. If you want to get the most out of each day, having an optimized process is key.
How do you do this with data? By using that activities data we talked about earlier.
Use the activities feed to know where your team is, and what they're doing at any given time. If you're able to stay on top of your team's regular behaviors, you'll start to notice things that could be changed to "trim the fat" out of the daily routine.
Use activities data to track things like:
Which accounts your reps are visiting

How much time they are spending on each visit

How much time they spend traveling

The route they take during their visits
By having this data available to the entire team, communication and accountability is maximized.
Maybe your reps are spending too much time at certain accounts, or not enough time at others. You might notice that there's room for improvement in the demos your brand sets up. Perhaps your team could spend less time driving, and more time selling if they took a different route between locations.
All of this can be monitored and managed in the activities feed, giving you a new level of insight into your team's process.
What Can You Do Today?
Start monitoring your team's activities. Look for trends or patterns that could be affecting your sales. Use this data to adapt and tweak your daily routine in order to get the best results. Keep in constant communication with your team, and ensure that everyone is on the same page at all times.
Putting it All together
Use these strategies hand in hand to get the best results from your team. Data can be applied to your management strategy to truly give you the clearest path to improvement.
Consider this example: Your activities feed demonstrates that one of your reps is spending a greater amount of time at a certain account. You check the sales data to see if this is leading to more revenue, but the numbers show that this account is actually underperforming.
There are a few courses of actions you could take. You could have your rep record all of the specific activities that that they are performing within the store, in order to get a better idea of why they aren't leading to more sales.
Once you've identified an area for improvement, you can comment on those activities to provide coaching and suggestions as to how to boost those sales numbers.
Check back on your sales data a later to see if your adjustments have taken hold and improved your sales, and then continue to adjust accordingly based on your findings.
Managing a sales team and leading them to success is no easy task, but using these types of data can make it a lot easier. These are just a few of the areas where the right data and the right tools can help your team to be smarter, more productive, and more agile.
Dan MacDonald
Dan MacDonald is a Content Marketing Journalist for Repsly, who enjoys writing and using creativity to solve problems. He is studying Economics at Tufts University, and is an offensive lineman on the Tufts Football team. In his free time, Dan enjoys playing the guitar and the piano, hiking, and watching sports.