A big part of organizing your field team is evolving your territory management strategy into the best possible rep-grouping method. In this post we'll tackle the big questions brands struggle with as they create a territory management plan that suits their timeline and aligns with their bigger picture goals, like the size of the retailers they're hoping to expand into.
Often described in middle school English classes as the five W's and one H, the who, what, when, where, why, and how of the situation will give you a full understanding of what it means to maximize territory management.
1. What Is Territory Management?
Every field team with existing territories utilizes territory management to some capacity, even if they aren't fully taking advantage of the system that they have in place. On its most basic level, territory management is deciding which reps go where and splitting your retailers into general "territories."
Even though it sounds simple, territories evolve constantly since they are grouped according to unique distinctions that differ based on the brand's specific preferences. While some brands tend to organize reps purely by geographical location, other territory management strategies are also popular, such as grouping by size of client or even by the specific chain.
Successful territory management groups sales regions into manageable segments that makes life easier for everyone involved. Despite the positive impact territory management can have on a company, not many brands prove to be maximizing their territory management strategies when surveyed on the topic.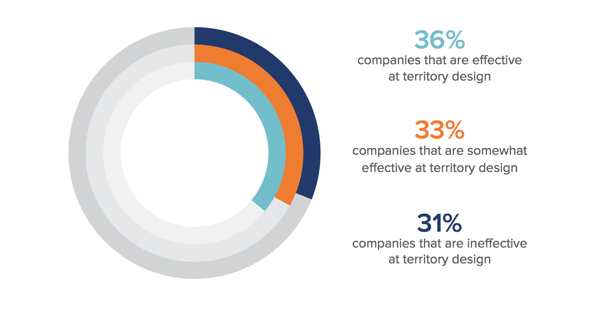 According to a survey conducted by the Sales Management Association (SMA) and Xactly in May 2018, only 36% of companies use territory management in an effective way (64% of companies are either only somewhat effective or are completely ineffective).
2. Who Benefits From Successful Territory Management?
Even though every brand benefits when their territory management strategies improve, big teams notice a more obvious difference -- it's more challenging to keep everyone on track with larger teams of field reps. As a team grows, its territory management strategy should also grow to accommodate new regions so existing reps are not overloaded with ballooning responsibilities.
In addition to making the reps' case loads more manageable, the management team back at home base benefits from territory management because it makes their jobs easier as they attempt to determine accounts that may be struggling or in need of extra attention.
3. When Is Territory Management Most Effective?
Territory management is most effective when it can separate accounts in a meaningful way that will allow a brand to make changes based on the needs of specific retailers. Guarantee that specific changes will occur by creating detailed goals and plans for your brand's territory management.

Are you trying to target accounts with overly frequent out of stocks? Are you trying to implement new campaigns according to the size of existing companies? Answering similar questions to develop specific goals should dictate the way that your territory management strategy is designed -- this way you'll guarantee the most effective structure possible.
4. Where Is Territory Management Tracked?
Territory management is a feature found in mobile software designed to help brands connect with and manage accounts using store-level data. Using mobile programs creates a channel for information from each territory to be sent directly back to management, helping to identify any red flags early on in the process.
Using mobile software to select specific accounts within specific territories provides managers with the ability to hand pick troubled accounts and give them extra attention in order to bring them back up to speed as soon as possible.
5. Why Is Territory Management Effective?
Territory management software allows brands to maximize the productivity of their reps and guarantee that there's no overlap in coverage. In addition to avoiding redundant visits, overall efficiency is improved by arranging territories so that reps' routes are more direct and can be completed with a shorter travel time than ever before.
When territory management is arranged based on the needs of specific retailers, it's possible to hone in on problem spots and set those regions up with a larger number of reps or a more experienced team. Even if your territories are set up in a different manner, such as geographically, problem spots can be identified by determining the regions with the highest number of noncompliant displays or a different red flag KPI.
Regardless of the way your region is divided into territories, using different strategies in different areas based on their specific needs is a sure fire way to make sure individual retailers' needs are being met.
If your territory management strategy isn't working in the way that you would like, it might be time to evaluate your system to locate any common mistakes that might be occurring throughout the process. Check out this post for more information about territory management mistakes and how to fix them within your own strategy.
6. How Should I Divide up my Territories?
Just because a territory management strategy is perfect for one brand does not mean that it will suit your brand's goals. Even though lots of CPGs use different forms of territory management by geographical location, other brands find their niche using strategies that group by account size, chain type, or travel distance between points in the region.
Once you've picked the strategy that works best for you, use field and sales data to help group accounts into the appropriate category. Get started with the free toolkit in the link below!
Map out the ideal #sales territory with this free toolkit! https://t.co/tSBZI4vtiC pic.twitter.com/y1Dirt70EL

— Repsly (@Repsly) July 23, 2018
Using clear territories aligning with a goal that reflects your plans for the brand as a whole is an important part of growth that should not be taken for granted. Even though territory management is important, it's a struggle for many brands that don't have a system in place that can efficiently implement their strategy within their team on a large scale. In a perfect world, territory management within your brand should work in a way that maximizes its benefits for your team and company overall.
Sara Mack
Sara is a Content Marketing Journalist at Repsly and is excited to help brands grow. Sara is studying Public Relations and Environmental Analysis and Policy at Boston University, which basically just means she could talk about climate change and plant-based recipes all day long. She is passionate about lions, the clarinet, and her Mickey Mouse slow cooker.