As brands grow, pieces of their organizational strategies (take, for example, email chains for each out of stock item or handwritten and manually submitted consumer feedback reports) can become outdated. Of course, this isn't an excuse for a brand's growth to stagnate. Field management solutions allow for personalized electronic forms, GPS tracking for each field rep, and so much more. These solutions allow for deliberate and organized business practices in that they ensure products stay in safe, that each rep is making a product use of their time, and that customers are satisfied in general with the product. Save time and money with these three best practices for optimizing field sales software.
Track and Publish Activity Metrics
Field sales software can detect problems before you can. The data collected provides insight into your reps' activities, distribution locations, and customer service. Motivate your reps with different friendly competitions for an incentive. This type of competition can be easily monitored and encouraged using mobile CRM software data.
@jifd2014 and @AbigailMarsden showing @ERAC_Derby how our new employee referral competition works!! Get referring guys and make some 🤑🤑#employeereferal #SU4TAImpact pic.twitter.com/oVqyxlpndC

— Bryony Lomax (@B_ERAC) March 14, 2018
Form creation is the most valuable asset to your data collection methods. Forms allow reps to record every piece of information that needs to be collected at each location in a shareable way. Although no brand uses forms in the same way, out of stock (OOS) forms and customer feedback forms are some of the most common varieties. Once a trend in data emerges, it is the responsibility of the business to spread the new information so people can learn from it. Your reps will want to see how they can increase efficiency based on sound evidence.
There's no denying that field representatives are always on the move. Take advantage of the GPS feature in your field software to let reps check in and out of each location during the course of a busy day. Robert, the VP of Field Operations at LA Libations, used Repsly field sales software to cut the travel times of his reps with this feature. Rob used the field reps check-in points and GPS tracking to create a more efficient route for each rep (one of them is showing in the video above)! Cutting down on wasted time and increasing efficiency means dollars earned and minutes saved.
Strive For Visibility
The best sales managers design plans to motivate their reps. Using field sales software is a great way to both encourage reps and retailers and to hold them accountable for their sales and contributions to the brand as a whole.
Although calling or emailing reps to ask them about specific demos or meetings with retailers is necessary, there probably isn't enough time in the day for field team managers to call each rep and get a daily run-down.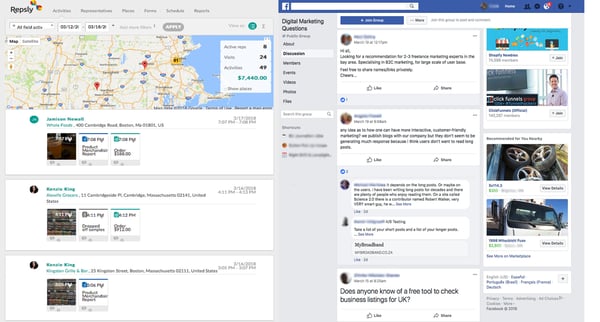 News Feed style pages, like the ones we see on Facebook, make direct and immediate responses possible between reps and managers. Field sales software streamlines this communication in a way that is easily accessible and recordable without an overly demanding time commitment.
As a field team manager, remaining available to reps at all times seems tedious, but it accelerates growth at an unprecedented rate. Being in touch with reps helps you find important patterns. Notice one store getting flagged with an out of stock form regularly? Might want to check it out. This can lead to stronger relationships and more sales. Similarly, if a rep records a consistent problem with a particular store manager, the field sales manager should note that this store could benefit from an executive visit.
Streamline Your Process
The process that is most comfortable for a brand to record data and interact internally among field reps and managers is not always the most efficient process in terms of the time spent on the project. Minimize this inefficiency by a mobile CRM app.
Before adopting Repsly as their field sales software, the healthy snack brand, Barnana, spent an entire day of work each week pounding away at paperwork. Data might be important, but not at the expense of your precious time. Repsly saves Barnana an entire day of work by providing features that allow field reps to do things like completing demo recaps on-site immediately after the conclusion of an event. More time for Barnana = more time to zoom around in their infamous Barnana car booking demos and introducing people to their new favorite snack.
Similarly, before Milk Makeup adopted the Repsly software their team was perpetually engaged in email threads with hundreds of OOS notifications embedded somewhere along the way. Because all gathered information was reported to the entire staff, email chains began to overwhelm reps with the sheer amount of information being dumped in their inbox everyday. Repsly simplified this process for Milk Makeup, ensuring reps receive only the information that affects them. This extra time allows the director of field sales, Istvan, an additional half day of work for each day that he used to chip away at problems such as merchandising inconsistencies and the development of cast member training programs. This is great news for Milk Makeup because they need as much extra time as they can get to become everyone's next favorite brand!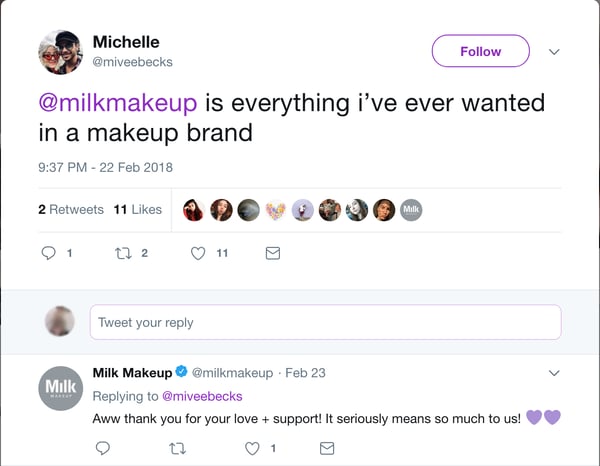 Use field sales software to stay on top of things and to transform your brand into the most streamlined version of itself. As you grow, it's important to make decisions that waste less of your time and money. Mobile CRM Apps, with their ability to connect field representatives, is a step in the right direction to achieve this goal of increased productivity. Many successful businesses (Milk Makeup, Vita Coco, Hippeas, and Barnana- just to name a handful) have incorporated a mobile CRM app into their distribution strategies to boost productivity and spike revenue.
Sara Mack
Sara is a Content Marketing Journalist at Repsly and is excited to help brands grow. Sara is studying Public Relations and Environmental Analysis and Policy at Boston University, which basically just means she could talk about climate change and plant-based recipes all day long. She is passionate about lions, the clarinet, and her Mickey Mouse slow cooker.