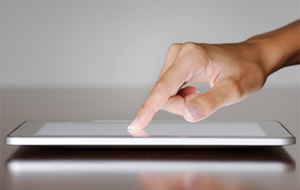 "Road Warriors" are always at the leading edge of technology, looking for ways to get things done with smaller, lighter, faster mobile solutions. They were the first Palm Pilot users, the first to stick Blue Tooth Headsets in their ears, and the only ones who were willing to pay $30/night for hotel WiFi! The past few years have been like a Fantastic Voyage for these early adopters, with massive improvements in mobile productivity coming in quantum leaps.
Touch Enabled Tablets
April 3, 2010 was a date that changed everything for field sales, merchandising and service teams. After years… no… decades of promise, a viable tablet computer was finally available! Smartphones and special purpose mobile devices had come a long way to extend back-office computer systems to the field, but they all had short-comings: too slow… too small… too hard to use… too expensive… The iPad, and now the scores of other touch enabled tablet computers running Android or Windows 8, have given field teams a platform to do almost everything they need to get their jobs done, from showing presentations, to capturing meeting notes, writing 'full text' eMails, creating quotes on the fly and doing research on any topic. The advent of the touch enabled tablet has fulfilled the dream of extending the full power of business computing systems to the hands of the field worker, with little or no compromise.
4G-LTE Wireless Bandwidth
These tablets would be nothing without wireless connectivity, and they would be near nothing with the bandwidth that was considered 'state of the art' just a few years ago. Now, with the spread of 4G-LTE and its 10 - 20 times performance over 3G connectivity, "real" applications are making their way to the field. Real time video communications with field workers while they are out of the office, voice enabled applications and other rich media applications are now realistically in the realm of organizations budgets.
Geo-Location for Everyone
Finally, and maybe most important to field managers is the ubiquitous availability of geo-location, for both navigation and accountability. Getting turn-by turn navigation in a vehicle was considered a luxury not that long ago, with large commercial fleets making easy productivity and efficiency arguments for the once major investment. Today, anyone with a Smartphone has a navigation device that is significantly better than the $1000 dedicated devices from the late 2000s. Field workers can always be guided to their destination by the most direct route, enabling lower driving expense, and can easily route around traffic, construction or other obstacles; reps love it. It's the other power of GPS that field manager are excited about! Today it is easy for sales managers to track the current location of reps, and to see the exact location of their reps when they log their field activities. It is easy for managers to implement rules like 'be at your first customer by 8:00 each day', and actually be able to hold reps accountable for following those guidelines. One of the biggest issues that field managers can now overcome is knowing exactly when and where their reps are conducting valuable field activities. This knowledge translates directly into accountability and improved productivity.
The mobile technology revolution is still in full force, and there is surely much more to come over the next few years to drive accountability and the productivity of road warriors even higher.
Frank Brogie
Frank Brogie is the Product Marketing Manager at Repsly. When he's not thinking about how to position and sell Repsly's products, Frank loves to explore Boston by bike and hunt for vintage cars through a camera lens. On weekends you can count on Frank to organize a pickup basketball game or play disc golf. An avid podcast listener, Frank recommends Philosophize This, 99% Invisible, and Radiolab.