Consumer packaged goods (CPG) is one of the industries that has had the hardest time adapting to the rapid growth of online marketing and the slowdown in physical retailers. Traditionally, many CPG companies considered technology expenditures a necessary cost — but not something that drove sales or productivity. Now, however, the industry's relationship with technology is transforming, and new software and digital marketing solutions may make CPG companies better than ever at reaching consumers.
CPG companies are leveraging new technology, like location-based marketing and big data analytics, to drive sales and adapt to the current state of retail. Here are the most significant digital trends driving CPG companies right now.
Location-Based Deals
Today, consumers are more likely carrying mobile devices than ever. With geo-targeting technology, CPG companies can take advantage of mobile devices to market to consumers based on their location and alert them to local deals.
Nine out of 10 CPG transactions happen at brick-and-mortar retailers, despite the massive growth in online marketing over the past few years. Some CPG companies — mostly "pure-play" companies that sell exclusively online — have successfully carved out a CPG niche in online retail. However, most established CPG companies still rely on physical locations for the bulk of their sales.
Thus, the technology that allows CPG companies to advertise based on customers' proximity to retailers presents an excellent opportunity for CPG companies to drive sales from individual consumers.
Direct-to-Consumer Marketing
CPG companies are expected to spend $10 billion on digital marketing by 2020. Digital marketing — and its ability to be more personal and provide individual responses to customer concerns — is seen as a powerful tool for CPG companies who haven't always focused extensively on marketing to individual consumers.
Much direct-to-consumer marketing takes place on social media, where CPG brands like Kleenex are taking advantage of social media's features — like the possibility to respond to customers mentioning a product — to drive brand visibility.
Brand visibility is beneficial for any company, and CPG companies that rely on retail sales will especially profit from brand-name recognition and association.
Big Data and Predictive Analytics
Nearly every industry today, from manufacturing to environmental conservation, can apply big data analytics — the collection and analysis of huge amounts of data. If you can record enough data, you can use big data technology to analyze it and find usable insights.
CPG is awash in consumer data. As big data analysis and predictive analytics become popular in other industries, CPG brands are looking for ways to turn that data into profit. Big names in CPG, like PepsiCo, are leveraging big data to build better retail analytics — and their use of this tech is making waves. The company has moved beyond Excel to adopt advanced software. The chance has sped up their data analysis and allowed PepsiCo analysts to find patterns that standard data analysis may not have been able to discover.
Predictive analytics can find new, unexpected patterns in consumer and retailer demand, which CPG companies can use to better anticipate demand fluctuations and predict the amount of merchandise they should produce.
CPG and Machine Vision
One possible application of predictive analytics and big data is in machine vision. Machine vision is the use of artificial intelligence (AI) technology trained on sets of images that can instantly analyze huge amounts of data — for instance, hundreds of a CPG company's shelves and promotional displays across the country.
Tech companies, like Singapore-based Trax, use AI and machine vision to provide CPG companies with insights about the effectiveness of their in-store displays and shelving.
These companies first collect huge image sets of shelves and displays in the wild. Then, they use AI algorithms and analytics tools to give CPG companies a sense of how customers look at and respond to their displays. They can learn what products run out first, which display stands create the most purchases and other relevant information. CPG companies can then use this data to make their products more appealing in retail settings.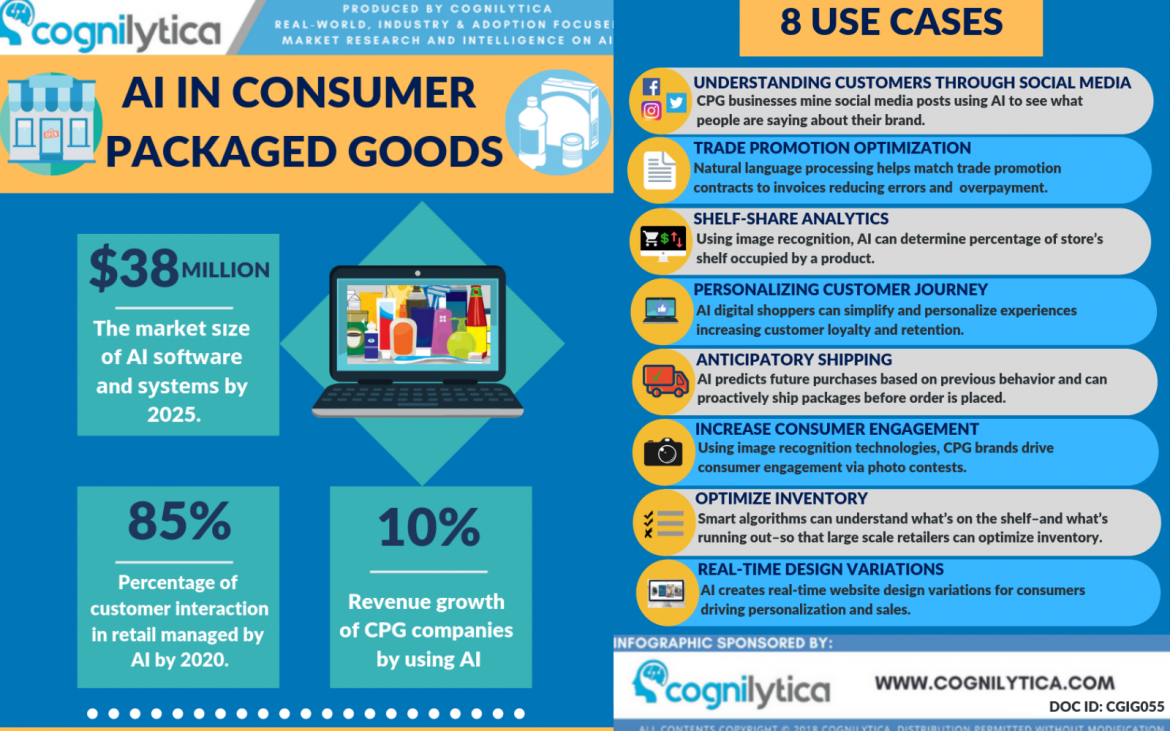 Source: cognilytica.com
E-Retailers and the Rise of IoT Retail
Online shopping provides ease and convenience that has led e-retail to dominate the retail sector. Recently, however, customers — especially those belonging to younger generations, like Gen Z — have again begun to prefer physical stores over online shopping. Customers also seem more interested in products they can evaluate in person before they purchase. The personal is becoming more important in advertising and retail once again, and the result may be a pivot back towards brick-and-mortar stores.
Because of this trend, retailers like Amazon are leveraging Internet of Things (IoT) technology to create cashier-less and line-less stores, which CPG as an industry will need to respond to — likely by investing in market research technology like machine vision and by working with these new retailers to understand how these stores will change retail.
For example, Amazon expects to eventually track purchase patterns and build profiles of individual customers based on their online and in-store shopping habits. CPG companies may be able to take advantage of these profiles and leverage digital ad space that changes based on the preferences and needs of the shoppers inside.
These grab-and-go stores may be good news for larger CPG companies, who have traditionally struggled in the online arena. Despite e-commerce's 19% annual growth rate between 2013 and 2018, CPG didn't see much of the gains — online market shares for large CPG companies were around 5 to 10 percentage points lower than their physical retail market shares.
IoT retail and this move back towards physical retail likely won't save CPG from this online under-performance. However, it may influence CPG companies to treat the rapid growth of online retail as a trend rather than the future of retail.
Where CPG is Headed
The future of the CPG industry is uncertain. Established CPG companies have had difficulty adapting to technological developments that have customers turning to online retail, and much of the growth over the past few years has involved upstart, online-only retailers.
New technological developments — like social media, local digital marketing and big data analysis — may change this. These new technologies are some of the biggest trends right now in CPG, driving the future of the industry and changing how the industry relates to and interacts with its customers.
At the same time, trends from outside the industry — like Amazon's interest in physical retail — may provide a windfall for CPG companies that have struggled to adapt as online stores came to dominate retail.
Megan Nichols
Megan R. Nichols is technical writer and STEM blogger. She publishes regularly in industrial magazines like Material Handling Network and Control Magazine. Megan also writes easy to understand STEM articles on her blog, Schooled By Science.