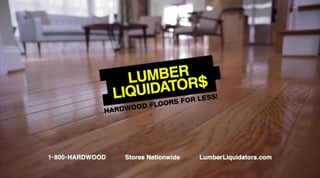 On Tuesday June 15th, Lumber Liquidators made the announcement that it had fired Chief Merchandising Officer William Schlegel. Although the decision to fire Schlegel was not explained, the flooring retailer was quick to announce that Mario Pescara, the company's Chief Marketing Officer, would be taking over the merchandising role and retaining his prior position effective Monday.
More than a personnel change, this move illustrates an important shift in strategy for the flooring retailer, who has faced trouble regarding their stock performance, their executives, and the U.S. Department of Justice in recent months.
By combining their marketing and merchandising efforts, Lumber Liquidators is on the right track to start understanding what exactly their customers want and how to best deliver it to them. This is vital for a company that is not known for delivering a remarkable customer experience, and that needs to begin improving—quickly.
Darrell Fry of CrossCap.com notes that retail organizations that combined their merchandising and marketing structures experienced sales growth of 3% or better over their competitors across a similar time-period. He then explains that although the benefits of implementing an Omni-Channel strategy are apparent, only 50% of retailers actively combine their marketing and merchandising efforts.
If there is an apparent positive effect—both for consumers and businesses—which stems from the integration of marketing and merchandising strategies, then why aren't more organizations adopting this strategy? While there is no definitive answer, a few contributing factors are almost certainly the relative infancy of such a strategy and the inability or unwillingness of leadership to quickly shift their efforts.
One of the main initiatives for organizations adopting an Omni-Channel strategy is making price transparency a priority. Though some brick-and-mortar retailers are only recently beginning to price-match online marketplaces, the harbingers of price transparency have been calling out for quite some time.
A 2010 Wall Street Journal article entitled "Phone Wielding Shoppers Strike Fear Into Retailers" was a fantastic foreshadowing to what we see today in many retail locations. A customer walks into a retail store looking for a specific product or looking to address a specific need, finds the product they want to purchase, tries it out in store, and then pulls out their smartphone to check online retailers and competitors in order to determine who has the best price. The customer then buys the product wherever they can get the best price, or if they are looking to get the product right then and there, will ask an employee to price-match the price they've seen online.
This process is known as 'showrooming' and for the past five years or so, has had many retailers shaking in their boots. While at first many retail organizations were fighting against such a practice, they weren't providing consumers with an additional benefitor a great customer experience that would add value to the transaction. Once retailers accepted the fact that consumers would shop elsewhere unless things changed, they began implementing a variety of new consumer-centric practices. A recent article by Bob Phibbs touches on a few of the strategies retailers can implement to encourage consumers to buy in-store, instead of online.
After their recent scandal involving laminate-flooring imported from China that contained heavy levels of formaldehyde, Lumber Liquidators began offering consumer test kits to check their flooring, and stopped imports from their Chinese distributors in that area. Supply-chain transparency –even if forced—is a big step in the right direction for an organization that is looking to turn itself around. Though it is too early to say whether or not price transparency will follow, by combining the marketing and merchandising roles at the highest levels of the company, Lumber Liquidators has taken the first step towards offering a better customer experienceand for increasing their retail performance.