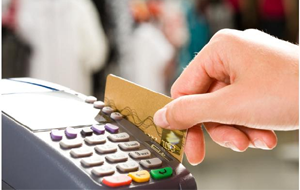 Most of us have probably heard a statement prefaced with, "In this economy..." If you're in retail, that probably holds doubly true. True, retail sales have been increasing in increments, but that's progress that isn't being widely felt across the board.
So, what is a retailer to do? Genesis Davis over at Docstoc has some tips on how to increase retail sales (please see the article for a complete list).
If you haven't already, establish an online presence - Although e-commerce is estimated to comprise only about 5% of total retail sales, that's still a tidy $44.3 billion in revenue. As more and more people look to the internet for deals and convenience, it's bad business not to be online. If you're not tech savvy or don't have the cash to hire a designer, you can be sell merchandise from sites like Amazon or Etsy.
Know what's trending - True, it would be foolhardy to jump on any and every trend that becomes popular; however, remaining oblivious to the times won't help either. Get and stay in the know by keeping up with industry publications, websites, and peers. Twitter is also a fantastic way to stay on top of trends as they're breaking. Don't miss an opportunity to be a part of the next big thing!
Hire, train, and keep an excellent staff - You may offer a great product, but if you don't have the right people to sell it, you're doomed. Take the time to make sure your sales team is the right fit for your product and company. And please, be kind to your employees by offering them fair wages and benefits. Their happiness with the job can make all the difference in your business.
Offer sales and discounts - People are more budget-minded than they have been in a long time. Businesses that are sensitive to this will reap the rewards. This is not to say that you have to offer fire sales every weekend. Even small moves, such as offering a discount for buying 2 or more items, will increase the likelihood of getting return business. As an added bonus, perhaps those customers who came in for a deal may walk out with some full-priced merchandise as well.
Suggestive selling - For our 5th tip, we look to Mike Lewis over at TransWorld, who recommends "suggestive selling" or add-on selling. For example, if I work at a computer store and I know that my customer is in the market for a laptop, I might suggest an extra battery, travel charger, case, or headphones. Obviously, the key is to do so in a non-aggressive, helpful manner. As you might have guessed, this entails striking up a rapport with customers (that's where hiring a great sales team comes in) and helping to meet their needs. Lewis points out that an important aspect of suggestive selling is smart merchandising; that is, grouping items together in a logical way (i.e., MP3 players with headphones, etc.).
Have you tried any of these methods? Do you have any tips to increase retail sales? We'd love to hear about them in the comments below! We strongly believe in team. Hire and motivate the best!
Matthew Brogie
Mat Brogie is part of the founding team, and CEO of Repsly, the world's leading solution for high performance retail execution teams. Mat has spent the past 15 years of his career focused on bringing technology enabled business solutions to the consumer goods industry, having implemented solutions for tens of thousands of field reps at companies such as Coca-Cola, Procter & Gamble, Pepperidge Farm and hundreds of others.