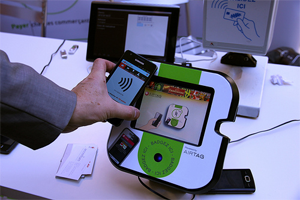 The Near Field Communication (NFC) is a technological innovation which is increasingly becoming popular in today's mobile market. Basically, the technology enables mobile-to-mobile communication using radio frequencies, making it possible for two NFC-enabled devices to faster and wirelessly exchange information. But, did you know that apart from file sharing, retailers can greatly benefit from this innovation? They can utilize this new trend in providing a better customer experience and more efficient mode of payment solution. In this article, we'll show you how this innovation works and how it can shape the future of trade and merchandise.
Cardless Payment Solution
According to Verizon, "NFC is best known as the technology used for many mobile payment solutions." Since smartphones these days are equipped with NFC chips, mobile consumers can use their devices in lieu of cash and credit cards when making store purchases. Here's how it works:
A mobile device needs third-party application like Google Wallet to configure one's credit or debit cards. Known as the process of card emulation, the application enables the smartphone to imitate the bank details and/or credit card information. When making a payment, customers will simply launch their devices, input the amount they wish to disburse, and tap their phones on the receiving counter.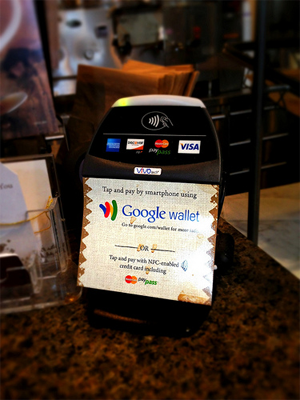 Why tap the cellular device?
It only works within a very close proximity (usually 4 centimeters at most). When the feature is enabled in the smartphone, an invisible wave of radio frequency is mounted on the rear side of the device, which acts as the bridge or passage of encrypted data. In order for the payment to be successful, retailers also need to install an NFC-enabled receiving point of sale (POS) machines on their cashier counters.
Benefits for Retailers
With the equipment, the transaction becomes fast and automated. Compared to the traditional cash method, the cashier no longer need to compute the payment made and to prepare a corresponding change. Thus, they can attend to more shoppers.
Improved Customer Service With NFC Tags
Apart from eliminating the hassle of paying for in-store merchandise, the technology can also be utilized in providing a better service to their customers. With the introduction of NFC tags, store owners can smartly deliver product information to their shoppers by transferring electronic brochures, specification sheet, video infomercials, and website links on digital posters, smart tags, and electronic stickers. These digital accessories are usually attached to a store item with a label "tap here to learn more," which customers will use on their devices to read and/or to access the stored information on these digital accessories.
Benefits for Retailers
It might be a bit of a gimmick, but with the technology, they can save a lot of resources by not hiring additional personnel to do product demos and sales talk. It can also be one of a genius marketing strategy. With cheaper digital posters, they can disseminate their product advertisement or website to the public. They can also input similar product suggestions, details of upcoming sales, and interesting offers.
Mobile-to-mobile Communication
Apart from mobile payments and the smart delivery of information, NFC operates in a peer-to-peer mode as well. Similar to Bluetooth and Wi-Fi direct, it allows two smartphones to swap contacts, calendar events, links to websites, photos, and even video clips. Retail owners and business partners can maximize the functionality in:
Exchanging of documents, deals, and business proposals.

Sharing of media files and advertising paraphernalia when engaged in quick meetings.
Transferring of funds to one another using a mobile device is also possible.
Given these features, the Near Field Communication is indeed a promising solution in the field of trade and commerce. Small retail firms can boost their sales by providing a seamless and better transaction to their customers.
Reese Jones
Reese Jones is a tech correspondent from Techiedoodlers.com who loves IOS and Android apps. Her writings mainly focused on Tech Ed and mobile phones. She always loved playing video games and also maintains a passion for films.