A million different products blend into the vast sea of store displays and into the endless scroll of web pages. Customers find these products either sitting idly on shelves or hovering in the impersonal virtual realm. Unable to imagine the product experience, consumers are more uncertain and indecisive when it comes time to make a purchase. To combat the ambiguity of a product and the consumer's apprehension, product demonstrations are a popular technique to eliminate the disconnect.
Product demonstrations are defined as a promotional tactic to advertise a product to potential customers. Whether it be web-based, video demonstrations or in-person presentations, product demos are a great way to feature your product and interact with your buyer's market. This strategic method to showcase your merchandise will give consumers the complete scope of your product. Product demonstrations can boost sales by an average of 475%, Knowledge Networks PDI found.
Looking to do a product demo of your own? Here is a checklist to give you the rundown of everything you need to know before going in!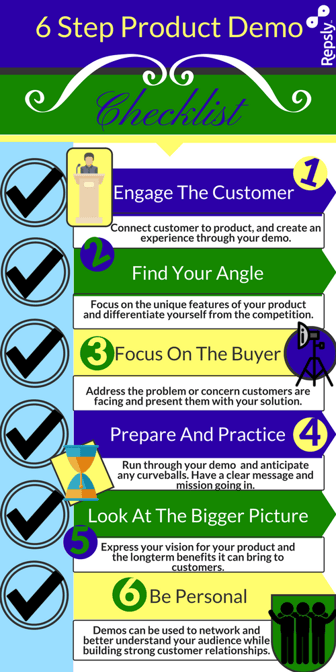 1. Engage The Customer
Customers want to feel connected to a product. To achieve this link between customer and product, people must relate to what you are trying to sell. In-person demonstrations present an easy opportunity to allow potential customers to get a feel for a product.
Allowing people to test the products helps validate the promise of the producer who is trying to sell. Seeing the product in action reassures individuals of its function while guiding them to a more accurate decision of whether or not the product is for them. Create a sensory experience to engross the audience by appealing to visual, tactile, and auditory faculties.
Make sure, however, to avoid talking about the product alone. As the product demonstrator, it is your mission to also connect with the audience and act as the mediator between customer and product. Open the dialogue of the presentation to the audience. Ask them questions and retain an atmosphere that facilitates discussion. It is important to draw people's focus to the demonstration and one of the best ways to do this is involving them in the conversation.
2. Find Your Angle
Chances are, your product has competition. Consumers want the best product and at the best deal possible. To make your product dazzle potential customers, hone in on the components that make it unique. Research your competition to find the strengths that your product has that others might be lacking. Find your stand out feature and highlight it in the demonstration to go for the "wow" effect.
Creativity is your best tool when creating an angle to market your product. The more inventive you are, the more you can differentiate yourself. Think of novel ways to present otherwise 'ordinary' products by constructing fun demos that spin your product in a new light. Tell the story behind your product to strengthen its individuality and frame it around your company.
3. Focus on The Buyer
Although your product demonstration is about your product, it's not really about your product. It's about the customer. One of the first things that should be addressed in the demo is the problem or concern that drives the consumer to the product. This will catch their attention by cultivating a need as opposed to a want. Be relevant to the current needs and circumstances of your audience, as well, to keep your presentation engaging.
Maintain a tight time frame to maintain your audience's attention. Define your point concisely and don't let it drag on. Be short and concise to not beguile your audience. Straightforwardness is key.
When crafting your product demo, use language that someone unfamiliar with your product will understand. While your presentation may make perfect sense to you, it may not to someone with no background knowledge. Simplicity makes for an approachable demonstration that customers won't shy away from.
Here's an example of a successful product demo from Blendtec's Will it Blend Campaign:
Kick back and reminisce with us as we celebrate 10 years of Will It Blend? with a Top 10 countdown! https://t.co/sPS6SHDns6

— Blendtec (@Blendtec) November 7, 2016
4. Prepare And Practice
Before you go into your product demonstration, you should know the demo inside and out, forward and backwards. You should adapt your presentation to each demo depending on how your audience interacts with you. It is necessary to define your target audience first in order to tailor your product demo to make the best fit possible.
The materials and devices you decide to use in your presentation should be tested to check for any errors. The last thing anyone wants is to have a malfunction in the middle of their demo. A few run-throughs will prevent technical issues that may distract from the star of the show – your product!
Script your product demo beforehand, so you have a clear idea of exactly what you want to say and the message you want to deliver. This will eliminate any unnecessary tangents or side stories that might derail your focus.
5. Look at The Bigger Picture
During your product demonstration, acknowledge the long-term scope of your product. Assess the bigger picture that applies to a wide range of potential customers, then narrow it down to your more specific audience.
Try and foreshadow potential concerns, questions, and opportunities that may arise during your presentation. This will create a smooth product demo that can acclimate to the idiosyncrasies per each audience.
It is up to you to create the vision for your product that extends beyond its basic function. As your produce personifies your brand's mission it will reimagine the way consumers view their need or desire for what you are selling.
The way you structure your product's philosophy and purpose will be the determining factor in whether someone decides to buy. Give potential customers a reason to buy through a convincing and appealing demo that seamlessly integrates your product into your customers' lives.
6. Be Personal
Product demos are a golden chance to put a face to your product. More than a feature of your product, it is a chance to interact on a personal level with customers and establish lasting relationships. Networking provides valuable insights to your industry and who your target customer is.
Take the time to get to know attendees of your product demo. Be in touch before, during, and after the event to strengthen the relationships essential to constructing a strong foundation for your corporation.
Here's a quick list of dos and don'ts to help you execute excellent demos!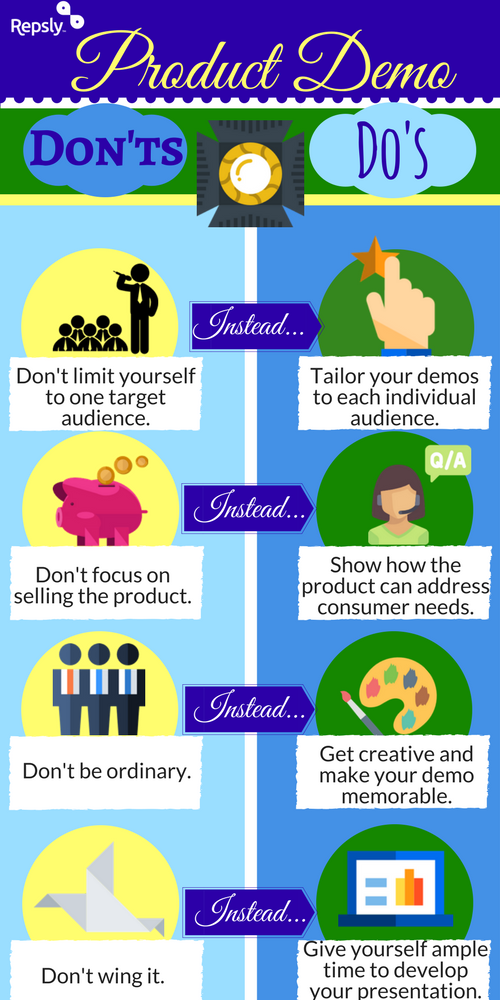 Gabrielle Downey
Gabrielle is a Content Marketing Journalist at Repsly with an enthusiasm for creativity and innovation. While pursuing her passion for writing, she is studying economics and philosophy at Boston College. She spends her free time exploring Boston in search of the best cup of coffee and cannoli.