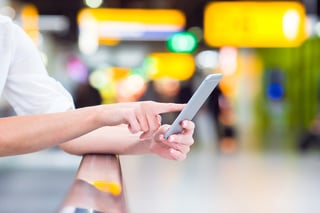 With the wave of the mobile technology revolution having swept across businesses across the board, arming mobile reps everywhere with smartphones, many retail merchandising companies are looking to capitalize on their newly equipped "mobile armies" to boost productivity. Somefield marketing managers may still be skeptical of the new technology, however, seeing it more of a fad than a valuable asset to their business.
The field marketing managers putting their merchandising companies in the best positions for success are the ones embracing and implementing mobile strategies in their workplace, especially those using mobile to boost their agile field management approach. In this post, we will outline 5 of the best features of mobile technology for sparking productivity in retail merchandising companies,and explain how they can add value to your company.
Mobile solutions in the field are incredibly easy to use. While this may seem like a simple concept at first, its value cannot be overstated. As a field marketing manager, if you take the time and energy to implement a new order taking or customer data capturing merchandising tool, it is important both for yourself and for the company's productivity that the new solution is used across the board right away. Otherwise, a sloppy transition to a new solution can be more of a headache than it is worth.
Mobile solutions can run directly off of your reps' smartphones, so they will already be familiar with the device they are expected to use. Combining this familiarity with the fact that reps can execute all of their tasks directly from the customer site during their visit means that they are much more likely to actually and accurately collect the necessary data. Using mobile technology is the best way to ensure that reps are actually using the solutions that field marketing managers implement.
Mobile devices have geo-tracking capabilities, which make managing a team of field reps much easier by promoting accountability. With functionality such as workforce tracking, field marketing managers can keep track of not only where their reps travel during the day, but where they are completing assigned tasks. This drives accountability, as field management teams are able to better understand how their plans are being executed.
Another feature reps can utilize with mobile software is that of custom forms. Mobile forms are particularly useful for performing customer management or field marketing tasks, like collecting important information about your clients or using it for a field activity report, like in-store promotion or complaint. Instead of having to carry pre-printed, paper forms, mobile technology allows both reps in the field and field marketing managers on the back end to customize the forms that go to the customer quickly and easily. This way you can collect the right data for your specific business, and change the fields on the forms as quickly as the needs of your business might vary.
Field marketing manager scan also use mobile solutions that have "SKU" oriented data collection as a key feature to ensure they are getting full coverage. With these solutions, not only are field management teams able to view data pertaining to certain customers or reps, but also to specific stock-keeping units. SKU oriented software allows for a more complete picture of what is going on within all aspects of a retail merchandising company.
Mobile solutions offer an unprecedented ease of access to data. With field reps' ability to collect data more efficiently than ever with mobile technology, it is necessary to have a system of access that can keep up with the influx of data.
Frank Brogie
Frank Brogie is the Product Marketing Manager at Repsly. When he's not thinking about how to position and sell Repsly's products, Frank loves to explore Boston by bike and hunt for vintage cars through a camera lens. On weekends you can count on Frank to organize a pickup basketball game or play disc golf. An avid podcast listener, Frank recommends Philosophize This, 99% Invisible, and Radiolab.